News: Or they could just nuke it from orbit, since it's the only way to be sure.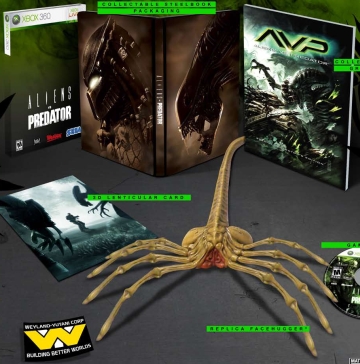 It has come to Sega's attention that many gamers have opened the box to their
Aliens vs Predator
Hunter Edition and found a broken Facehugger model.
Thankfully, Sega has sprung into action with a replacement offer to get an intact Facehugger model into the hands (and faces) of Hunter Edition owners.
If your Facehugger came with a borken tail, head over to
Sega.com/facehugger
and submit a short form to receive a replacement Alien:
We apologize for any inconvenience and are happy to provide replacements for any customers who received damaged products. Please fill out the following information so we can confirm your purchase. We will then contact you via email with instructions on how to receive a replacement Facehugger collectable.

As proof of purchase, please open your game's box and locate the insert containing the PDLC key for the downloadable map pack. Please enter the PDLC key in the following field exactly as it is printed
We'll have more soon.