News: Or rather, you can choose the next victim of the Madden Cover Curse.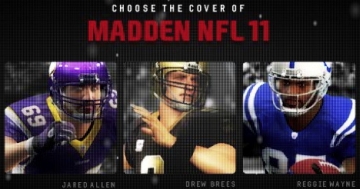 Electronic Arts and Doritos are giving gamers quite a bit of power with their new "Change the Game" promotion. They are allowing us to decide the next victim of the Madden Cover Curse. Wait, wait, wait. That's not right. What they're actually doing is allowing fans to choose who graces the cover of
Madden NFL 11
. But as the cover and the Cover Curse are so closely linked, it might be tempting to vote for the player you like the least instead of the player you like the most.
After going to
DoritosChangeTheGame.com
, fans can select from one of three finalists (two of which will be competing in this weekend's Super Bowl):
Jared Allen - Defensive End for the Minnesota Vikings

Drew Brees - Quarterback for the New Orleans Saints

Reggie Wayne - Wide Receiver for the Indianapolis Colts

You can enter a vote for the player of your choice once per day. And voters will be entered into a weekly sweepstakes for a trip for two to this April's NFL Draft in New York City.

Madden NFL 11 will be released for the PlayStation 2, PlayStation 3, PSP, Wii and Xbox 360 this August.