News: Tetsuya Nomura crushes the hopes and dreams of Final Fantasy fans everywhere.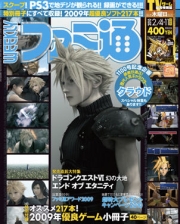 This week's issue of Famitsu has an eight-page feature article focusing on Final Fantasy VII hero Cloud Strife. The Japanese gaming magazine has been devoting a huge chunk of their pages to favorite game characters over the last few weeks and, according to Andriasang, the article features a character timeline and details about all of his game appearances.

The feature also includes commentary from Cloud's creator, Tetsuya Nomura, who confirms what Final Fantasy fanboys have long feared, that there are currently no plans to develop a remake of Final Fantasy VII:


"Fans are looking forward to an oft rumored remake of Final Fantasy VII, but I don't believe this will happen for the time being."


But if you're a fan of the character, Nomura did say that Cloud will make an appearance in other Square Enix games as a cameo character:


"However, it's possible that he will appear in other titles as a guest character."


With Kingdom Hearts: Birth By Sleep deep in development and the long-rumored Kingdom Hearts 3 still in the works, I'd say that's a certainty.

We'll have more on all things Final Fantasy soon.