Interview:
Ray Muzyka, the CEO and General Manager of BioWare, recently held court during a roundtable question and answer session about his company's upcoming PC/Xbox 360 RPG,
Mass Effect 2
. The second part of a planned trilogy, Mass Effect 2 will be the first game in the series released under the EA Games banner (its predecessor was published by Microsoft).
With the game's January 26th release date less than two months away, Muzyka opened up about the role of role-playing, alien interactions of the possibly X-rated kind and why the game won't end when you think it does...
Patrick Mulhern:
Mass Effect had pretty basic squad commands, go here, kill this, regroup, etc. Is Mass Effect going to offer any additional micro management?
Ray Muzyka:
Yea. Some of the differences might seem small, but they add up to a huge impact in aggregate. For example, you can deploy your troops at different points on a battlefield, and that actually leads to a lot of tactical depth. You can outflank enemies, try to create a positional advantage, try to create an ambush. It's just cool to play different scenarios to see if you can lure enemies in or trap them, take them out one at a time or focus your attacks on one enemy.
The abilities are easy to access for each of your characters, so you can chose different tactics in battles; biotic abilities, tech abilities, changing ammo is loaded on to the power wheel as well. It's really easy to access that. It makes a material differences in battle depending which ammo you select. We tried to refine the interface to make it really easy to have complete control of the battlefield, and yet make that really easy to access at the same time.
Patrick Mulhern:
Following that, are we always going to be locked in to the role as Shepard or is there the potential to control squad members?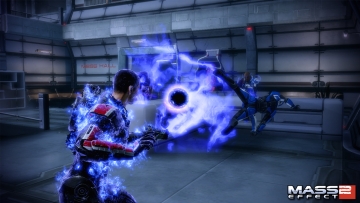 Ray Muzyka:
This is a very personal story, you're playing the role of Commander Shepard. You get to define who that character is. You get to make a lot of choices. You get to customize the appearance, progress your character in different ways. It's really about you as Commander Shepard. You get to bring alongside you different companions as you explore, progress the story arc and visit different places in the galaxy.
It's really your story. We really focused on that amazing experience.
Patrick Mulhern:
Mass Effect grabbed headlines for its alien-based sexcapades. Is Mac Walters (the head writer) looking to push boundaries a little further this time around?
Ray Muzyka:
The people who played the first game realize the way we delivered romance and relationships was appropriate, and very tasteful. I think that's true in Mass Effect 2 as well. We are certainly not shying away from having meaningful human interactions. They could be romances, could be friendships, could be a variety of different things just like in real life.
That's basically the way the game unfolds. You invest time and start to care about characters in the game, and they start to care about you. That can lead to certain outcomes, just as it can in real life. Everything is done in a tasteful appropriate way.
There's more character choices in Mass Effect 2 in terms of who you can get in your party. As a result, there's more potential romance outcomes in ME2 as well. The neat thing about the game is [that] the replayability is tremendous. The end game is this range of combinations, permutations, that are very dependent on the choices you made in the game.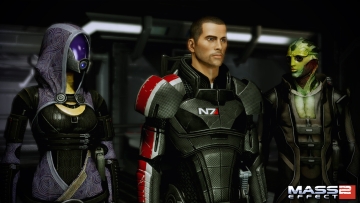 Patrick Mulhern:
Various BioWare employees have eluded to a number of possible closing scenarios based on decisions made in the game. Care to put a concrete number on the amount of possible conclusions? Are they all radically different?
Ray Muzyka:
There are many different endings in the game and they all reflect the choices you've made. It's not even like one single point in time where you see an ending. Bam, you see this cut scene or that cut scene, ?Congratulations the game is over.? It doesn't work that way.
Mass Effect 2 doesn't end when you finish the game. You can continue to explore the galaxy, walk around your ship, talk to all the people that you survived with, or not. There are different permutations of how that can unfold. The people that survived on your team are going to say different things to you depending on what you did during the course of the game. It's almost like an adventure to see what they are going to say to you at that point.
Of course, the adventure continues with post-release DLC. We'll have more news on that later.
As you head to the end game, as you progress through it, some things happen based on the choices you've made to that point. That's part of the final stage of the game. It's showing you the consequences of your actions. Who survived alongside you, who doesn't survive and why. Is it because of the choices you made they couldn't survive? Some cases it is. It really leaves you feeling profoundly moved in a lot of cases. ?Wow, I didn't expect that to be the outcome. I'm really sad about that.? Or ?Wow, because of the choice I made before I had this happen and that's really satisfying. That was me that did that.?
That's the way we are doing the endgame. It's not one moment in time, one cutscene, congratulations you're done, walk away. Instead it is this emotionally engaging, satisfying experience that progresses over the course of hours. It's a unique approach to an end game that both RPG and shooter fans are going to find very satisfying.
Patrick Mulhern is a freelance game journalist who runs his own blog at iTZKooPA.com.