News: But you should sign up for a free instant stream disc now.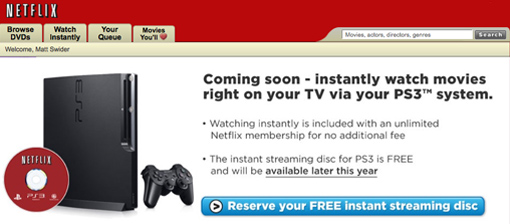 PlayStation 3 is about to become the preferred way to stream your Netflix Instant Queue on a video game console.

Sony and Netflix will send out a free Blu-Ray disc to all Netflix members in the U.S. next month, as long as they sign up for it here. This comes one year after Microsoft became the console-exclusive Netflix partner, allowing Xbox Live Gold members to instantly stream 17,000 movies and television shows.

Launching Netflix requires a special Blu-Ray disc, but there are advantages to playing your queue via the XMB over Xbox 360:
You don't need to be a $50/year Xbox Live Gold member.


PS3 is probably how you watch Netflix-mailed Blu-Ray discs, so now you have a complete Netflix-powered home entertainment machine.


BD-Live is possible, which should mean the return of DVD extras, something that isn't currently available via the Instant Queue.


Add to your Queue, read the synopsis and rate movies without the use of a PC (Coming to the Fall Xbox Dashboard update rolling out now).


PS3 is quieter. No need to wish you could call the usher to shush your jet engine-sounding Xbox 360.
Streaming Netflix through the PS3 will still require at least an $8.99-a-month Netflix plan, but the company's partnership with Sony means Instant Queue is finally open to gamers who aren't card-carrying Xbox Live Gold members.
?The PlayStation 3 system has always been about more than just gaming, and it will soon be the only platform in the industry to offer consumers such a variety of convenient options for enjoying movies and TV shows,? said Jack Tretton, president and CEO, SCEA. ?Whether you want to watch content on Blu-ray disc and DVD, download it from the PlayStation Network's video delivery service, or stream videos instantly from Netflix, the PS3 system is the only solution that offers it all.?
Just remember to sign up for the
disc
.