News: Another game powerslides into 2010.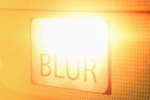 Activision has announced that Blur, Bizarre Creations' "realistic kart racer", has been pushed back to 2010. The PC, PlayStation 3 and Xbox 360 game was previously scheduled for a November 2009 release, but will now cross the finish line sometime in 2010. No specific reason was given for the delay, but Activision did say Bizarre would use the extra time to add "[enhancements to] the game's innovative and distinctive online multiplayer gameplay."

"We are committed to making Blur a great new racing franchise, and we are very encouraged by the game's design," stated Mike Griffith, President and CEO, Activision Publishing. "The additional time will allow the studio to fully optimize the vision they set out to create for Blur including a distinctive and groundbreaking multiplayer mode that will appeal to a broad audience."

Blur will be Bizarre Creations' first game since being acquired by Activision in 2007. They are also working on an untitled driving game set in the James Bond universe that is scheduled for release in 2010 as well.

We'll have more soon.