News: Out on parole and available for your viewing pleasure.





As promised, Rockstar has released the first screenshots from the PSP version of Grand Theft Auto: Chinatown Wars.

In making the jump to Sony's handheld, the game will retain the overhead viewpoint seen in the DS version. But everything looks much more clean and detailed.

Rockstar has released a total of seven screens (with "informative captions" courtesy of Rockstar), including this one featuring main character Huang Lee using a flamethrower: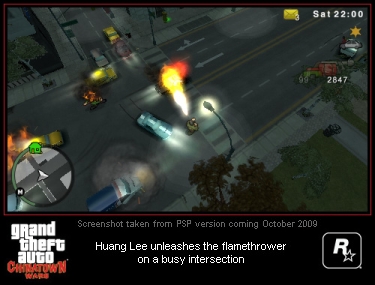 To take a look at all seven screenshots,
you can use this link
or click on the image above.
Grand Theft Auto: Chinatown Wars will be released on the PSP on October 20.