News: Megan Fox will play Transformers: Revenge of the Fallen with a bunch of sweaty nerds this Saturday night.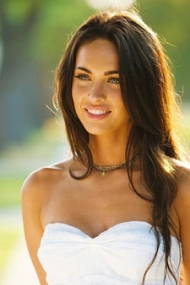 What are you doing this Saturday night? Playing some video games with some friends? What a coincidence, so is Megan Fox, star of Transformers: Revenge of the Fallen and the dreams of most men everywhere.

Fox will take an Xbox 360 controller in hand this Saturday, August 29 as part of Microsoft's Game With Fame program. Naturally, she'll be playing Activision's game adaptation of Transformers: Revenge of the Fallen. Specifically, the new Character and Map Pack Plus expansion that was released today. It's available to download for 800 Microsoft Points ($10).



To get a chance to game with Fox, Gold members should send a friend request to the gamertag "Megan Fox 2009" and be sure to be online at 5:30 PM (Eastern Time) on Saturday, a half hour before the Game With Fame's 6:00 PM start time.

While it's possible Megan Fox and Shia Le Beauf spent their downtime on the set of Transformers fragging each other's brains out... in video games that is... I'm going to go out on a limb here and say she's probably not the avid gamer Microsoft is making her out to be.

But I guess anything's possible, as she talks about her gaming history in this

WhatTheyPlay interview

and admits to liking

Mortal Kombat vs DC Universe

. Since nobody uses Mortal Kombat to show off their gamer cred anymore, she might just be telling the truth.