News: We don't know what it looks like yet, but we know when it's coming.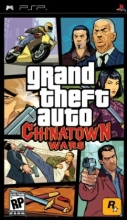 Rockstar Games has announced, via their Twitter feed, that the PSP version of Grand Theft Auto: Chinatown Wars will be released on October 20. While Rockstar has yet to release any screenshots or details concerning the game's Rockstar Leeds-developed PSP conversion, they have promised that screens and details are coming soon:


Grand Theft Auto: Chinatown Wars coming October 20th for PSP. First screens and more coming soon.
The company would go on to use their Twitter account to reconfirm that the game will be available both in stores and on the PlayStation Store (likely on October 22 as Sony only updates the PlayStation Store on Thursdays).

We'll have more (and hopefully those first screens and details) soon.