News: With a slight name change that is.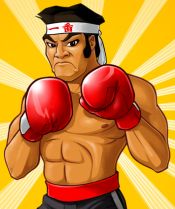 Nintendo has unveiled another boxer ready to step into the Punch-Out!! ring with Little Mac in a little less than two weeks. Weighing in at 174 pounds, hailing from Tokyo, Japan, the former champion of the WVBA Minor Circuit, it's Piston Honda!

Scratch that. This is Piston Hondo, a slight but important difference. Although Nintendo assures us it is the same character. His name was likely changed due to Nintendo not wanting to upset automobile producer Honda. Although considering his name was Piston Honda, a reference to the carmaker was probably intended in the first place.

Either way, Nintendo has a little video of Little Mac taking on Piston Hondo at the game's official website, PunchOut.Nintendo.com.

Punch-Out!! will be released on the Wii on May 18.