Previews: Matt Swider explains why a jet pack and the vertical cover system found in Dark Void turn Gears of Wars on its head.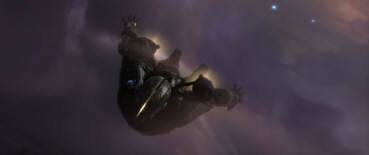 If there's one game you shouldn't avoid in 2009, it's Dark Void. Capcom and Airtight Studios were showing off this early, but impressive sci-fi shooter at E3 2008, where it turned the Gears of Wars cover system on its head and quickly became a favorite of ours. Will, your average 1930s cargo pilot, goes down in the Bermuda Triangle and finds himself in a world with other Triangle survivors. I asked if Amelia Earhart was one of the survivors and received a ??no comment.? That's either a coy yes, or a misleading no.
Bermuda Triangle survivors aren't the only inhabitants of this strange new world. There's also a robot-like race of aliens known as ?The Watchers.? They're a sophisticated bunch, with jetpacks and spaceships whizzing around. As Will, you eventually obtain a helmet and rocket pack and put them to good use against these hostile aliens. The demo had me hover up a series of ledges with the rocket pack and, whenever enemies appeared on the top side, fly underneath the platforms to hide. Using a vertically-oriented duck and cover mechanic similar to Gears of War, I would take refuge beneath a ledge, pop out when the aliens were finished firing at me and shoot them until the coast was clear. With vertical cover coming next year, Gears of War 2's horizontal cover system may seem so 2008.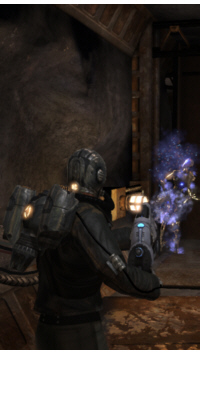 Gripping the bottom edges of rocky platforms and hanging in the air to perform this new vertical cover move was only overshadowed by the result: shooting an enemy leaning from the top side and watching him fall from a high altitude into the abyss. While not hovering up and down platforms, the rest of this third-person action game takes place on level ground where both feet are firmly planted or in the sky inside one of the alien UFOs.
The great thing about having the team at Airtight Studios develop Dark Void is that it's not a third-person shooting game company attempting to make a flying game, but a flying game company trying to create a third-person shooter. No one here is trying to slap a jet engine onto the back of their main character and expecting wonders. Instead, half of the Airtight team gained experience making Crimson Skies: High Road to Revenge, the hit dog fighting game for the first Xbox. So whether you're hovering with the rocket pack or spinning through the air in an alien spaceship, it has an appropriately weightless feel.
A hover-happy multiplayer mode also seems appropriate for a game like this, especially considering Crimson Skies was an online favorite during the first year of Xbox Live. However, the team was adamant in saying that single-player is the focus since they want to do so much with it and don't want to worry about multiplayer until a Dark Void 2. Fair enough. The studio has already spruced up the E3 demo since previewing it for EGM. You may have seen screenshots while reading the magazine's exclusive first preview in the June issue. The guys at Airtight said that the earth tones from those images have been toned down in favor of darker colors that are more suitable for sci-fi games. Also keeping with the sci-fi element, the 1930s nostalgia won't go as far as The Rocketeer movie. I remember that when referencing the movie, the team said that the futuristic nature is more appealing to players. Between now and 2009, though, I hope it has some additional retro references take root. The old time music and timeless pop culture heard and seen in Fallout 3 are one of the draws to that upcoming game. I also expect the dodgy frame rate and lingering bugs demo bugs to be handled by next year. There's certainly enough time, which is both a good (for the game) and a bad thing (for our longing to play it).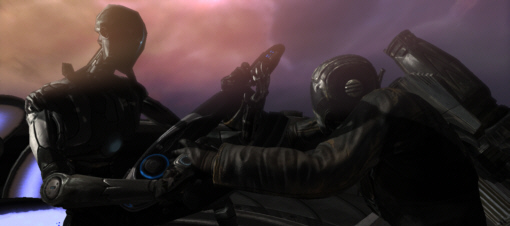 The demo ended after we used the jet pack to cling to the side of a spaceship, pressed a couple of buttons to commander it and flew around shooting the remaining UFOs. It did close with a cliffhanger, as Will went up against a giant robotic-looking alien that was thirty times his size and shooting a massive laser beam from its head. The developers at E3 would only hint that your enemy is some sort of alien race and not really a robot. We're guessing it's an ?alien inside a robot? situation. But, with the mystery intact and after witnessing fast-paced gunplay from all sorts of angles, we can't wait to see what Dark Void has in store several months from now.