Reviews: Rebuild and reclaim different areas as you race to stop a brand new enemy who is hell bent on wiping you out.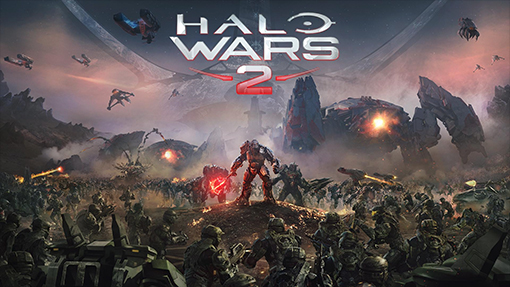 It was a pleasant surprise when Microsoft revealed that Halo Wars 2 was in development. I don't play a lot of RTS games but I did really enjoy the original Halo Wars on the Xbox 360. Now Halo Wars 2 has arrived and it is just as much fun as the original. There is the campaign which continues the Halo Wars story and features 12 different missions to go through. Then there is the online multiplayer where you can play against others online in a variety of modes. Blitz is also here which is a new spin on things that includes cards and your ability to call in strikes against your opponent based on your deck. Then of course there is the Skirmish mode where you can play a match against the AI to try and get a feel for the different types of multiplayer modes before you jump into the action with another person. Overall it is a complete package that is a tremendous amount of fun to play.
The campaign begins with you being woken up from long term cryogenic sleep above a mysterious planet. As you try to piece together what is going on and what has taken place you notice that there is a distress call and decide to go down there and assess the situation. Once you do that it doesn't take long before you run into the main villain for the game and this introductory meeting is not a pleasant one. To avoid spoilers that is all I will say about the story. The cinematics that you see at times in between missions are breathtaking though and simply look amazing. Blur has done another impeccable job here and they are worth going through the campaign to see all of them. Due to the way things turned out as far as the story is concerned I have high hopes for a Halo Wars 3. Please also keep in mind that once you go through the campaign you will definitely want to stay for the credits because there is a pretty cool scene afterwards that you probably won't want to miss. One last note about the campaign in Halo Wars 2 is that there is co-op so you can enjoy the campaign with friends which makes it even better.
Moving over to the multiplayer side of things this is unquestionably where gamers will be spending the majority of their time. The standard multiplayer suite features five different playlists with three different modes. The three different modes include Domination, Strongholds and Deathmatch. In Domination you have to capture and hold control towers to score points and the first team to reach the maximum score wins. In Strongholds there are a number of locations placed on the map. It is your job to build and hold more strongholds than your opponent at the end of the match to win and you have unlimited resources to do so. While it might sound easy it can definitely get difficult as the more advanced weaponry doesn't really open up until level three and you start out as level one. Then there is the Deathmatch mode where victory is achieved by destroying all of the enemy bases on the map. Pretty straightforward objective here but you need to be able to strategize properly. If you don't use your resources properly and build a good army then your opponent might come by and wipe you out before you even have a chance to do anything so it is good to devise plan and stick to it whenever possible. There are both daily and weekly challenges for you to do and there are even a couple of achievements tied to them. Challenges range from finishing a couple of matches with a particular character or going a particular mode for a set period of time. As I write this review one of the weekly challenges is to finish six match-made team games of Strongholds. As the name implies there will be different challenges every day in the daily category and then new weekly challenges as well. Completing these challenges will get you some nice XP which will allow you to level up profile faster than those who ignore the challenges altogether. The aforementioned Strongholds weekly challenge will net you 800 experience points, for example.
Outside of the general multiplayer suite is the new Blitz mode. I should start off by saying you might want to go through the campaign before you jump into Blitz mode. It isn't a requirement or anything but you will continue to get Blitz cards as you beat missions in the campaign. If you are trying to get as complete a deck as you possibly can then you will definitely want to go down this route. You can also gain Blitz cards by completing the aforementioned daily challenges which gives you another reason to keep up to speed with the different challenges each day. Blitz mode relies pretty heavily on these cards. The general premise is that you will enter into battle with a 12 card deck. This deck will determine your offensive output during the game. It will determine the kinds of units that you are able to send in to help lead you to victory. It should go without saying that the more powerful deck the better. Keep in mind though that you will have to manage your resources. Just because you might have a really powerful unit at your disposal doesn't mean you need to call them in right away. The more powerful units will use up more energy so you need to weigh the pros and cons of the situation you are in and decide whether you want to go the quantity over quality approach with more units that are weaker or whether you want fewer units on the battlefield but they are much stronger. Bigger, stronger units tend to sacrifice some mobility and become an easier target for the opposition but they pack quite a punch while your smaller units are more nimble and might be able to attack the enemy more easily at times although they won't have as much power behind their attack. The people that will be the most successful here are those who can walk that line and properly balance everything at their disposal. One last thing about Blitz mode is that it is important to note that this is for newcomers and veterans alike. The team over at Creative Assembly worked hard to give it the right balance and made it a pretty streamlined experience. In my opinion as someone who doesn't have a lot of experience with this type of thing, they did a really great job with this mode. You also have the a variant of Blitz mode with Firefight. Here you have to survive against an ever increasing wave of enemies they try to overrun you and grab two of the three points on the map. I'm also having a good amount of fun here and there are some achievements tied to this, such as beating wave 10 or scoring 500,000 points in a single Blitz firefight.
There have been a few RTS games over the years that have attempted to make the transition to consoles but to me the Halo Wars games are definitely the best. They found a way to be able to use a controller that isn't cumbersome and actually works really well. The controls are simplistic yet some of the tactics you can use on the enemies can be pretty advanced. To select one unit you simply highlight and then push the "A" button. You then move the reticule to where you want them to go and push the "X" button. It is legitimately that simple and something everybody should be able to easily pick up, even if this is your first RTS game. To select more than one unit you just have to hold down the "RT" button and then you can pick as many units as you want. If you just want to select your local units that are at your first base, for example, you can hit the "RB" button once with the reticule hovering over the base and they will immediately be selected and then you send them to wherever you want with the press of the "X" button. If a big battle is about to go down and you need to call in all of your forces then a quick double tap of the "RB" button will allow you to select every single unit you have no matter where they are on the battlefield and then you can direct them to where you want them to go. It is a really simple but elegant system and it helps to assure that it is accessible to everyone which I really appreciate.
As you go through the campaign there are going to be a number of different collectibles for you to find. There are the traditional Halo skulls that you can find that you modify the game in certain ways as well as something called "Phoenix Logs". These logs will give you backstory until what is going on and about some general things in the Halo universe such as the Cartographer, the Ark, Forerunner Sentinels and much more. There are different categories such as leaders, Banished buildings, UNSC units and a whole lot more. It is a great way to get some backstory on a variety of different subjects and if you are a fan of the Halo lore I think you will definitely want to check these out. The skulls that you find throughout the campaign will have a number of different effects on the game, similar to past Halo titles. There is a "Grunt Birthday Party" skull where when you kill a Grunt on the battlefield they will explode into a shower of confetti. There is another one called "Wuv Woo" where Scarab and Locust beam weapons shoot rainbows made of pure love and hearts. There are also more serious skulls such as the "Pestilence" one where all player units will slowly lose their health from the moment they are built and the "Nightmare" skull where there are no checkpoints or saves on any difficulty in the campaign. As you can see there is a wide range of these that can happen here which is pretty cool in my opinion as it can definitely change the game you are playing, somewhat.
Another great touch by the development team at Creative Assembly is the theater mode. This will allow you to rewatch any of the cinematics that you have unlocked going through the campaign. As I mentioned up above Blur did an incredible job with these and you will probably want to watch them more once. I always love it when developers give you options like these as I am someone who generally likes to watch the cinematics in a game and it can be a disappointment if it is only a one and done thing where you can't ever see it again unless you go through the game again.
My time with Halo Wars 2 has been fantastic. Much like the original it is easy enough to pick up for someone who might be brand new to the genre but there are definitely some things to dig into for more experienced players as well. I enjoyed going through the campaign and I am really hoping that we get a third entry in the series. Once again please keep in mind that you will want to stick around and watch the end credits because there is an intriguing scene to watch once the credits stop rolling. The multiplayer action is well done and the Blitz mode is most certainly a welcome addition to the franchise. During my time with Halo Wars 2 I didn't have any problems with my online games. I was able to connect to people fairly quickly and once the game got started I didn't see any lag at all. It is a great experience overall and is highly recommended whether you enjoy the Halo lore or just want a good RTS to play on your console.