Xbox 360, PS3, PC Review: Editor's Note: We deeply and sincerely apologize for Hollander's gratuitous use of that Black Eye Peas song in the headline.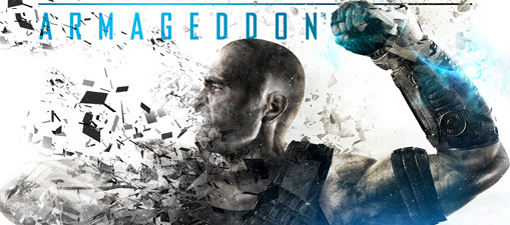 Being a reviewer means that, sometimes, friends ask me for advice before purchasing games. In the summer of 2009, one question came up more than any other. ?I want to play an open-world game. Which is better, Infamous or Prototype?? Despite playing and enjoying both games, my answer was always the same: Red Faction: Guerrilla. Volition's open-world playground brought Mars to life like never before, with the best destructible environments the industry had ever seen. Driving around the red planet's surface and destroying enemy bases was absolutely blissful, and pushed the shooter high on my list of favorite games of 2009. When the sequel, Red Faction: Armageddon, was revealed to take place under the surface, I was confused. When it was said to be story-driven and linear, I was worried. Sure, the gunplay was fun in Guerrilla, but how would the destructible environments work in an underground, linear world? Luckily, just as well.
Set 50 years after the conclusion of Guerrilla, Armageddon drops players into the boots of Darius Mason, grandson of Guerrilla's protagonist. After battles with the Marauders left the planet's surface uninhabitable, the remaining citizens have been forced to live their lives underground. That is, until Mason mistakenly frees indigenous Martians?ugly, powerful bug-like creatures?which quickly begin to slaughter the humans and try to take back their planet. Once again, a Mason needs to try and save the planet, this time from the inside out. If, you know, he doesn't blow it apart in the process.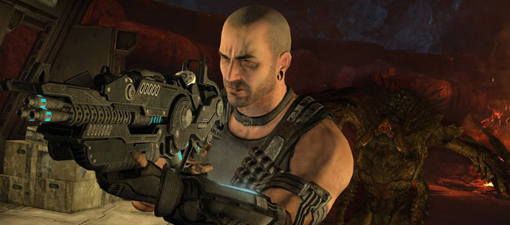 When compared to past releases in the series, the story is strong, and the characters are surprisingly entertaining. Some are a bit shallow, but others, like the protagonist and his commanding officer, Sgt. Winters, have some memorably witty banter. This is likely due not only to top-notch writing and voice acting, but a compelling narrative that drags Mason all over the planet in a lengthy campaign. A steady stream of new enemies, allies, and environments keep the story feeling consistently fresh; whenever things begin to feel too sedentary, Mason will need to jump into a mech, or aboard a mine cart, or into another powerful vehicle. It's paced exceptionally well, and while it starts to drag near the end, there's never a dull moment.
Granted, a fun story can only bring it so far. The real star of Armageddon is the gameplay, which proves to be just as strong as its predecessor's due, once again, to physics. Mason's signature sledgehammer returns, but takes a back seat to what might be one of the best weapons in recent video game history: the magnet gun. Using it is as simple as shooting at one object and then another. Immediately, the first object is hurled at the second object, obliterating anything in its path?even if it's another enemy. As foes become more powerful, I found myself finding absolute bliss in smashing them through walls, tossing them through pillars, or throwing them into a building before blowing up the supports and trapping them inside. It's remarkable, and lends to some fantastic gameplay. Large environments become physical playgrounds, with collapsing buildings, gigantic explosions, and extremely entertaining encounters.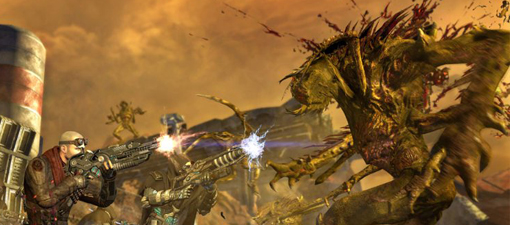 For those interested in a more traditional experience, a nonstop barrage of new, powerful weapons are delivered as well, satiating any gamers' lust for explosions and guns that can create miniature black holes. Generally, games with a gimmick let the gunplay suffer, but that's not the case in Armageddon. It might not be Gears of War, but it's certainly a functional third-person shooter, with a smattering of special powers that can make Mason feel like a god.
Once the single-player campaign is completed there are two additional modes to enjoy: Ruin, which is a rehash of Guerrilla's Wrecking Crew mode (albeit more limited); and Infestation, which has up to four players fighting waves of enemy attackers. The competitive multiplayer from Guerrilla is, sadly, absent, and while the two included modes provide some good fun, they definitely could have been fleshed out a little more.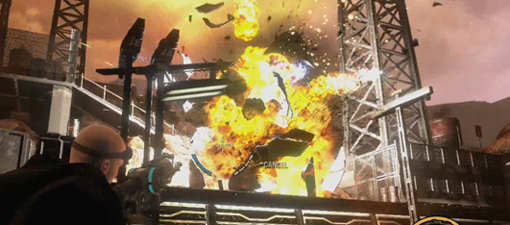 Ruin, in particular, is but a shadow of what it should have been, with only a handful of maps and a limited scope. It focuses on blowing up everything in an area within a set amount of time, which takes advantage of the physics, but not as much as it could have. Different options, like attempting to destroy as much as possible with a limited amount of ammunition (thus creating a Jenga/Boom Blox-like scenario), would have done wonders for replayability. Infestation is more developed, and about as fun as any other ?fight a bunch of waves of enemies? game-type, though it doesn't fully make up for the lack of a competitive mode.