News: 2K Games details where to buy and how much you'll pay for the limited edition bundle.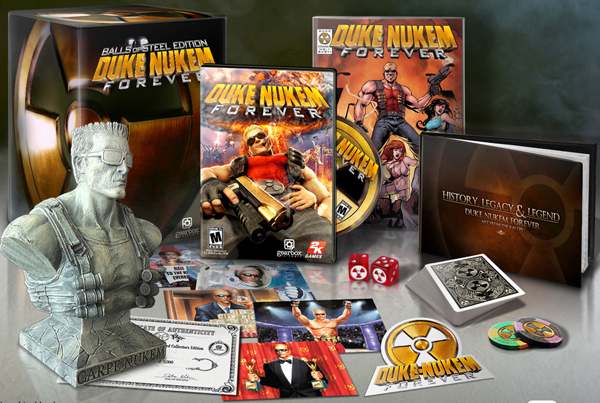 Okay, we're starting to believe that Duke Nukem Forever will actually release now that 2K Games and developer Gearbox Software have announced that there's a special edition coming. The appropriately named Duke Nukem Forever Balls of Steel edition is coming to Xbox 360, PS3 and the PC on May 3, 2011, the release date as the normal, less frilly version.



This $99.99 limited edition is only available at GameStop and Amazon.com and contains the following items: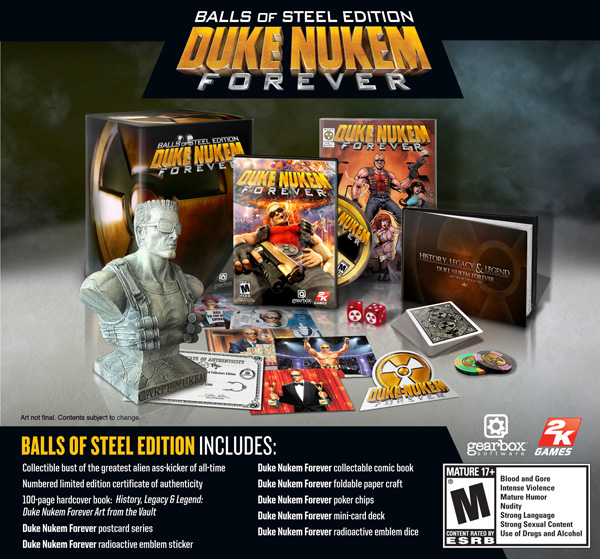 Collectible bust of the greatest alien ass-kicker of all-time
Numbered, limited-edition certificate of authenticity
100-page hardcover book: The History, Legacy & Legend: Duke Nukem Forever Art from the Vault
Duke Nukem Forever postcard series
Duke Nukem Forever radioactive emblem sticker
Duke Nukem Forever collectable comic book
Duke Nukem Forever foldable paper craft
Duke Nukem Forever poker chips
Duke Nukem Forever mini-card deck
Duke Nukem Forever radioactive emblem dice
The press release did note that this will be available "while supplies last." In other words, 2K Games understands the true meaning of a limited edition that won't be on store shelves months down the line.