News: The Chief finishes the fight on Reach. Sort of.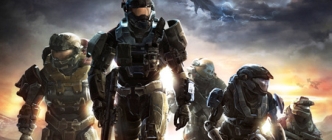 With the release of
Halo: Reach
, Bungie has completed their journey through the saga with a whiz bang swan song that many reviewers are calling "the best Halo ever." But what about the Master Chief, the franchise's biggest star and arguably the most famous game character created in the last decade.
Fear not Halo fans, the Chief has a part to play in Halo: Reach as well. Although it's a small one and you have to know how to find him. Thankfully,
Achievement Hunter
has done hard work for us.
Load up the level "Pillar of Autumn" and fight your way through the level until the ship begins to take off. By holding the Right Stick all the way to the right, you'll get a glimpse of Master Chief in his cryo-tube.
You can check out the easter egg right here: