News: Still no word on an American release.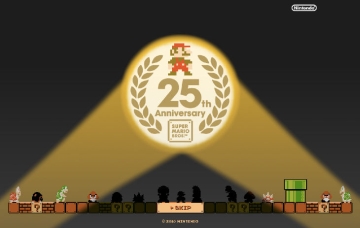 25 years ago today (September 13, 1985), Nintendo released Super Mario Bros. on the NES in Japan. Since then, Mario has gone on to become a global gaming icon and Nintendo plans to celebrate his silver anniversary in style. How you ask? With a Super Mario Collection on the Wii that's how.

Currently announced for an October 21st release only in Japan, Super Mario Collection was originally released on the Super NES in 1993 and contained 16-bit versions of Super Mario Bros., Super Mario Bros. 2, Super Mario Bros. 3 and Super Mario Bros.: The Lost Levels. As you may have guessed, Super Mario Collection is the Japanese title of Super Mario All-Stars.

Nintendo of Japan has launched the official website for Super Mario Collection, which features a look at the game's fancy packaging along with details about a special "History of Mario" booklet and soundtrack CD that will be included with the game.

As I said, Nintendo has yet to announce a North American release for the Wii version of Super Mario Collection/Super Mario All-Stars. But we can dream. And we can dream while thinking about this awesome trailer for the game, which Nintendo also released today:



UPDATE:

Nintendo of America has launched their own site for Super Mario's 25th anniverary (which is very similar to the Japanese site) at

mario25th.Nintendo.com

. The site also promises to be a hub will be the hub for the 25th anniversary celebration of Super Mario Bros. And it urges gamers to "celebrate with Nintendo by checking back in on this site in weeks ahead."

I smell an announcement...