Special: If you love Batman, you have to read The Long Halloween. Everyone else has.
WB Games released the first set of screenshots from
Batman: Arkham City
yesterday. These images, along with a new preview in Official Xbox Magazine UK, have revealed some of the inspirations of the development team at Rocksteady Studios... and some of them should be very familiar to long-time Batfans.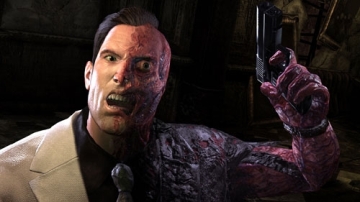 Two-Face is Tommy Lee Jones
Two-Face was famously portrayed by Aaron Eckhart in
The Dark Knight
, but Rocksteady has gone a little further back to find inspiration for his dual visage in Arkham City. The character's trademark scars have been depicted using a variety of colors over the years, but the purplish tint they have in Arkham City was most recently worn by Tommy Lee Jones in
Batman Forever
. The unscarred side of Harvey Dent's facial model even resembles the Oscar winner.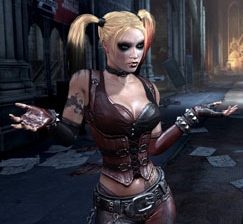 Harley Quinn is Nancy Spungen
The Joker's main squeeze has received a bit of a makeover in Batman: Arkham City. Gone is the naughty schoolgirl/Hot Topic look of Arkham Asylum and in its place is an appearance more fitting of a punk rocker. The wild blonde hair, pale skin, dark circles around her eyes and leather vest are all meant to invoke Nancy Spungen, a groupie who lead a drug-fuelled, destructive relationship with Sex Pistols' bassist Sid Vicious in the 70s.
The parallel between Harley and The Joker and Sid & Nancy has been used several times over the years, but never has it been as blatant, thanks to Harley's new look abd The Joker's strange illness (which, when you think about it, could be considered withdrawl from a drug addiction).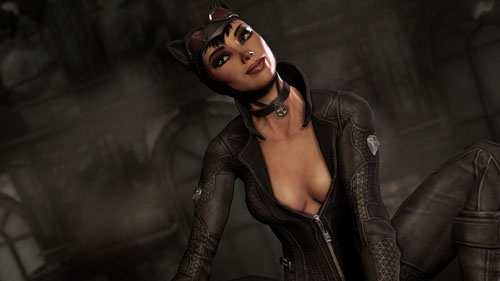 Catwoman is Angelina Jolie
Speculation about
Batman 3
has been running rampant ever since
The Dark Knight
began setting box office records back in the Summer of 2008. One of the most persistanct rumors is that Angelina Jolie is being courted to play Catwoman. While Christopher Nolan has refused to confirm or deny whether Selina Kyle will even appear in the film, it hasn't stopped Rocksteady from showing the world why her casting would be a great idea. The screenshot above depicts a Catwoman that is clearly based on Jolie's facial features. It's most obvious by staring at the characters impossibly large... lips.
Addendum:
Multiple readers have written in to let me know they don't think Catwoman was based on Angelina Jolie. Some think she more closely resembles Halle Berry while others said she was a direct copy of Adam Hughes' iconic depiction of the character. I still say Jolie was the inspiration for this Catwoman and as further proof I provide
this image
of the actress from
Hackers
. I tell you, the resemblance is uncanny.
The Long Halloween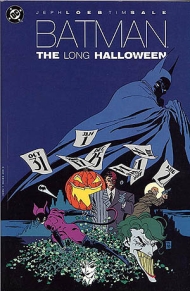 Speaking of
The Dark Knight
, the film's storyline was, in part, based on the Batman graphic novel
The Long Halloween
. The weakening of the mob the rise of the freaks, and the creation of Two-Face were used as a backdrop to tell a tale about The Holiday Killer. To get inside the head of a murderer who uses dates as their motif, Batman consults with Calendar Man in an obvious nod to
Silence of the Lambs
. Bruce Wayne will once again do his best Clarice Starling to Calenmdar Man's Hannibal Lecter in Arkham City as Rocksteady has confirmed the villain will return to offer advice to Batman. Owing to the character's mental peculiarity, Calendar Man will offer difference advice depending on the time shown in the system clock.
Tune in Tomorrow...
Same Bat-Time, Same Bat-Channel
Batman: Arkham City is still over a year away, so Rocksteady surely has more secrets and influences to unveil in the coming months. And if these first screenshots are anything to go on, we're all going to be greeted to the greatest Batman adventure since... well, since Arkham Asylum.