News: I've got a golden ticket...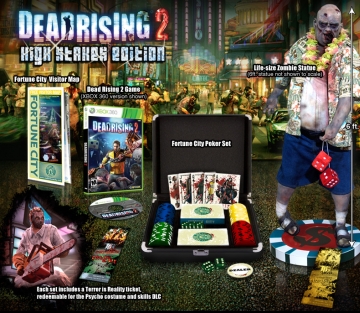 Capcom already announced one Dead Rising 2 special edition, the Zombrex Edition, but now they've gone one better and announced a second special edition that's being sold exclusively through the Capcom Store.

The Dead Rising 2: High Stakes Edition will be available in limited quantities for the PlayStation 3 and Xbox 360. Both versions have been priced at $89.99 and Capcom is urging gamers to pre-order today as they don't think they'll last long.

Why's that? Well, look what you'll get in the High Stakes Edition:


Dead Rising 2 Game (Xbox 360 or PS3)

Poker Set in a black high-impact case sporting the Fortune City Logo and including 100 Poker Chips, 2 decks of ?blood-stained' custom playing cards featuring character art, 5 green dice, 1 ?blood-stained' dealer chip

Fortune City Visitor Map featuring the game map and ads for Fortune City locations and attractions

Terror Is Reality XVII admission ticket with redemption code for the unique ?Psycho' costume and skills downloadable content

One High Stakes Edition will contain a Golden Ticket that is redeemable for Burt the Zombie, a 6 foot tall "replica zombie" statue. I'll wait as you imagine Keiji Inafune dressed up as Willy Wonka surrounded by Oompa Loompa-sized Mega Men.

Dead Rising 2 will be released on September 28. If the chance to win a Hawaiian shirt-clad zombie statue hasn't persuaded you to buy it, nothing will.