Review: Q-Games hits it out of the park again with this portable expansion to their beloved tower defense game.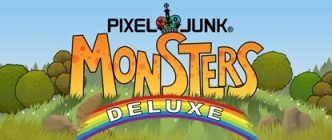 Q-Games has given us yet another reason to celebrate - PixelJunk Monsters Deluxe for the PSP. It's like the icing on an RTS cake ? it's all the levels, monsters, and towers from PixelJunk Monsters and the expansion, Encore, but also adds another island with even more monsters and more towers. There's also another fun surprise ? now some of the land monsters fly in on balloons, meaning even more of a challenge in setting up your towers and protecting your babies.
As in the first two, this PixelJunk is a tower defense game, in which you must protect your house ? and all the babies playing outside! ? from the waves of monsters. You have a limited number of towers at first, but as you collect coins and gems from the monsters you kill, you can ?research? the towers and upgrade the ones you have as well as unlock new ones. These are all simple concepts in a time-honored genre, but PixelJunk Monsters is known for its adorable art style ? and its oftentimes incredible difficulty level.
In addition to Tiki Island and Toki Island, now there's Gati Gati Island, chock full of all the strategic levels you've grown to love from the first two. There are the typical levels ? like the ones where you must defend your house from monsters coming from one direction?or several! Then there are the less typical levels, like a special with no gems, or one where monsters don't drop gold, but gold keeps re-spawning in the trees, so you must run around continuously. There's also a level where you fight just one type of monster, and another special ? in which you fight all airborne monsters only (that one can be tricky, but very fun!). But by far the best level on the new island is ?Volcanic Swirl,? one of the best challenges they've given us yet.
There are three different player options for single-player ? casual, regular, and hard-core, which can be unlocked once you beat the game on regular. All the monsters you remember are there ? the tiny Pine, the Sycamore with his propeller, and, my personal angry favorite, the fat, floating Bee ? but there is a new monster too, an angry crab whose shell is tough like the Giant. There are also some new bosses to fight here as well. And with some monsters flying in on balloons, the Arrow tower becomes more important than ever to pop them! There are now four towers unlocked immediately ? Arrow, Cannon, Anti-Air, and Ice. The other regular towers are there, like Tesla and Laser, but now there's a brand new one called the Trap tower, which traps monsters between it and zaps them ? flying or on the ground. This can be very helpful in levels with diverse monster waves. Also powerful and dangerous is the new Lightning tower, which can charge up and attack all the monsters on the stage. These towers are integral in battling the newer and more powerful monsters and bosses.
And the waves just seem to keep coming! Monsters can now come out ?on fire,? literally with fire around their heads, indicating that they are faster than usual ? Spiders on fire can be difficult to combat without the proper tower setup. Some monsters will be invincible to magic, physics, or ice, indicated by faces glowing a different color. So choose your towers wisely!
Towers are still upgraded the same way, through dancing and gems. The upgrade colors are still the same ? starting at green, then yellow, then red, then purple, and finally black. And, of course, beating a level without losing any babies still yields you a Rainbow. Each island has specific levels that can only be reached by getting a certain number of rainbows, so perfection can become an obsession as you learn the subtle nuances of each of the new levels.
In addition to all of this great content, there are also medal challenges, very similar to the trophies in the PSN version. Many of the medal challenges are taken directly from the trophies, but some ? like ?Kill Off!? in which you must kill 100 enemies with the trap tower ? are brand new. Winning a medal challenge unlocks various things in the ?Tiki Hut,? a special new area on the menu. This includes items like original themes and wallpapers for your PSP. And, as is everything about PixelJunk Monsters, these challenges are fun, cute, and can be deceptively hard.
Of course, it's more fun to kill monsters with a friend, so Q-Games has provided players with the chance to team up for even more fun. There's an Ad Hoc mode in which you can play co-operatively with friends, working just like the two-player mode on the PSN version. Players can also enjoy online play, finding or creating rooms to meet up with people and play levels together.