News: It'll be $10 to access nine multiplayer maps, the Tomahawk and eight characters from Red Dead Revolver.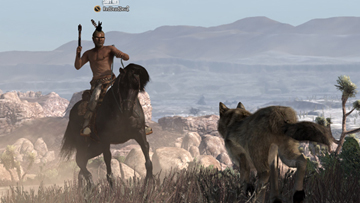 We know that there are four more downloadable content packs coming out for Red Dead Redemption, but only knew that one of them, Legends and Killers Pack, had a release window of August 2010. Today, Rockstar Games narrowed down that 31-day timeframe to a single day: Tuesday, August 10, 2010.

Next week, when you ante up $9.99 on PSN or 800 Microsoft points on XBL, you'll be granted access to nine new multiplayer map locations, the Tomahawk weapon and the multiplayer debut of eight characters from the first game, Red Dead Revolver. Additionally, the chance to earn more Achievements and Trophies will help sway those who are capped at the current 1100 Gamerscore points.

Enjoy the five screenshots of the Legends and Killers Pack that Rockstar Games attached to its press release this morning and remember to check back with Gaming Target when the company prepares to launch the Liars and Cheats, Free Roam, Undead Nightmare packs.