News: Activision rocks out with Guitar Hero, Zynga plants FarmVille on the iPhone and iPod Touch.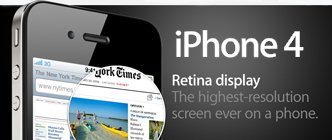 Apple CEO Steve Jobs announced the iPhone 4 at the WWDC keynote this morning, ushering in a host of exciting improvements for mobile gamers and tech-savvy fans alike.
Retina Display for more complex-looking games
The most eye-popping new feature is the Retina display, the brilliant-looking screen that contains four times the number of pixels as an iPhone 3GS's identically sized 3.5-inch display. By having a pixel density of 326 pixels per inch, texts looks crisper, images and video look sharper and, most importantly, apps and games look cleaner, even the graphics of existing games.
?Your apps look even better, but if you do a little bit of work,? Jobs opined, ?then they will look stunning. ?Awesome text, awesome images, and awesome video. We think this will set the standard, and no one is going to come close.?
More complex looking games can be developed thanks to iPhone 4's impressive 960 x 640 display, which contains 78% of the pixels of its bigger brother, the iPad. In addition to displaying four times as many pixels, the Retina display offers an 800:1 contract ratio, four times the contrast of previous models. Now, whites are brighter and blacks are darker, very appropriate for game developers who want to take advantage of the new LED screen with high-resolution graphics.
Gameplay enhanced via Gyro
What about gameplay improvements? It's not just about looks with the iPhone 4, as Jobs demoed a Jenga game app to show off the phone's inner beauty, a gyroscope. This 3-axis gyro allows for angular velocity and rotation about gravity, which gives smartphone gamers control of pitch, roll and yaw movements. The enhancement is along the lines of Nintendo's Wii MotionPlus expansion device that supplements the Wii Remote's accelerometer. By combining the gyro with the accelerometer, iPhone 4 is a 6-axis motion-sensing device, much like the PS3 motion controller, the SixAxis.
The internally developed Jenga app was appropriate for press conference purposes. But, it'll be interesting to see how future, more complex games take advantage of the gyro's new precision married to the existing accelerometer.
FarmVille plants itself on the iPhone, iPod Touch
The WWDC keynote did reveal some new games, however. First, Jobs introduced Mark Pincus, the CEO of Zygna. Now, even if you're not familiar with that company's name, you're probably very familiar with its newsfeed-cluttering Facebook game,
FarmVille
. Yes, FarmVille is planting itself on the iPhone and iPod Touch.
?FarmVille is our most popular game,? began Pincus, ?And we're excited to be bringing it to the most popular mobile gaming platform in the world. In the year since we launched FarmVille, it's grown to 70 million active users.?
All 70 million FarmVille active users will appreciate knowing that friends and farms sync with the Facebook app, so there's no drawback to harvesting on the iPhone. In fact there are some advantages. First, the iPhone version contains an exclusive animal: a Snow Leopard. More crucial to your crop's survival are push notifications.
?Say goodbye to withering crops, we now have push notifications,? said Zygna employee Jen Herman, as Pincus chimed in, ?Millions of our FarmVille players set their alarm clocks for 2 a.m. in the morning, they bring their laptops to bars and other strange places, just so they won't miss a key harvest. With Farmville on the iPhone, they'll be able to farm anytime, anywhere.?
FarmVille for iPhone will be available for free before the end of month, coinciding with the game's first anniversary on June 19.
Guitar Hero rocks out on the iPhone, iPod Touch
Guitar Hero
on the iPhone attempts to give apps like Tap Tap Revenge a run for its micro-transaction money by adding new gameplay techniques on the multi-touch screen and incorporating GH favorites like star power.
?We wanted to deliver a richer guitar experience,? explained Activision Senior VP Karthik Bala. ?With the introduction of a new strumming mechanic and use of the multi-touch display, our team has tweaked and polished Guitar Hero to make the gameplay perfect.?
Veteran portable developer Vicarious Visions is ?the team? he's talking about and its new $2.99 game apps introduces a simple, but effective swipe mechanic for strumming. This goes along with the expected tapping of streaming notes, which is how all Guitar Hero clones within the App Store operate.
Like FarmVille, Guitar Hero on the iPhone also stresses a social gaming experience. It allows you to customize the look of your rockstar and jump into a photobooth to snap pictures and send them to friends. Friends can also be altered of your high scores. So whether you're jamming to the classic rock with songs from Queen or The Rolling Stones or venturing into newer playlists with bands like Vampire Weeked and Rise Against, you can keep your friends apprised via leaderboards and Facebook.
Guitar Hero, unlike FarmVille, is available today in the App Store.
source: WWDC