News: Who wants some? I know I do.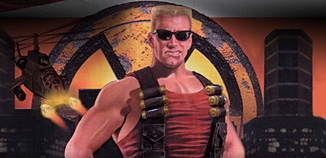 Long rumored to be in development, Microsoft has confirmed (via
Xbox.com
) that
Duke Nukem: Manhatten Project
will be coming to the Xbox Live Arcade sometime in the near future.
Duke Nukem: Manhatten Project is a side-scrolling shooter that was originally released for the PC in 2002. The game is one of the many Duke Nukem side-stories created and released since the announcement (and subsequent cancellation) of
Duke Nukem Forever
.
The game currently doesn't have a release date or price, but the story is pure Duke:
Duke Nukem is back in Duke Nukem Manhattan Project! New York City is being overrun by a mutant menace and it's time to de-worm the Big Apple. This explosive 3-D action game features the politically incorrect action hero defending the city that never sleeps, and its babes, from the evil Mech Morphix across 24 levels from Chinatown to Space. A super-sized collection of weapons, enemies and bosses await. As Duke would say, ?Babes, bullets, bombs. Man, I love this job!?
We'll have more soon.