News: Sonic will be coming to the PS3, Wii, Xbox 360 and "???". Say what?





In addition to its midnight unveiling on GameSpot, Sega has launched the official website for Sonic the Hedgehog 4: Episode 1 at SonicTheHedgehog4.com.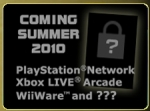 While much of the website is currently under lock and key, it does offer some new information that wasn't part of the GameSpot reveal. First and foremost, the game will be coming to a super secret fourth platform. An image in the top right of the site touts the release date (Summer 2010) and the platforms (PlayStation Network, Xbox Live Arcade, WiiWare and ???). Obviously, Sega hasn't offered any hints as to what that fourth platform could be. Is Sega working on a portable version for the DS, PSP or iPad? Or maybe a PC version? Who knows, maybe the game will be a launch title for the recently announced Genesis refresh, the Sega Zone.



But your guess is as good as mine right now as Sega didn't leave any incriminating evidence in the site's assets folder or source code.

Besides the bombshell that the game is coming to a fourth platform, the site also lays out a schedule for when new information will be revealed about Sonic 4:

Tomorrow at noon (Eastern Time), Sega will reveal more game info about Sonic 4.

On Tuesday, February 9 at noon, Sega will unveil more characters that will appear in Sonic 4.

On Thursday, February 11 at just a little before noon, Sega will release the fifth piece of concept art for the game.

And finally, on Thursday, February 25 at noon, Sega will post some new multimedia for the game that's not a video or concept art. Screenshots maybe?

We'll have more soon.