News: Hudson officially bringing the lost Castlevania game to America.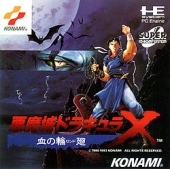 Siliconera recently contacted Hudson about the Virtual Console release of Castlevania: Rondo of Blood after the game was rated by ESRB.

According to Hudson, they will be bringing the game to the Wii's Virtual Console "shortly", but the game "will not be released in English", instead retaining its original Japanese text.



The game's lack of English text is due to the fact that Castlevania: Rondo of Blood originally never made it to America. It was originally released in 1993 on Hudson's TurboGrafx-16 (AKA the PC Engine) in Japan. The game was eventually ported to the Super NES as

Castlevania: Dracula X

, although numerous changes were made, rendering it an almost completely different game. Rondo of Blood was eventually released in unedited form in America in 2007 when it was included in the PSP compilation

Castlevania: The Dracula X Chronicles

.

Sadly, that game's English translation will not be used when it is added to the Virtual Console.

We'll have more soon.