News: Rocksteady is 'excited about the possibilities.'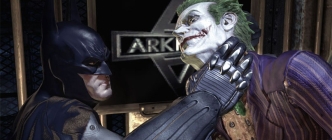 The December 2009 issue of Official PlayStation Magazine UK (issue 38) may have Ezio of
Assassin's Creed II
on the cover, but it's sequel talk for another stealthy avenger that really has the video game community talking.
Rocksteady Studios co-owner and co-founder Sefton Hill talked with the magazine about the developer's latest project,
Batman: Arkham Asylum
. Naturally, this talk shifted to questions about a sequel, to which Mr. Hill replied:
"I'm not really allowed to comment on that, but there are definitely lots of exciting stories to tell in Batman's world, and I can say that we're really privileged to work on it, and excited about future possibilities."
While that isn't confirmation that
Batman: Arkham Asylum 2
is in the works, it isn't a denial either. And usually, when someone says they're "not allowed to comment" on something, it's because a deal is being worked out to create that very thing.
So strap yourself in to the Batmobile, because it sounds like Rocksteady is taking another ride to Gotham in the near future.
We'll have more soon.