News: And Rock Revolution too, if you're into that sort of thing.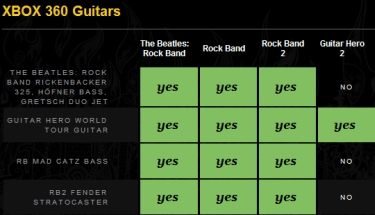 Harmonix has created the first official Instrument Compatibility Chart for all of the Rock Band, Guitar Hero and Rock Revolution games and their official instruments.

The chart is available at RockBand.com/compatibility and covers includes compatibility notes for most of the Rock Band, Guitar Hero and Rock Revolution game ever released on the PlayStation 2, PlayStation 3, Wii and Xbox 360. All of the Guitar Hero spinoffs released after Guitar Hero: World Tour are not specifically listed, but since they work off of the same framework as World Tour, the chart basically includes every Guitar Hero game ever released. The upcoming The Beatles: Rock Band is also included.

For those looking to maximize their plastic instrument dollar, the Guitar Hero: World Tour guitar and drums appear to have the best cross-game compatibility on all four platforms. But be sure to check out the full chart. It is a fantastic resource.