Special Feature: All 50 years of the Red Faction story.
Red Faction: Guerrilla Week:
Monday: Video Blowout | Tuesday: Volition Video Interview | Wednesday: Single-Player Hands-on Preview | Thursday: Multiplayer Hands-On Preview | Friday: History of Red Faction
Red Faction: Guerrilla takes place in the distant year 2125, but the saga actually began 50 years earlier in the
still
distant year 2075. That's when a disgruntled miner, a Peter Gibbons of the late 21st century, sparks a works' rebellion that takes down Mars' evil mining corporation. You see, the hero of the game, Parker (no first name given), bought into the promises of a new world and serious profit on the red planet. After all, with Earth's resources depleted, that's where all of the jobs were located.
It turns out that instead of open spaces and wealth, he and thousands of other recruits faced cramped living barracks, abuse on a daily basis and working conditions so deplorable that it would've given Upton Sinclair another best-seller. On top of that, all of his fellow subordinate workers were catching ?The Plague.? The last straw came when Parker saw a co-worker being beaten while they were being forced to mine under guard supervision. Parker's killing of the offending Ultor guard is the start of Red Faction and the beginning of the end of the Ultor Corporation.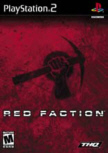 Red Faction released on PlayStation 2 on May 22, 2001, just shy of seven months after the console's debut. As a first-person shooter sporting 3D graphics and fully destructible environments, it was a hit that went on to sell more than a million and a half copies on the console. Back then, developer Volition, Inc.'s GeoMod engine was a gamer's novelty because it allowed for widespread damage to each level, while other games around this time were barely showing bullet impacts on walls.
To quote
Gaming Target's review
eight years ago:
?The Geo-Mod (which, by the way, stands for geometry modification) engine allows players to literally blow just about everything up, including walls, bridges, and columns. This is a truly great feature. I spent 20 minutes in the training mode just blowing the crap out of underwater columns and watching the pieces fall.?
-Kyle Williams

Eventually, Red Faction released for the PC and Mac after its initial PS2 launch. And, while it played a lot like other FPS games on the PC, the inclusion of an interesting theme, futuristic guns, cool vehicles and GeoMod special effects made it stand out in the then growing FPS market. Its expansion to the PC and Mac also allowed the game to sell more copies and warrant a sequel a year later.
Red Faction culminates with Parker taking on the bosses of Ultor Corporation, the discovery of a cure for ?The Plague,? and the Earth Defense Force (EDF) arriving after receiving Parker's distress signal. The remaining members of Ultor face their long-overdue justice, while Parker becomes a hero. Peace is restored, for a short while at least.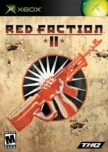 Parker must have pulled a George Washington and decided not to seize power for the rest of his life even though he could have, as he doesn't show up in Red Faction II. In fact, despite taking place just a few short years after the fall of the Ultor Corporation, the sequel doesn't feature any of the characters from the first game. It does, however, borrow the theme of taking down an oppressive and authoritative dictator from within.
Players are cast as Alias, a nanotechnology-enhanced super soldier and demolitions expert, which is the ideal character type for the return of the explosive GeoMod engine. He and his five squadmates are designed to protect the Commonwealth against rogue forces such as Red Faction and keep the peace. After all, who needs insurrections now that peace and tranquility have been restored on Mars and the Ultor Corporation is no more? But, because the Commonwealth's Chancellor Victor Sopot turns out to be a tyrannical ruler, the six super solders become freedom fighters on a mission to take down their leader.
The GeoMod engine for this FPS sequel was enhanced and even more integral to the gameplay. As
Gaming Target's review
pointed out:
?Volition's Geo-Mod is the power to go through just about any breakable layer you see in the game, whether it be a wall, floor, or ceiling, and it's breakable, you have a way.

If you hate having to search for the doorway in, forget about it -- make a new one! Dismantling pathways isn't your only option though, with there being enemy ground and air vehicles, street lamps, computers, and even giant robots to put a dent into. There's really no limit to what you can find to break in this game.?
-Chris Reiter
As the superior GeoMod engine improved, the series moved onto new systems, Xbox and GameCube, after once again debuting on the generation's dominate console, PS2, on October 15, 2002. While the PC version came out alongside its Xbox and GameCube counterparts in early 2003, no Mac version was ever produced. Also, none of the four versions featured online multiplayer, which was just gaining popularity on consoles at the time.
Although both Red Faction and Red Faction II were a success, the series' two mobile games were met with mediocre reviews. The Red Faction found on Nokia's portable N-Gage in particular suffered from unusable controls and choppy graphics in a failed attempt to recreate a 3D FPS.
These two afterthoughts aren't the way to end Red Faction, and thankfully THQ agrees, as the worker's uprising will be up and running again on June 2, 2009. That's when Red Faction: Guerrilla moves to a third-person perspective and GeoMod 2.0 blows everything away - literally. This new chapter features a new hero 50 years after the revolutionary events sparked by Parker, only the 11th hour heroes of the first game, the EDF, are now the bad guys in the 22nd century. It's up to reluctant hero Alec Mason to revive the rebellious spirit of Red Faction after the EDF kills his brother, Daniel.
Viva Volition's revolution! Let the Red Faction franchise live long and prosper.