News: See the first and only screenshot of Pro Evolution Soccer 2010.



You know that when a company releases just one screenshot of a recently announced video game that it's going to knock you off your feet and cause you to demand more. Case in point, the single screenshot that Konami sent us of Pro Evolution Soccer 2010 cover athlete Lionel Messi does just that.

PES 2010 will feature all-new dynamic lighting effects, which that company says will cause the position of the sun or the illumination from the floodlights to be reflected in real time within the shadows cast both on the pitch, stadium, the ball and players.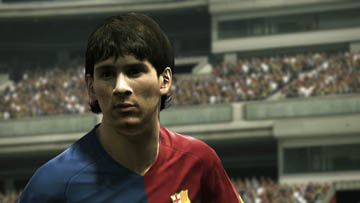 Konami also says that the newly-expanded Tokyo-based PES Productions team has also worked hard to create the most vivid player recreations to date. Naturally, I'm sure this level of detail applies to all players in the game and not just Lionel Messi. However, it'd be funny to see a super detailed Messi on the field with a bunch of stick figures when the game releases this fall because the developer took so much time to craft its cover athlete. It's pretty unlikely, but you can't blame us for speculating, Konami. You only released one screenshot. We could be right.