News: Dead Space developer changes name.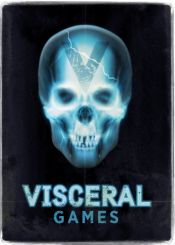 EA Redwood Shores, the development team behind Dead Space, has changed their name to better reflect their new design philosophy. The team will now be known by the moniker Visceral Games and to show how visceral they are, they've unveiled that nifty skull logo to your left.

?Action, intensity, excellence. It isn't just in our DNA, it's in our blood,? said Glen Schofield, VP and GM of Visceral Games. ?For the past two years, we have adopted a new culture that prizes excellence above all else. Primal action is the beating heart of the studio and now our new name reflects that.?



Visceral Games' most recent project was

The Godfather II

, released on the PC, PS3 and Xbox 360 a few weeks ago. Currently, the company is developing

Dante's Inferno

for the PS3, PSP and Xbox 360 and

Dead Space: Extraction

for the Wii. According to EA, the team is also working on two unannounced titles, one of which is surely

Dead Space 2

, which EA executives revealed in an interview with Variety last October.

We'll have more soon.