Final Glimpse: Deadly babes and groping zombies ? sounds just like college.
For those of you out there who think video games have way too much sex, violence and objectivism of women, I give you
Onechanbara: Bikini Samurai Squad
, where hot half-naked babes slash hordes of zombies into bloody chunks. I'll wait while your head explodes.
Yup, the formerly Japanese-exclusive hack-and-slash action title that captured the attention of slobbering guys everywhere back in 2006 will soon be released on our side of the Pacific. And leave it to the Japanese to come up with something so outrageous, yet so tantalizing.
Babes. In bikinis. Killing zombies. That's pretty much it ? and really, what more do you need? Sure, it sounds like something straight out of a sleazy marketing department but I dare you to deny that this game has sparked your interest. Deny it, I say!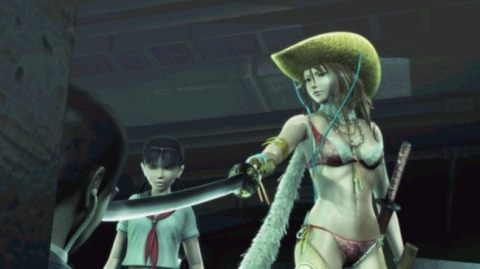 The game stars Aya and Saki, two sisters burdened with a cursed bloodline, deadly swordsmanship, and the need to wear skimpy clothes. The game starts off with Saki watching a TV reporter covering a sudden zombie outbreak. She then rushes into the bathroom where older sibling Aya is taking a sensuously long shower. They both run out to watch the horror on TV and then decide it's time to kick some undead ass. But first, Aya gets into her special zombie-killing outfit: a skimpy string bikini, cowboy hat and feathery boa. Apparently George Romero got it all wrong.
Anyway, once they hit the streets the zombie massacre begins. Aya is armed with a sword and can chuck throwing knives, while younger sister Saki relies on agile martial arts attacks in addition to her own sword. As you might expect in a hack-and-slash, the limbs go flying and the blood is generous, so much so that it accumulates on both the girls and their swords. Once it builds up enough on Aya, she can unleash a special Rage mode that increases her damage but eats away at her health. Too much blood on a sword will make it stick into enemies instead of slice cleanly through them; as a result, you will have to put your foot on a zombie's chest and yank it out, leaving you vulnerable to attacks.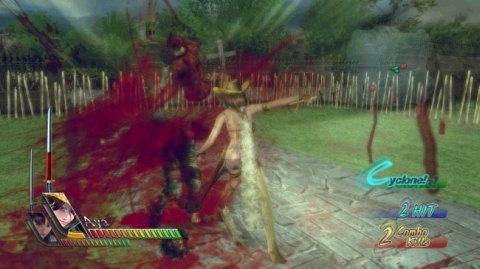 If things get too tough you will be able to swap between the sisters on the fly and take advantage of each girl's unique skills (and I'm not talking about their jiggle physics). You can also play co-operatively with another player, but only locally ? sorry, no online play is available.
As you progress through the game's 20 levels, you will collect gold coins dropped by your hapless victims, which can be redeemed to level up various attributes. You will also be able to unlock new clothing, accessories and even a new character, Anna (a police officer who specializes in ranged attacks and wearing as little of her uniform as possible).