News: Konami is bringing Frogger to the platform as well.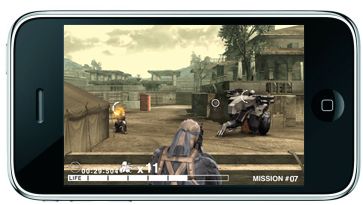 Konami has announced that several of their biggest franchises will be getting the iPhone treatment early next year, including Metal Gear Solid (Is this the game referred to as "The Next Metal Gear Is..."?), Silent Hill and Frogger.
Here's what the company had to say about their first trio of iPhone games:
Metal Gear Solid Touch
focuses on action elements of Hideo Kojima's classic stealth series, and will see series veteran Solid Snake embark on an all-new mission. Using locations and characters introduced in Konami's Metal Gear Solid 4: Guns of the Patriots, Metal Gear Solid Touch initially offers eight action-packed stages, with more to be added at a later date. The new title gives the player control via the Apple systems' touch panel, and also allows users to pan in and out of the action. Replay value is also enhanced via bonuses such as wallpapers and images that are attained by completing key elements within the game.
Similarly,
Silent Hill: The Escape
brings the doom-laden streets of the series' titular town to iPhone in an first-person action title boasting new strains of macabre adversaries and a dark, brooding atmosphere.
The evergreen
Frogger
also heads to iPhone in a pixel-perfect conversion of the classic arcade game. A new generation of gamers can experience the classic 80s coin-op as they steer the little amphibian across a busy street and danger-filled river as he attempts to make it to his lily-pad home in a newly revamped version.
?These are Konami's first wave of titles for the exciting new devices, and allow us to bring new elements to portable gaming. We welcome the iPhone and iPod Touch to our product line-up and look forward to these initial games,? commented Florian Stronk, Head of Mobile Business Department at Konami Digital Entertainment.
We'll have more soon. In the meantime, check out our list of must-have current games apps in our
Holiday Buyer's Guide for iPhone
.