Reviews: It is like World of Warcraft, only different.
Warhammer Online: Age of Reckoning has a storied past, so why not start with that? First and foremost, the game's universe is actually based on the Games Workshop boardgame, which was created in 1983, and continually updated and refined throughout the mid-1980s until now. An MMO based on the property was begun by little-known Climax Online in 2001. The project fully kicked-off in 2002 with the creation of Warhammer Online Ltd., a company put together by intellectual property owner Games Workshop, developer Climax Online and publisher Sega.
At the next year's E3, Climax showed the title to the public and press for the first time, to much fanfare and excitement. However, this was the climax for..Climax. The following year's E3 was a let down, with the developer unable to come up with a solid demo for the MMORPG, the first sign that they were having trouble with the new-to-them genre. About month after E3 2004 wrapped up, Climax announced that due to funding issues, they are ceasing work on the highly anticipated title.
The coveted license went unused for almost an entire year until Mythic Entertainment snapped up the rights in May 2005. The developer quietly worked on their new property until officially announcing Warhammer Online: Age of Reckoning in March of 2006. The title was intended to release in Q3 of 2007 - it didn't. After a few more months of polish the title begins shaping up, enticing Electronic Arts to purchase the development studio in hopes of scoring themselves another successful MMO. Fast forward two years, after a pair of delays Mythic Entertainment launches their second MMORPG in September. Now to see if they can talk the talk.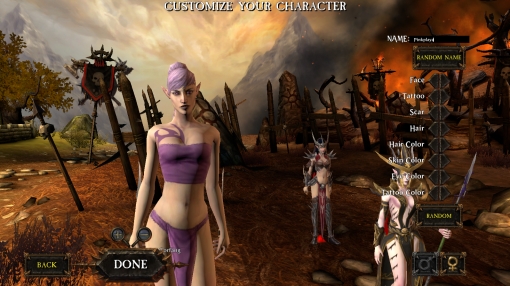 Character creation area. It is more in depth than World of Warcraft.
The Many Facets Of MMOGs
MMORPGs are flat out hard to review. Why you ask? Well think about it. The games are designed to keep you playing forever. Therefore, they are chock full of a ridiculous amounts of content, covering tons of different play styles. Players can quest, explore, PvP, instance, or even play with the economy via any means necessary. Actually, that isn't exactly a true statement. Only
good
MMOs offer this wide variety of things to do at launch.
Warhammer Online: Age of Reckoning delivers numerous classic MMORPG features:



Deep questing with interesting and deep backstory.


An assortment of classes - called careers in WAR - that are diverse and distinct.


Additional talents to distinguish your avatar from avatars of the same career.


PvP between two factions.


PvE dungeons for players to tackle boss mobs and acquire powerful loot.


Mail and Auction House systems for internal commerce.


An intuitive Guild system, including chat, rankings, and a bank.


Last but not least, tons and tons of unique looking loot.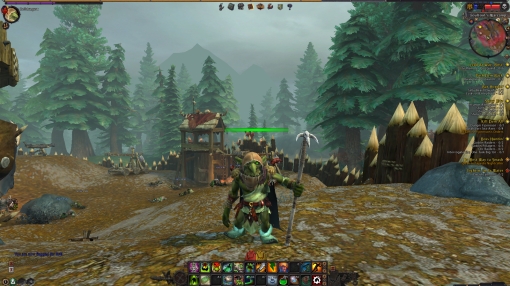 Showing off my character in his early years, and the impressive user interface.
Those are simply the common features for good MMOs. WAR goes much further than that, adding its own unique features to the mix. Some of the features are in other MMOs, most notably Dark Age of Camelot, Mythic Entertainment's previous MMO.



Realm versus Realm PvP, including Scenarios - instanced PvP.


The ability to level (gain experience) through PvP.


Collision detection. That's right folks, tanks can actually defend their healers by creating a wall of armor, flesh and bone between them and would be assassins.


Influence and Renown levels, allowing players to progress and acquire high-end loot through mean than questing.


Public Quests add an interesting social dynamic by getting people of all levels together to tackle a common goal. Completing PQs add to a character's Influence, enabling them to purchase additional loot from associated vendors.




WAR's guild progression system treats the guild as a living entity. The longer the guild stays together, the more they can accomplish as a unit as well as allowing for more social endeavors. Guilds level based on the accomplishments of its members. On each level they receive distinct rewards, such as the ability to tax or have members tithe.


Perhaps the most distinct feature is the Tome of Knowledge. The Tome of Knowledge is easily defined as a log of everything you character has done. However, the definition does not do the feature justice. Think of the Tome as your Questlog, your Achievement list, your Title book, storybook of your life and all the history of Warhammer's fantasy setting rolled into one. The ToK is easily the most distinct feature in WAR and the most innovative feature in MMOs in years.
A Tried and True Universe
The
Warhammer fantasy universe is immense
to say the least. A review cannot even begin to cover just how large the world is. In fact, there are hordes of sites that are dedicated to this very purpose. Every part of the Warhammer Online is based on this universe, whether it be from the collection of rulebooks, novels, graphic novels or the tabletop game itself, each aspect of WAR can be traced back to a historical event in the fantasy world.
The ancient history does not mean it is a kid friendly story. The MMORPG earns its Teen rating for a story ingrained in bloodshed, backstabbing and destruction. This is not a universe between world wars, but a world constantly embattled and bloody. Unlike
other MMORPGs
, there is no uneasy truce or faction that is simply misunderstood. The Destruction regime is simply evil, with each race joining with their uneasy allies for their own purposes. On the flip side, you have the Order, a collection of races who are far more pure of heart. The Greenskins - Goblins and Orcs - are the epitome of Warhammer's universe, the former which charges headlong into battle for a chance of glory. While the later sits idly by, waiting for some sort of an advantage to make itself known before they strike.
Destruction, death and mayhem are as much a part of Warhammer as spells, abilities and troves of loot. Mythic Entertainment presents the struggle for domination in its most raw form, which creates for a one of the most interesting universes in the genre.
The Good, The Bad, The Ugly
Warhammer Online: Age of Reckoning has plenty to go for it. The universe that the title is based on is enormous, with tons of content already in the title. Beyond that, players can be thankful to know that Mythic Entertainment already has a tomes of material to fall back on for future expansions and content patches. That brings up another point, Mythic Entertainment has already patched the game three times since its launch in mid-September. In conjunction with these larger patches - to date they have largely focused on tweaks, fixes and optimization - have been dozens of smaller hotfixes. One of the staples of a successful MMORPG is the ability for the company to understand the communities needs and apply changes quickly and correctly. Two things that Mythic has a long reputation for.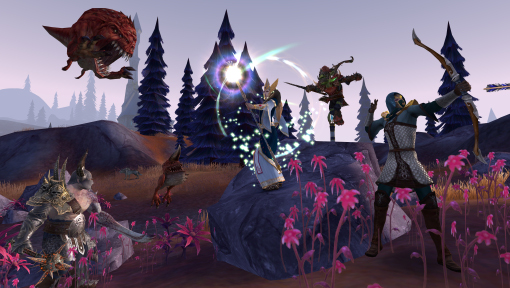 Screenshot of some RvR combat.
Visually the title is one of the best looking MMORPG released to date. Not only does WAR offer top-notch graphics and graphical technologies such as advanced lighting techniques and shadowing, but it allows players to feel empowered by the loot they have. Due to Mythic's art direction, players can expect to be decked out in powerful looking item starting as low as level 10. Most MMORPGs will drape players in glorified rags until mid way to the level cap, WAR goes the other way, giving low level players stylish gear early in their careers.
After putting a few days playtime in the title it appears that the community is a bit more mature than many other MMOs. While it may just be based on the server selected, the faction chosen or sheer luck, it seems that the Teen rating on the title may have something to do with fostering a better community. The game is still very young at this point, and while having a positive start with over 750,000 users, the community may degrade into the immature community that MMOG players are sadly used to.
Not all has not been all roses for Warhammer's launch. While the title had one of the smoothest launches of all time with almost no downtime or crashes, the performance is not as polished as one may expect from a AAA MMORPG. WAR has been hit with other staple issues of MMOG launches, including queue times, lag and gold spamming. While queue times and gold spamming are pretty much expected at launch, animation lag this far out from launch is a bit of a conundrum.
Server performance is not all that is holding WAR back. The title's system requirements are not unusual for this age in gaming, but the title is just not as optimized as it should be. Many players with systems above and beyond the requirements have problems maintaining a playable framerate. On top of that, windowed mode - an MMOG requirement - is even worse off. My computer is equipped with a Q6600 overclocked to 3.0GHz, 4GB of Ram and the best video card on the market, a Radeon 4870 X2. You would think that with all that power I could run the game well in windowed mode and browse the web at the same time. Not the case. The game has an issue with being the inactive window, causing it to lag severely when it is not in focus. Both of these issues will likely be fixed in the near future, through a combination of video card driver updates and further optimization. The sad truth is having a botched windowed mode has severely effected my early gameplay experience.
One aspect that Mythic should be chastised for is the mail system. The mail system in WAR is simply atrocious. The system that the title launched forced players to wait twenty seconds between in-game messages. The forced delay wouldn't have been so terrible if you were able to attach multiple items to a message. The inability to do so causes players to waste obtuse amounts of time sending items to guildmates or alts and is easily the most poorly implemented system in Warhammer Online. How ironic since the Auction House was one of the last features implemented before launch, and managed to be quite robust.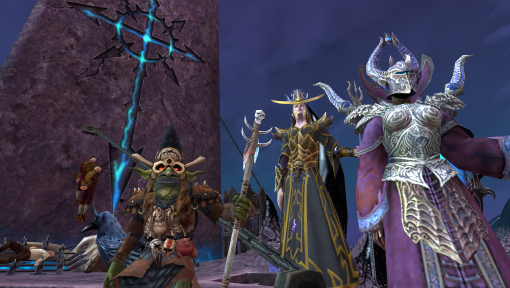 Just chilling with some mates.