Reviews: Favre on two teams!
Another year and another Madden... har har, seriously kids this joke needs to stop being used. Almost every review site I've been to has used that in some way and its becoming a little redundant. But alas, this is another year and yes, EA Sports has another iteration of their sports gaming superpower and I'm here to talk about it. Unless you've been under some sort of heavy hard place, I'm sure you've seen the adverts that tout the game's newest "features" so I won't bother re-listing them for you, just whether or not they're enough to warrant a parting with your sixty dollars or whether you should just part with twenty for last year's iteration.
First up is the new Adaptive Difficulty Engine that allows the game to "adapt to you". After performing a series of virtual exercises the game takes how well you performed and gives you a Madden IQ number. Based on your IQ is how well or badly the A.I. will perform in different areas of playing. The adaptation engine does its job but if you don't consistently perform at that level in every game, then your score is lowered and are asked whether or not you want to try and fix it. It honestly gets to be a little annoying being asked this constantly, once a season would have been enough, but it does work nonetheless. Of course, if you would rather not deal with the adaptation at all, you can pick your own difficulty level which I guess counters the annoyance of seeing that performance screen.
The next addition is the Rewind system. Now all of those bad plays are a thing of the past... and so are the big ones from your opponent. While the adaptation engine is the most prominent feature for this year's iteration, it's the Rewind system that I am banking will be the most used and liked... or despised. Disguised as a teaching tool it's really more of a stat tweaker that breaks the game experience in the worst way. Of course, there are limits to rewinding, you can only do it once per play and there is no guarantee that your opponent will perform the same way, but still, using it makes the game feel broken. No game would be fair or even fun if you and your opponent could take all the bad plays back, so in the interest of competition, players can set whether or not the option is present in that game. The first time I rewound a play, admittedly it was neat that I just erased that interception, but I felt like I somehow just ruined the feeling of playing in a football game. Perhaps it's my more ethical side beating out my egotistical side, but the only way I could enjoy playing a game is if the rewind system was turned off.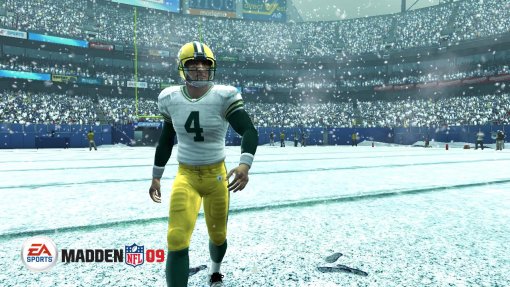 The final addition is thankfully by subtraction. Tony Bruno, annoying radio announcer extraordinaire, has been removed from the game and in his place is NFL Network commentators Chris Collinsworth and Tom Hammond. Actually I'm kidding, Tony wasn't that bad just out of place, why would I be listening to a radio announcer if I'm watching/playing a football game? Anyway, Collinsworth is always a welcomed commentator but Tom Hammond... he has some voice training to do before he fits into the game. There's no chemistry going on between them and it feels like Hammond is talking to himself the whole time, which he might've been but you shouldn't be able to tell that. There are also just not enough lines to fill a game with let alone a season and sometimes out of nowhere the commenter will say something incorrect, such as saying Richard Seymour has a handful of sacks this year despite it being game 1 and that was his first. How about including some lines recognizing last season's efforts? Or maybe just have Tom Hammond stop promoting EA Sports and the Backtrack (replay) every fifteen seconds. There's a lot of work to do regarding the voice work and hopefully more care will be put into this next year.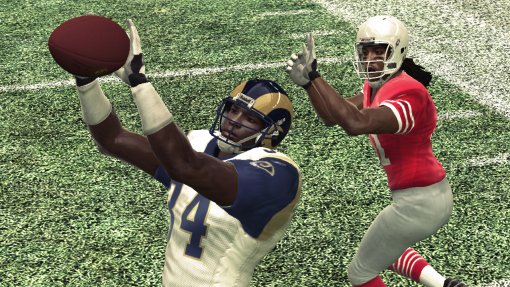 For the rest of the game, the graphics have improved over last year's game but only by so much. Madden NFL 2008's visuals were what you expected from a next-gen sports game and Madden NFL 2009 goes one step further by increasing the detail and animations for players and fields (fans still look like blurry pixels). Besides being able to tell turf from grass, weather games have received huge improvements as well. Finally, the mud and ice bowls you've always dreamed of, jerseys caked in mud so thick you can't tell players or teams apart and snow that actually can case footprints, though it can't seem to show places where you've been tackled. As for improved animations, no longer does being wrapped up mean the end of the play, the new animations allow players to break more tackles on the rush and make more realistic catches through the air. Seeing Randy Moss catch a tipped pass or come up with some other insane catch actually happen in the game is beyond neat. Realism is further achieved by tweaking the occurrence of spectacular catches, no longer will the middle linebacker make an amazing catch at will, I mean seriously how often does that really happen? Touchdown celebrations are also sort of revived as well. Upon scoring a touchdown the player can go to a designated celebration area and perform. Most of the time it's just watching the player do the shuffle or throw the ball between the goal posts, but there are player specific celebrations as well, such as Randy Moss's weird twisted hand thing, I never get tired of that.