Previews: Little drummer boy, pa rum pum pum pum.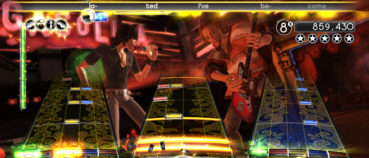 At last year's E3, I got a chance to play Rock Band with some members of Harmonix, but my drum debut didn't exactly rock while playing next to the flawless developer team. But that was last year. Since then, I've licked every lick on hard and got through most of the songs on expert. Just to make sure I was ready for Rock Band 2, I began playing again a week before my sixth E3 and, more notably, my second chance. I played so hard that my bass pedal snapped. At that point, as the plastic crunched under my foot because I
continued
to play, I knew I was ready.
My Rock Band 2 debut went smoothly. I tapped out the rhythm to a classic rock favorite, The Who's ?Pinball Wizard,? one of 84 new songs (all master recordings) on the disc. It still took getting used to, as the demo room contained the coveted Alesis Ion drum kit, complete with not one, not two, but three round cymbals. Take that, pair of Guitar Hero triangle-shaped ?cymbals.? Representing the hi-hat, crash and ride as yellow, blue and green, these three rubber tops are thankfully optional to the gameplay. So, don't worry, you're not responsible for an eight-piece percussion instrument if you spend the $299. You're just going to have to learn to transition from hitting low to hitting high or do as I did for the first half of my performance and use them as decoration.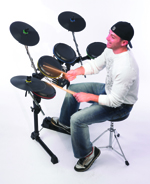 That $299 for the Alesis Ion drum kit goes toward more than just three cymbals and the best Rock Band kick pedal money can buy. An Alesis brain module, a separate accessory, enables it to become an actual electronic drum kit, no video game system required. Comparable kits start at $150 more than this one (the Alesis DM5KIT is $449 online), so this is a steal if you're interested in banging on the drum all day. Best of all, the next time you're playing the game at a party and some one says, ?Pffttt? it's not like you can play the
real
drums,? feel free to get up, unplug the kit from the Xbox 360, sit back down, play a flam paradiddle-diddle on the electronic drums, get back up and proceed to hit them with the sticks at least twice. You'll be doing us all a service.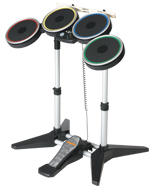 The standard drum set has also seen improvements. The four pads are quieter this time around and their bounce response has been increased. Most importantly, the kick pedal won't snap off no matter how hard I preparing for my Rock Band 3 debut next year. ?We learned that the average human leg in America weighs more than we thought it did,? said a Harmonix team member, ?So we now have a metal-reinforced kick pedal.? Other notable extras include the ability to plug in a second kick pedal for a virtual double bass and the option to attach cymbals down the line thanks to future-proofing hooks. The microphone remains the same, except a third-party mic will be available with convenient built-in buttons, while the guitar changes are mostly welcomed cosmetic improvements.

A sunburst guitar body and a wood grain neck and headstock move Rock Band 2 toward a more real-world band experience compared to the plain black and white design of the first game. Additionally, less clacky fret buttons and a more responsive strum bar make that experience less annoying to others and you, respectively. Though not as noticeable as the sunburst finish, a small lens and a tiny pinhole on the guitar body give music games an innovative feature. They were described in our demo as a built-in photosensor and microphone, which fix the lag between HDTVs and sound systems. A big white skull flashes on the screen, you hold up your guitar and the game automatically syncs everything thanks to this new function within the hardware. And, fear not, Harmonix insisted the flashing skull won't be scary.
The real upgrade for vocalists and virtual strummers is the expanded modes and set list. In addition to the 84 pre-loaded master tracks, 20 more downloadable songs will be free and the first Rock Band songs transferable for a mind-boggling 200-plus song playlist. So, who's on the bill this year? Names like AC/DC, Bob Dylan and Pearl Jam are just some of the artists that headline. But, ?Shackler's Revenge? is the surprise song of the century; it comes from the Guns N' Roses
Chinese Democracy
album, which may never release outside of leaks and, now, Rock Band 2.