Specials: 8-cylinders of power with only 4-cylinders firing.
Building a Meaner, Greener Gaming Machine - A Guide to an Environmentally Friendly Gaming Computer
Everybody has been going green these days.? Even the console manufacturers, ALL of them, have been changing their manufacturing process allowing them to have less of an impact on the planet.? Unfortunately things like the Xbox 360 and Playstation 3 still use a large amount of wattage, which isn't exactly green.? In the case of the Xbox 360, this failure in efficient engineering even lead the company to put aside $1 billion to deal with the
Red Ring of Death
.? But what about PC gamers.? Thankfully we can tinker with out machines as much as we want, upgrading them when needed or modifying them for added performance.? This also enables the market to demand that manufacturers focus on certain issues, such as green consumer electronics products.? Today we will tackle the issue of a green machine, one capable of playing the hottest new and upcoming titles at a solid framerate.
Before we get started let me express one thing.? By no means is this the best computer you can build that will be relatively green, or is it the cheapest.? Again, the goal is to make a computer that has the capability to play most, if not all, of today's titles with quality settings and a good framerate.? You do not need to use all or even any of these parts to make your machine more green.? However, we have done the research on the technology available and feel this is a powerful green machine available at a good price.?
As the title suggests, this is a guide to building a green machine so take it as such.? The selected machine will almost certainly be trumped by new technology (some of which we discuss) in the next few months.? We encourage you to leave comments on the article or in the
forum
with your component suggestions or modifications to our system.?
Processor (Athlon X2 4850e - $79.99)
Both Intel and AMD have software solutions for CPU throttling, but not all software is created equal.? The theory behind processor throttling is simple, when the processor is not in use, or not fully being used, there is no reason for it to be at max capacity, thus using a full load of energy.? Until recent years the only way to change this was undervolting the processor via the motherboard.? Few motherboard manufacturers supported the necessary features, and then few people wanted to do this, fewer still bothered taking the time to figure it out.? In comes Intel's SpeedStep, and later AMD's Cool'n'Quiet and voila, dynamic software control over your processor's wattage.
Intel has actually had CPU throttling longer than AMD has but it was never developed as much.? Both technologies initially started to reduce battery drain for laptops but AMD took it a step further, creating a new technology for processors aimed at desktops to do the same thing.? AMD's software does force Windows users to perform an install whereas Intel's does not.? While not supported at the Operating System level the installation is as simple as any other application and from our tests, has dynamically throttled the processor by multiplier, frequency and voltage much better than Intel's Speedstep.?
On top of that, AMD's software is compatible with Windows all the way back to the Windows 98/NT era, Intel's OS support only reaches back to Windows 2000 and drivers MUST come from the computer manufacturers, so not much self-built support.? Even though Intel's offerings have recently been crushing AMD's chips in performance, the lower wattage and better software support give this battle to AMD.? Now if AMD could just get their 45nm processor production started, allowing them to cut more processor from a single wafer, they could be as green as Intel at the production side of things.
We decided to go with an AM2-based processor for their amazing power usage and low price, just 45 watts for a 2.5Ghz dual-core processor with throttling technology.? If you feel you need a little more power than that, you can move to the AM2+-based processor and get bumped into 95+ watts.? However, that route will cost at least $100 more - for the processor alone - since the Athlon X2 4850e costs only $79.99.
Motherboard (DFI Lanparty DK 790FX? - $134.99)
Seeing as we selected and AMD chip, we are going to have to go with an AMD-based motherboard.? As noted above we selected an AM2 chip, however motherboard manufactures do make AM2/AM2+ hybrid boards, allowing one to upgrade their processor easily in the future.? Do to this nifty tandem board design, we will select one of those for future-proofing abilities.
Motherboards, like the Power Supply Unit, is one aspect of the computer where efficiency is not really something to worry about.? Instead we are looking for a board that has everything we need and more, enabling us to run our computer now and upgrade it in the future.? So many SATA ports, ram slots and GPU slots are a plus, as is a nice layout for airflow and general ease of installation.? Seeing as this is a gaming board, overclocking capabilities are also appreciated.
Unfortunately, going with AM2/AM2+ isn't all good.? Do to the choice to select the
MUCH
lower CPU wattage of today's AM2 processor we cannot use DDR3, which is slightly more energy efficient than the DDR2 standard for AM2 boards (see below).? However, we still save much more power by sticking with AM2 and DD2 is still faster performance-wise.?
*Note* This board will not do support Nvidia's SLI, so if you are that much of an Nvidia fan then look for something else.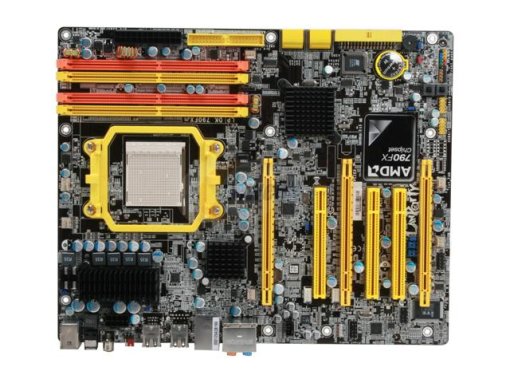 Ram (4xMushkin 1GB DDR2 800 - $103.96 total)
Although DDR2 ram runs at a slightly lower latency - a good thing for ram - DDR3 offers more bandwidth which damn near evens outs any of the issues that may arise from performance differences.? However, DDR3 is more power efficient overall, requiring less voltage to run the chipset.? DDR2 modules are usually around 1.8v-2.2v while the more efficient DDR3 pop in at a low 1.5v-1.9v.
According to a product comparison by
X-bit labs
, DDR3 modules may not be a clear-cut winner in performance, but they definitely beat DDR2 in efficiency.? According to their breakdown, DDR3 saves the green users 6W of energy while under load and 2W while idle.? This may not seem like too much in the grand scheme of things, but it will add up, not to mention the ram is almost always under some sort of load.? So although DDR3 is slightly greener than DDR2 we cannot use it on our motherboard, which is far more green than moving to a DDR3 capable motherboard.? But a few months from now, this little hiccup will likely go away.
Video Card (Radeon HD 4850 512MB - $189.99 or Geforce 9800 GTX 512MG OCed - $199.99)
Both discrete GPU manufacturers have been working on low cost, high performance setups for their high-end lines but neither have bothered to do much with the desktop end.? Instead, Nvidia and ATI have largely concentrated their efforts on laptop design, for obvious reasons.? However, they have not totally ignored the desktop market.
Nvidia offers the Hybrid SLI concept, while AMD has been working on the PowerXpress/PowerPlay technology for quite some time.? The two competing technologies both aim at using integrated graphics processor (IGPs) in tandem with discrete GPUs.? By switching to IGP for "idle" work, the setup will allow the computer to save wattage by powering down the hungry GPU.? Again, these technologies have largely been targeted at the laptop market, causing few desktop GPUs to be supported.
Due to the graphics manufacturers focusing on their laptop lines only, we have no choice but to run with your standard graphics cards.? At this point in time we would suggest that users get the next best thing available.? AMD's Radeon 4850 or Nvidia's Geforce 9800 series should do well enough without breaking the bank.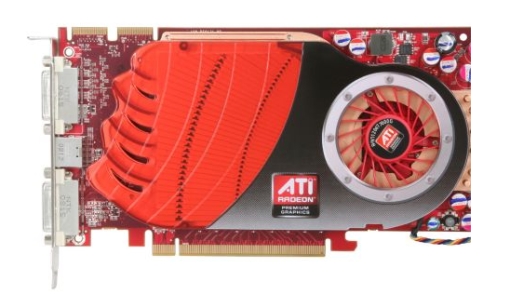 Harddisk Drive (Western Digital VelociRaptor WD3000GLFS - $299.99)
Western Digital's Raptor line has been the harddrive of choice for any gamer who really wanted to kill those annoying loading times.? Running at 10,000rpms causes the harddrive to have much lower read/write-access times than the more conventional 7200rpm drives, and even stripped 7200rpm drive.? But until now there was a cost, power consumption and price.? Price aside, the power consumption issue is something that the green gamer would frown at.? Well, WD has heard our cries and introduced a new line of HDDs, the VelociRaptor series.
The VelociRaptor drives will still come at a premium price, some $300, but it boasts an impressive 300GB of space in a 2.5" form factor (although these are not for use in Laptops), although they are to be mounted in 3.5" form factor spaces.? More than enough to hold all your pertinent data and games.? The VelociRaptor series does not just boost the overall size though.? The first drive, model
WD3000GLFS
which should be available stand-alone in mid-May, also has a 3 Gbit per second SATA interface and 16 MB of cache, making it 35% faster than its predecessor.? Pack in a heat-sync system known as "IcePack" for cooling purposes and Western Digital was able to deliver this larger capacity, faster performing, smaller form factor drive while simultaneously making it consume LESS power than 7200rpm drives.? Brilliant.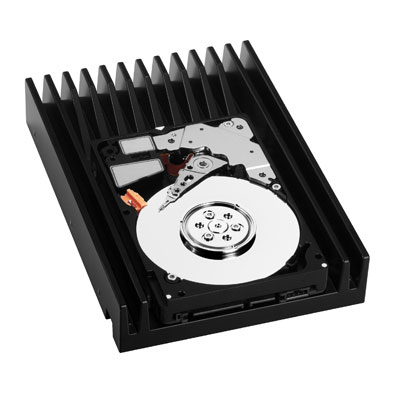 It is understandable if 300 GB is no longer enough space to hold all of your legally purchased games, movies, music and photos.? Therefore, for backup or extra data storage I would recommend going with the single-platter 1TB drives from WD, Seagate or Hitachi so you don't have to power multiple smaller capacity drives.? Of course, there is another technology that trumps mechanical drives all together, Solid State Drives.? Sadly, this is still not a realistic option for most enthusiast due to their insane prices (~$1000 for 64GB) or gamers due to their small storage capacity.? In the future however...