Reviews: Time, time, time is on my side, yes it is . . .
Appropriately enough for a game that places time manipulation in its players' hands, the TimeShift plot begins at the end, with a cataclysm at the research facility working on the Quantum time-control suit. A nefarious senior researcher named Krone has already stolen the Alpha suit, sabotaged the facility, and escaped via a time jump. The player steps into the Beta suit to avert the disaster, but is unexpectedly transported back to an alternate-history 1939 in which Krone has taken over the world by introducing future technology?everything from energy weapons to advanced mecha. This is the stage for Saber Entertainment's sci-fi shooter TimeShift. Add in a healthy dose of next-gen graphical effects, and you should have the recipe for great FPS action. Somehow, though, TimeShift is less than the sum of its parts: it never quite comes together into the game it promises to be.
For instance, the plot has all the elements required for an epic, save-the-world sort of story?it even hooks the player up with a cadre of rebel forces fighting to overthrow Krone's empire. Problem is, there's not much more depth to things than what's already described here. A series of ultra-brief cutscenes suggest things like industrial espionage, timeline damage, and a love interest for the player, but it's all tissue-paper thin. There's no chance to get to know Krone or learn why he chose to destroy his lab and take over the world?he's just a generic megalomaniac with an army and a loudspeaker. On the good side, some great story moments happen early on in the gameplay, without a jump to a cutscene. For instance, when you first end up in the past, you'll stumble into a room where a rebellion fighter comforts a dying comrade. There's nothing either of you can do to save the man, but it's a poignant moment to be a part of.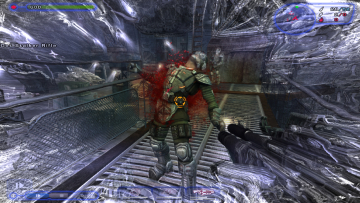 On the gameplay front, TimeShift fares much better. It offers the usual action packed shootouts against improbable numbers of enemies and gives the player a brace of weapons to deal with the threat?everything from an explosive crossbow to a flame thrower and a guided rockets. Throw in the ability to shoot through thin cover like wood and drywall, and you've got the potential for some interesting firefights. That's without even considering the primary hook?three different ways to control in-game time?which in itself goes a long way toward making TimeShift into something other than a run-of-the-mill shooter. When the time slow and stop abilities are activated, it feels like playing a scene from
The Matrix
?all the NPCs are frozen (or nearly so), while you're free to run circles around them and get your mission done. It's super cool to look at, since all the special effects are likewise affected: smoke freezes into an immobile cloud, bullets hang in the air, and even the flow of electricity stops during the time stop effect. During the shootouts, your success depends on how well you're able to manage these time abilities, since they only work in bursts lasting a few seconds before they need a recharge. They also change the feel of the action, from the ?fight the good fight? situation common to most shooters to something more akin to an execution. The shotgun is a handy weapon in a timestop fight: it's easy enough to walk up to a frozen enemy, pop off a headshot, and move on to the next guy. Add in plenty of moments where you surprise guys who don't have the chance to even pick up their weapons, and it's a whole lot easier to feel like an angel of death rather than a freedom fighter.
On top of that, the NPC AI leaves a bit to be desired. Of course AI doesn't matter much when the aggressors are frozen in their tracks, but when they aren't, they lack what it takes to make the battles feel alive. As a whole, the bad guys don't seem as dynamic as what we're seeing in current games. Some will advance and attack while many will stand their ground waiting to be slaughtered. And they have a very last-gen feel in the way they seem to be scripted to act in similar ways on subsequent playthroughs. They'll appear in similar places and some will consistently move to particular fighting positions. They do vary their behaviors somewhat, but you'll quickly develop a few handy strategies that'll make it simple for you to clear a room without much effort.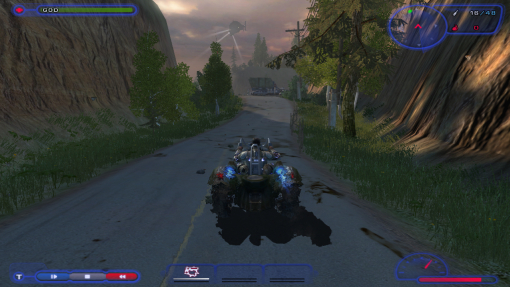 The game also puts your time control abilities to use outside of combat. Sometimes, you'll have to stop time to survive, as in one scene when a mecha Sentinel blasts apart the building you're in. In order to escape, you can stop time and then thread your way through the floating rubble. Other puzzles have you using time stop to be in two places at once. And still others have you using the time reverse ability in creative ways. It doesn't always make a whole lot of sense for the folks without a time suit, though, as when the elevator controls are outside of the elevator. How does the average Joe operate that one on his own? Minor logic lapses aside, the puzzles add a little twist to the conventional FPS brain teaser.
In the multiplayer game, the time control abilities take on a more offensive role. They become a set of time grenades that can be thrown at other players. Anyone caught in their area of affect is slowed, stopped, or reversed while the rest of the players are free to take care of business. It's frustrating to get caught in a time effect (especially if you're too near a ?friendly? grenade), but there are time resistance powerups spread around the map to help you avoid the grenades' effects. Or in the game mode ?King of Time,? the player who finds the Time Sphere is completely immune to time attacks while he holds it. In addition to King of Time, the game has many of the familiar multiplayer game modes, including Deathmatch, Team Deathmatch, and Capture the Flag. They all allow the use of time shift abilities, but don't require it. On the other hand, the unique ?Meltdown Madness? requires the use of the time grenades. Teams use time grenades to slow down the operation of a machine at the enemy base while protecting their own. Slowing the machine slows its countdown, and a team wins when its own machine completes the countdown.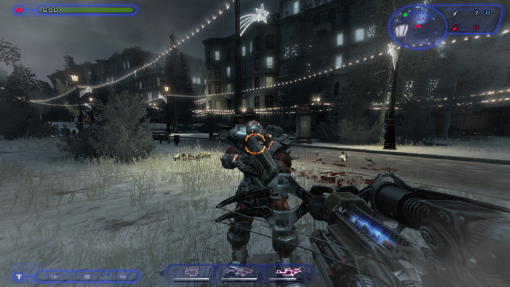 It looks like Saber put a lot of thought into the TimeShift multiplayer?in addition to the time grenades, there are other items like time shields and damage powerups. And the server options are particularly rich?it's possible to edit a couple of dozen details for each gametype. Unfortunately, it's very tough to find active servers with a decent ping.
On the graphics front, TimeShift might not have the jaw-drop looks of a
Crysis
or
Gears of War
(or their steep system requirements), but it definitely delivers on the cutting-edge graphical effects. TimeShift is a great game if you want to get a look at how things like blur, heat shimmer and depth of field can affect the feel of a game. For instance, TimeShift uses depth of field?the blurring of items at different distances that mimic the eye's ability to focus on different planes?to add a sense of distance to outdoors areas. When a massive mecha beast passes in front of the player, its turret is blurrier than the nearby legs, giving a sense of its massive size. There's also that ?rain on the camera lens? effect that distorts the scene beyond. And the physics system interacts neatly with the time control system. As a game tip says, ?forces applied to an object during time-stop don't take effect until time resumes its flow.? In other words, the game offers a veritable physics playground.