News: PS3 Blu-Ray remote also receives extra attention due to Amazon sale.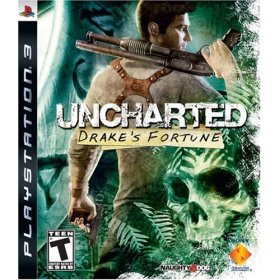 Remember hearing about Uncharted's less than fortunate early sales charting despite being a critical hit? Although it eventually went on to become a million seller worldwide, 1UP initially mentioned that:


"Naughty Dog's PS3 debut, Uncharted: Drake's Fortune, not only failed to show up in the top ten software sales for November, but only managed 117,000 sales, according to the NPD Group, during the two weeks it was available last month."




A little more than six months later, a lot of gamers who missed out on Naughty Dog and Drake's first PS3 adventure are going to get a chance to pick the game up for cheap (33% off) on Amazon today. You can too, as it's part of the Gold Box Deal of the Day.

As a result of being featured as the Deal of the Day, Uncharted: Drake's Fortune has all of a sudden rose on Amazon's video game sales rank to #2, passing Wii Fit, the Wii Wheel and the Wii console itself. The only thing that stands in its way is Mario Kart Wii, which it could potentially overtake for the #1 stop before the Deal of the Day ends.


Also climbing the charts is the PS3 Blu-Ray remote to spot #6. In addition to chopping 1/3 off the price of Uncharted, Amazon is selling the remote for $15, a real steal since it usually costs close to $25 in stores. However, the remote is part of the very limited "Lightning Deals" group, so it's only available for the next hour and a half, whereas the Uncharted sale is going all day.

This is quite a switch for PS3 items, as 8 of top 10 items on Amazon's video game Bestsellers list are Wii products, which have steadily dominated the Amazon chart. For now, Uncharted is finally getting some much deserved sales respect to equal its critical reception.