News: "Deep Red" PSP also comes with Superbad UMD movie, Syphon Filter download code.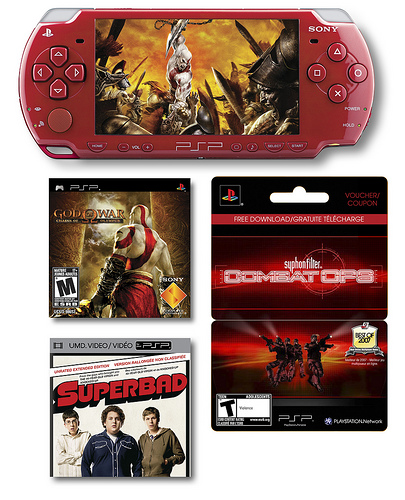 There are a couple of significant differences between the original PSP and PSP Slim & Lite. But, if you still haven't been swayed into buying the new PSP-2000 model, Sony is adding one more reason: The limited-edition God of War Entertainment Pack bundle.

The contents of this bundle include a "Deep Red" PSP Slim with Kratos silkscreened on the battery cover, a copy of God of War: Chains of Olympus for PSP, a UMD of last year's funniest movie Superbad and a PSN voucher for the downloadable expansion Syphon Filter: Combat Ops.


This $200 bundle configuration doesn't include the 1GB Memory Stick that came with the similarly priced

Daxter Entertainment Pack

from last fall or that will come with the upcoming Metallic Blue Madden NFL 09 PSP bundle.

However, it may be worth getting this GoW configuration and sticking with that original PSP 32GB Memory Stick for three reasons: God of War: Chains of Olympus is the best action game on PSP, Superbad is a better deal than the Daxter bundle's five Family Guy episodes or anything that'll be in the Madden bundle's "football related UMD" and, finally, Kratos looks bad-ass on the back of the system.