News: This is the end my little dragon friend.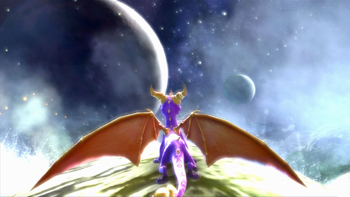 The Spyro trilogy is coming to a head this fall with the release of
Spyro: Dawn Of The Dragon
. What better way to end your trilogy then having an all-star voice cast of: Elijah Wood, Gary Oldman, Christina Ricci, Blair Underwood, Mark Hamill and Wayne Brady? That is some line-up.
This final plot has Spyro teaming up with Cynder to defeat the Dark Master, ironically voiced by Hamill.
Al Simone, senior vice president, Global Marketing for Sierra Entertainment stated the following:
Spyro has grown up a lot since his debut, and players are going to notice advanced gameplay, character design and story lines in Dawn of the Dragon.
For more info on the final chapter of the Spyro trilogy, check back with us soon.