Review: This game contains multiple boobs? *Imagines half of his audience has stopped reading the review to buy this game.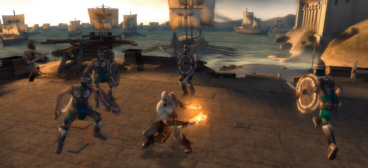 Even in its smaller, portable form, this 1 could take on
300
. That's because the development of God of War: Chains of Olympus was handled by Ready at Dawn, the studio that brought PSP owners the equally successful
Daxter
. If you're not familiar with this game's PS2 predecessors, this prequel has a story that's full of Greek mythology, lots of gore and narration like Warner Bros.' epic movie. However, instead of a small army, the Spartan warrior Kratos takes on the Persians single handedly.
Chains of Olympus combines the puzzle-solving gameplay and brawler-type action that propelled the first two God of War games to mythical status with gamers. In fact, if you
have
played either of those two games on PS2, you'll know exactly what this one is like on PSP. There are hordes of enemies to whip with your chain blades, doors to figure out how to open to advance to the next room, and huge mini-bosses that are anything but ?mini? as well as even bigger end bosses to overcome at the conclusion of each level. It's all here. Of course, the no-surprise gameplay of this third God of War game (not counting the mobile game, which I'm sure few people have played) may mean this game fails to live up to the series god-like acclaim for some. However, you can't fix something that's not exactly broken. You should still be able to be sucked into the legendary storytelling, stay for the brutal violence and be drawn back in for fun mini-games, some of which are almost a hot as hot coffee.
Just as the familiar statue-moving puzzle gameplay, button-tapping battle mechanics and David and goliath-like boss match-ups successfully bring the feel of God of War to PSP, the Ready at Dawn graphics engine effectively brings the look. The lighting effects for this game were really ramped up compared to what we saw in Daxter, accurately reflecting the realistic nature of the God of War series. Also, different from Daxter but the same as
God of War I
and
II
is the camera. While Ready at Dawn's first PSP game allowed you to control the free-roam camera, it's always at a fixed angle in Chains of Olympus. Thankfully, I never had some of the problems associated with a fixed camera; I never ran into unseen walls, got stuck behind hidden gaps or fell off cliffs due its positioning. To get around those usual shortcomings, the game's somewhat restrictive, so you won't be bouncing off merchant stand tents seen in the background or taking any shortcut by dropping from overhangs, for example. It may come off as extremely linear, but it sure beats getting stuck in a camera glitch, and every camera angle transition was smooth to boot.
To compliment the seamless fixed-camera movements, the load times were designed to be just as smooth and are therefore almost non-existent. Even as you roam the massive underworld of Greek mythology, your quest won't be interrupted thanks to room-to-room background loading that's stitched together nicely. The greatest benefit of the graphics, though, is that everything looks as clear and as stunning as it did in the cinematic-styled PS2 games. You won't be running into enemies thinking they look like breakable pots or be wasting your limited magic power against mere pots when you think you're going up against enemies.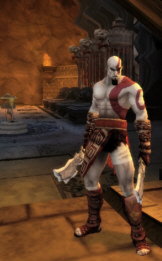 The only way that Kratos lets down his true gods (meaning gamers) is that all of the intense gameplay and striking visuals don't last long enough. Admittedly, it lasts longer than I did the first time I played its sex mini-game. I swear it was the first and only time, baby. But Chains of Olympus still clocks in at just eight hours. There are three difficulties initially and unlockables, but it's a one-player affair and not too much more. For those eight hours, as long as you haven't tired of playing as the Ghost of Sparta on your last-gen PS2, you're going to entertained by this handheld epic and you're going to really enjoy seeing what's on the back cover of the game manual. Maybe the needed co-op mode will be in Kratos' future after all on PS3.