Special: Our in-depth look at how several game companies will perform in 2008... from a Wall Street perspective.
While video game publishers continually strive to create the best games they possibly can, there's another high score attempt going on beneath the surface that not a lot of gamers notice. But it is just as much as a game as the ones these companies create. I'm talking about a company's share price on the stock market and for those that ?play? the stock market, getting a high score can mean a lot more than bragging rights on a message board.
To many adults of a certain age, video games are something to be ignored. Children's toys some would say. Game companies are on the receiving end of a similar attitude on Wall Street. Analysts and stock market gurus often don't know what to make of a company's stock until after the sales of a big seller (that the video game community knew about months, even years, beforehand) are announced. So if you've ever thought about ?winning? the stock market game, knowing what each company's release schedule for the year is key.
Activision, Atari, Electronic Arts, Majesco, Midway, Take-Two and THQ are the American publishers that offer stock on the NASDAQ exchange. With the recent dip in stock prices for many of these companies, now might be a good time to catch a bargain and invest a little money in your favorite publisher (Buy low! Sell high! after all). But which company do you buy stock in? For that, take a look at our preview of what each company will offer from a business perspective.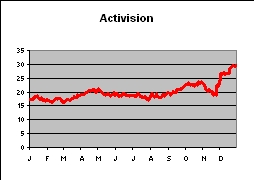 Activision (ATVI)
2007 Open:
17.16
2007 Close:
29.70
Change:
+12.54 (73%)
Today's Close:
26.44
Activision was the big winner of 2007, with its share price nearly doubling. 2008 will be an even more interesting year for the first third-party company as the Activision Blizzard merger will be completed, while the company has fewer sure blockbusters.
Once the merger is completed, Activision will have a new Warcraft expansion and all ten million WoW subscribers pumping money into their Scrooge McDuck-style money bin. But before that happens, the company will have to hurdle several question marks.
In 2008 there will not be a new Spider-Man or Shrek movie to boost sales of the tie-in games. There will certainly be new Spider-Man and Shrek games, but the'll have to stand on their own, which after Spider-Man 3 might be a shaky thought. Activision will also bring out new releases in its big three franchises: Call of Duty, Guitar Hero and Tony Hawk. But questions remain here too. Call of Duty 5 will not be developed by Infinity Ward, another Guitar Hero might be too much for some gamers and Tony Hawk is losing steam to Skate.
But the company also has plenty of bright spots in 2008 with a new Wolfenstein game for the PC, PS3 and Xbox 360 as well as Quake Wars on the consoles and the first game from Bizarre Creations. Their first James Bond game (and a new Bond movie to help sell it) will also be a big seller. And while it's not Shrek, a new game based on the Dreamworks movie Kung Fu Panda is coming. Call of Duty 4 will also no doubt continue to sell well.
Outlook:
Still on the upswing, but it will be almost impossible to replicate 2007's numbers.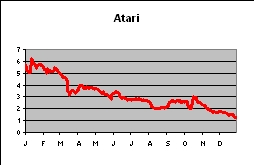 Atari (ATAR)
2007 Open:
5.70
2007 Close:
1.27
Change:
-4.43 (78%)
Today's Close:
1.00
If Activision was the big winner, then Atari was the big loser for 2007. And 2008 doesn't look any better. It will take some time before their ?publish-only? track takes off. And the only game the company has on tap for 2008 is the (possibly delayed) Alone in the Dark sequel. And while many people are looking forward to it, it's been cooking a long time and probably won't be a blockbuster.
Outlook:
Avoid. At. All. Costs.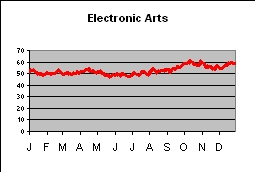 Electronic Arts (ERTS)
2007 Open:
51.05
2007 Close:
58.41
Change:
+7.36 (14%)
Today's Close:
47.22
After a lackluster 2006, EA was on the upswing in 2007 and 2008 looks even better. For 2008, the company will have its usual slate of successful sports franchises and The Sims. It will also have sequels to a trio of proven franchises in Burnout Paradise, Mercenaries 2 and Battlefield Bad Company. It will also publish a trio of new franchises with plenty of potential in Dead Space, Army of Two and Ninja Reflex.
The BioWare/Pandemic acquisition could also lead to some good news in 2008. BioWare has a huge number of projects in the pipeline as does Pandemic. While only Mercenaries 2 is confirmed for 2008, a surprise release in the form of Dragon Age (BioWare's PC-exclusive RPG) might not be that surprising.
But 2008 also brings with it the possibility of a few major unannounced titles. And none of those titles is bigger than The Sims 3. A 2008 release date is possible for the third game in the bestselling series, but is in no way guaranteed. And considering the lack of talk about the game, I'd say it's not going to happen. Black 2 is also a possibility for 2008, but it's unknown at this point when it's coming. Finally, EA owns the rights to games based on the Batman movies and with The Dark Knight hitting theaters this summer, a new Batman game is almost assured.
Finally, we can't talk about EA without talking about Spore. Wil Wright's baby could be the biggest thing since The Sims or it could be a major bust. It's been in development for so long that it's hard to tell at this point. Either way, it will sell a boatload of copies in 2008, it's what happens after that is the question.
Outlook:
A good pick, could be even better with a Sims 3 release date.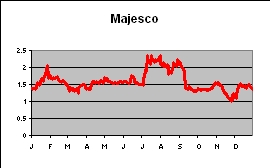 Majesco (COOL)
2007 Open:
1.38
2007 Close:
1.35
Change:
-0.03 (2%)
Today's Close:
1.08
After Majesco's disastrous 2005 the company appeared near bankruptcy. This was mainly due to the fact that Psychonauts, a critical darling if there ever was one, couldn't reach a wider audience and Advent Rising fared poorly in reviews.
But all that appears to be behind the company now as they've returned to their casual roots and appear to have a very impressive 2008 lined up. The company's continued focus on the Wii and DS should be enough to make them an attractive buy in 2008. Cooking Mama 2 for the Wii and DS, Nanostray 2, Fure Fure Park, Wonderland Amusement Park, Blast Works and Cake Mania for the Wii and DS should provide decent sales on small budgets.
The company will also publish a new music game from the creators of PaRappa the Rapper. They haven't pinned down a title or a release date yet, but it too should provide decent sales on a small budget.
Outlook:
Majesco may not make you a millionaire, but they will definitely have a good 2008.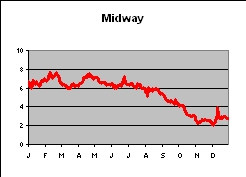 Midway (MWY)
2007 Open:
6.74
2007 Close:
2.76
Change:
-3.98 (59%)
Today's Close:
2.11
Midway had a rough year in 2007 and their attempts at high profile games and investor confidence are quickly making them look like the Brooklyn Dodgers (?Maybe next year!?). With Stranglehold and BlackSite: Area 51 crashing and burning, its back to the drawing board for the Mortal Kombat makers.
And that drawing board will include a brand new, Unreal Engine 3-powered, next-gen rendition of Mortal Kombat. It supposedly will release this fall but, other than Ed Boon calling it ?gritty? (what isn't gritty nowadays?), we don't know anything about it. We also know that Unreal Tournament III is coming soon for the Xbox 360 and if anyone can appreciate an online-based FPS, it's Xbox 360 owners.
But other than those two sorta-sure things, Midway's 2008 is one big question mark. TNA Impact and The Wheelman are the only other confirmed titles the company is working on and neither one has made much of an impact on the hype-o-meter.
Outlook:
2008 is probably not going to be Midway's year either.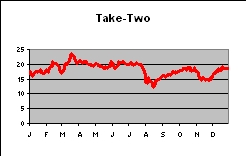 Take-Two (TTWO)
2007 Open:
17.66
2007 Close:
18.45
Change:
+0.79 (4%)
Today's Close:
15.65
While most video game companies are saying 2008 won't be as big as 2007, Take-Two may be the one company to buck the trend. After being delayed from the fall, Rockstar's Grand Theft Auto IV will have the spring almost all to itself (and certainly provide a bump in share price around its recently announced April 29th release date). Well not completely by itself, GTA4 will be sharing the spring with another Rockstar title, Bully: Scholarship Edition for the Wii and Xbox 360. Couple those titles with the continued success of BioShock (and the fallout from all those Game of the Year awards) and Take-Two will be making money hand over fist before the middle of the year.
Take-Two's 2K Games subsidiary will also see plenty of major releases in 2008 including Don King Presents Prizefighter, Major League Baseball 2K8, Top Spin 3, Civilization Revolution, Mafia II and Borderlands.
With the success of last year's Carnival Games, the company is also coming around to heavily support the Wii. And while it's still unconfirmed, I believe Rockstar will release a version of Grand Theft Auto for the Wii. I don't know what form it'll take, but Take-Two loves money too much for this not to happen. Of course, the company has gone on record saying Grand Theft Auto IV is not coming to the Wii. They did not make public any opinion they might have on some kind of GTA Wii spinoff.
Finally, let's not forget that Take-Two owns the publishing rights to Duke Nukem Forever. 3D Realms is financing the game entirely on their own, if they finally release it in 2008, Take-Two will only see the benefits of ten years of gamer curiosity.
Outlook:
Take-Two will do well in 2008 and might be the big winner for the year.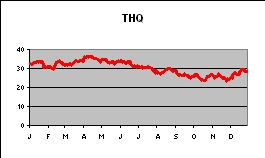 THQ (THQI)
2007 Open:
32.70
2007 Close:
28.19
Change:
-4.51 (14%)
Today's Close:
19.37
After a good 2006, THQ had a bit of a rough year in 2007. And it can be pinpointed on the backs of a handful of games: Ratatouille and THQ's Nickelodeon games. Ratatouille was considered a fine movie by many, but it didn't have the video gameiness of something like 2005's Cars. And the latest crop of Nickelodeon properties is currently in a transition period. Sure, SpongeBob and Avatar are still popular, but Nickelodeon (and THQ) is currently waiting on the next big breakout property.
So where does that leave the company this year? Sadly, in the hands of their more ?mature? properties. Destroy All Humans! Path of the Furon (Xbox 360 and PS3) and Destroy All Humans! Big Willy Unleashed (Wii and PSP) have got fans of that series excited and Saints Row 2 might live up to its GTA-killer moniker. Then there's the inevitable, but unannounced, WWE Smackdown! Vs. Raw 2009.
And that's really it for the moment. Other shooters like Red Faction 3 and Frontlines: Fuel of War are major question marks while the latest Pixar movie, WALL-E, doesn't have the buzz behind it that The Incredibles or Cars did.
Outlook:
If WALL-E is a huge hit, THQ will have a huge 2008. Otherwise, it's iffy.
But the biggest winner of 2007 wasn't a publisher, it was?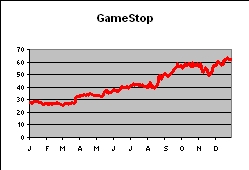 GameStop (GME)
2007 Open:
27.45
2007 Close:
62.11
Change:
+34.66 (126%)
Today's Close:
49.60
The game seller more than doubled their stock price in 2007 and while we may hate their business practices, they are a money making machine. And with the raft of huge games coming out in 2008, I have no doubt this will continue. If you really want to make money in the Stock Market Game, hold your nose and buy some stock in GameStop.
But remember, playing the Stock Market Game is all fun and games until someone loses their life savings. So remember to be smart about your investing and that our predictions for 2008 are just that, predictions. We don't know the future and we can't say with certainty that our winners will win and our losers will lose. So good luck and good trading.
Full Disclosure Time:
The author owns shares in Activision, Midway and GameStop.