Review: I'm much better at the drums than when I played with you at E3, Harmonix. I swear!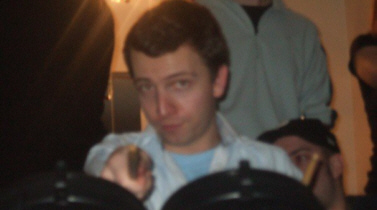 I've played the drums for six years of my life. Never before in those six years have I had so much fun playing the drums as I had with
Rock Band
. By adding a drum set and a microphone to the guitar and bass peripheral mix, developer Harmonix expands on its original Guitar Hero idea for twice the fun. It doesn't take much real talent or practice to successfully rock out on any of the included instruments; just about anyone can jump into the drummer's set, strap on a guitar or take center stage with the mic. Given its generous learning curve and ability to discover more of our untapped musical ?talent,? Rock Band is the ultimate party game and Guitar Hero replacement. Only now it's not just a party's side attraction; it's the main attraction.
The $170 Rock Band bundle comes with one guitar, a microphone and an easy to put together, relatively compact drum set. Since the Guitar Hero guitar controller works with Rock Band for Xbox 360, most people's four-piece band should be set. Just allow some time for serious cleanup before assembling band mates; all the instruments are in a box within a box within a box to protect your investment. After all, it's an expensive investment for a package that has three of four instruments, none of which are wireless.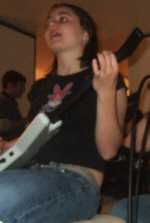 Rock Band's Stratocaster guitar controller is more realistic looking than the one that comes with any of the Guitar Hero games. The five fret buttons are embedded into the fret board and only the edges show color; the surface has a solid wood finish to it. Another thinner set of fret buttons are embedded further down the neck for solos. Strumming any of the ten fret buttons feels a little different on the Strat with the softer strum bar. It's not as clicky as the Guitar Hero controller and, therefore, doesn't feel as reliable. By comparison, the Strat is cooler looking, but hearing that click sound, even though unrealistic, is a little more comforting, making Guitar Hero brand of controllers
slightly
more desirable.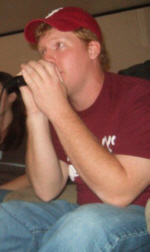 In addition to developing
Guitar Hero
,
Guitar Hero II
and
Guitar Hero Encore: Rocks the 80s
, Harmonix is the brains behind
Karaoke Revolution
, volumes one through three. With identical scrolling lyrics and bars that dictate pitch, the signing gameplay wasn't a stretch for the developer--it might be a stretch for some players/wannabe singers, though. Songs like ?The Hand That Feeds? by Nine Inch Nails aren't your usual karaoke fare. You won't find guilty pleasure radio sing-alongs like Queen's ?Bohemian Rhapsody? or Don McLean's ?American Pie? here and this rock mix is far from the karaoke bar's standard fare of Madonna, Billy Joel and the soundtrack to Grease. For this reason, most people I played with stuck to gems like ?Dead or Alive? by Bon Jovi, which turned into an amusing group effort on the mic.
A lot of the karaoke enjoyment depends on whether or not you know the song's words. This meant that most of my band mates opted to repeat ?Dead or Alive? three times during the course of the night, as they were weary of trying anything they weren't used to singing in the car or in the shower. The constant kick pedal intro to that song starts to wear on you after a while. For some reason, people know more of the lyrics to Gloria Gaynor's ?I Will Survive? (not included, obviously) than the exact wording of Black Sabbath's ?Paranoid? (included by cover band) even though disco is not the kind of music they listen to. The same can't be said for the game's flawless percussion sections, as most people don't know the drum parts to any song.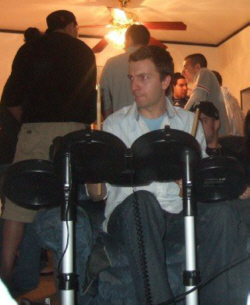 The drum controller plays as well as it's built. There are four grey rubber pads with colored outlines: red for snare, yellow for hi-hat, blue for tom-tom and green for cymbal. There's also a kick pedal for the virtual bass drum, making it a five button instrument just like the guitar controller. Streaming colored indicators dictate which drum to hit, four that look just like the fret board icons from the guitar gameplay and one long icon that spans the entire board designating the kick pedal. The drums take a while to get down on Hard and Expert, but they teach you how to play a drum set more than the guitar controller teaches you how to play a real guitar.
Not every song on the setlist lends itself to untrained singers, but there are a lot of rock favorites to capture that four-piece band dynamic. From The Who and KISS to Queens of the Stone Age and OK Go, the 45 licensed songs cover a wide range from 60s classics to the latest Grammy winners. There are also 12 bonus tracks and plenty of downloadable song packs and singles for sale. Current downloadable content includes ?Roxanne? from The Police, ?Fortunate Son? as made famous by CCR and ?Buddy Holly? from Weezer.
With all four peripheral parts combined, Rock Band becomes a fairly different experience when you compare it to Guitar Hero. Sure, you can play through Solo Tour mode by yourself, but that's really only fun if you're hammering away on the drums. The been-there-done-that guitar and singing solo parts aren't as challenging and are less fun when you're alone. It's when the sum of all the multiplayer parts come together in Band World Tour mode that the rock ?n' roll sensation begins.
Band World Tour has you and three friends go from playing small clubs as an unknown group to touring venues all around the world with millions of fans. You'll have ups and downs that are so much like a VH1 ?Behind the Music? special that the only thing missing is Jim Forbes narrating your meteoric rise to fame. As you struggle to earn five stars on each song and amass fans, you'll fight with your real-life band mates. ?You seriously need to stop failing out,? will be met with an immediate ?Well, if you weren't hogging all of your Overdrive, you could've saved me.? In these cases, it's good to have the drum sticks.
Overdrive is an interesting equivalent to Guitar Hero's Star Power. In addition to doubling your multipliers, it can save a fellow band member who failed out of a song. Strategically saving up Overdrive and appropriately timing it to aid a struggling band mate adds to Band World Tour's considerable fun. Because failing out of a song means your band actually loses fans in droves, it's an awesome feeling to come back from the brink of being booed off stage with the help of that 11th-hour Overdrive meter.
Band World Tour mode is superior to anything else out there because you're playing with a group, but it's got two small problems. The first is that you're going to be asked to repeat songs on your tour. Just like in a real-life band, fans want you to play certain song as you go from city to city. The second problem with the mode is that it supports 2-4 players?locally. Online play is reserved for multiplayer's Quickplay, Tug of War and Score Duel modes. This means that it's important to have friends willing to come over and take up all of the instruments because you can't play it alone or through Xbox Live, and you can't earn several
Achievements
without a little help from your friends.
Rock Band also doesn't go where Neversoft took Guitar Hero III; namely, it doesn't have any boss battles with celebrity rockers or frantic weapons-based multiplayer mechanics. Harmonix, however, outperforms its former franchise when it comes to the graphics. Your customizable rocker-self is more defined and plays the actual part in sync with the music. Seeing the drum sticks go up and down on the screen and realizing that I'm nailing that same diddle on the drum set is a great feeling, something that's constant throughout this one of a kind Harmonix-MTV-EA collaboration.