Special: I want my G4TV! Actually, no, I don't.
Gone are the days when video games on television featured made-up games, a console that was a generation or two behind and sound effects from the Atari age. How long did that Nintendo 64 sit on top of Drew Carey's TV without being used once?
But today things are a little different. Today, video games are starting to be included in the storyline of dozens of different shows and most of them are no longer the sitcom staple of "little kids want expensive and/or violent video games for Christmas, what do we do?" Instead, games are now being treated with a modicum of respect and a nod towards accuracy. And we've got plenty of recent examples...
An Xbox 360 and Halo 3 appeared on
Scrubs
. Turk is determined to finish the fight in co-op mode and this is not seen as strange by anyone. Kelso evens mentions he only plays Pac-Man and "that carjacking game." It is even played up as a major subplot as he first wrangles J.D., then the Janitor and finally Carla to help him on his quest.
Another Xbox 360 and a Halo 3 tournament was also at the center of the most recent episode of
The Big Bang Theory
. I enjoy this show against all my better judgment and there's just something to be said about a show where a quartet of geeks introduce video games to the beautiful girl next door. And their reaction to her skills is just priceless:
"She's cheating. No one can be that attractive and this skilled at a video game."
Second Life, while not technically a game, has also popped up recently on
The Office
(as Dwight mourns the loss of his girlfriend) and
CSI: New York
(something with a Senator and women and the online reviews were not kind).
Meanwhile, a Second Life analogue dubbed Another Youniverse played a major part in a recent
Law and Order: Special Victims Unit
. The episode's involvement with the online world was created because the victim had roleplayed in an online underage brothel even though she was over 18. This is remarkable because an underage brothel featuring over 18 participants roleplaying a younger age was also just "discovered" in Second Life. Life imitating art? Or the more likely scenario that things like this have always been happening in Second Life?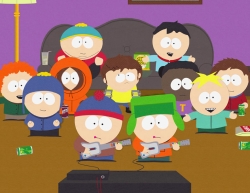 This is all topped off by tonight's episode of
South Park
, which focuses on Stan's obsession with Guitar Hero. This is notable because the last time South Park did a video game-themed episode (2006's "Make Love, Not WarCraft"), they won an Emmy. That time they worked with WoW's creators at Blizzard and even got their made up weapon, The Sword of a Thousand Truths, to appear in the first World of WarCraft expansion, The Burning Crusade.
All of these examples will hopefully lead to a better understanding of games in Hollywood, which may even start to trickle down to the public at large. There are finally more people talking about games on TV than just Jack Thompson's raving lunacy on news programs. And if nothing else, the dozen PlayStation 3 ads I saw during "mature programming" like The Simpsons, Family Guy and American Dad on Sunday proves that game ads have definitely moved away from the Saturday morning cartoon block for a new home.
But this newfound appreciation for game-related plots has been a long time coming. Several television shows and movies in the last year have also featured game heavy plots of varying success...
The Simpsons
also did a Everquest/World of WarCraft-inspired episode with a made up game called Earthland Realms. All of Springfield was involved and it was one of the better episodes of last season. But then, The Simpsons has a long history of game related episodes that are always on the mark and parody many of the industry's top titles including Video Boxing (Punch-Out!!), Touch of Death (Karate Champ), Dash Dingo (Crash Bandicoot), Lee Carvallo's Putting Challenge (Lee Trevino's Fighting Golf) and Bonestorm (Mortal Kombat). An arcade game that used to show up in the early days, Larry the Looter, predated Grand Theft Auto and it's crime simulation by six years.
Heavenly Sword showed up on
Heroes
well in advance of its release date. While this might seem like product placement of the highest order, the game is never referred to by name, the PS3 controller or system were not really present on screen and the game's far off release date was never mentioned. All we saw was Micah playing a video game that actually looked modern.
An article like this also has to mention G4, the "video game channel." But frankly, I don't think the folks that run G4 actually care anymore about running a "video game channel." They seem happy being Spike TV's embarrassing little brother and I believe most gamers have moved on.
Then there's movies like the grossout comedy
Grandma's Boy
and its video game tester protagonist. And the teen horror of
Stay Alive
, which featured a made up PS2 game of the same name that actually looked great.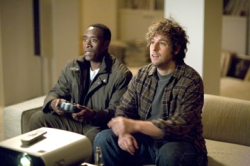 And who could forget the major role Shadow of the Colossus played in the plot of the Adam Sandler-Don Cheadle movie
Reign Over Me
. Sandler's character used the game to help him work through his grief for the family he lost on 9/11 and I think it was the first time many people realized video games could do that.
Hollywood's newfound love affair with video games can only further push gaming into the mainstream. While some gamers don't want their favorite activity to be "corrupted" by the mainstream, more people are getting exposed to games and gaming all the time and that can only be a good thing.