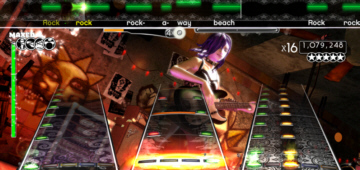 Rock Band was like high school marching band all over again. I wasn't hitting the center of the drum heads, I couldn't time the diddles right, and a foot peddle? We didn't even have that on the field. Although EA's full band take on Guitar Hero was a bit harder than I had anticipated, especially in front of a real live crowd at E3 2007, I know that my first gig wouldn't be my last. It was a learning experience that I will like more and more as time goes on, unlike my four years carrying a huge drum around.
In addition to banging on the drum all day, Rock Band supports a pair of guitars (a lead guitar and a bass) and completes the quartet with a frontman or frontwomen on the microphone. The price of all of these accessories is still undetermined, but everyone is guessing (or hoping) that it doesn't exceed $200. Harmonix, the game's developer and the former developer of Guitar Hero, said that it wants to retail all of the instruments for as cheaply as it can without losing money.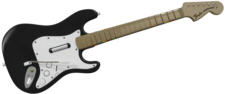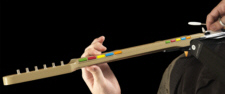 The guitars and drum set are lightweight, but feel like solid peripherals and I found the microphone to be pretty standard with no complaints. Rock Band's guitar looks more realistic than the one that came with Guitar Hero because it's modeled after the Fender Stratocaster electric guitar. In fact, it's a 3/4 replica of the iconic guitar model. It's also a bit more complicated in terms of the fret buttons. While Guitar Hero uses 5 multi-colored frets, Rock Band doubles the button pressing with a total of 10. The 5 extra frets are for solos in which players have to slide their fingers down the neck in order to reach the right buttons.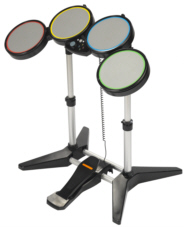 The drum set construction is close to that of an electric drum set. Four foam pads replicate a snare, tom-tom, hi-hat and cymbal, while a fifth button lies on the floor to hit the virtual bass. The drum sticks included are lighter than the real McCoy, but you're going to look cool once you master the drum licks to your favorite rock songs no matter what.
Since Rock Band is being published by MTV, distributed by Electronic Arts and developed by Harmonix, you'll probably find a couple of your favorite tunes. So far, we know that the trio of companies has been able to acquire the license for 16 songs from the 1970s to today's hits:
"Won't Get Fooled Again" by The Who
"Mississippi Queen" as made famous by Mountain
"Suffragette City" by David Bowie
"Paranoid" as made famous by Black Sabbath
"Don't Fear the Reaper" by Blue Oyster Cult
"Rockaway Beach? by The Ramones
"Tom Sawyer" as made famous by Rush
"Wanted Dead or Alive" by Bon Jovi
"In Bloom" by Nirvana
"Vasoline" by Stone Temple Pilots
"Say It Ain't So" by Weezer
"Learn to Fly" by Foo Fighters
"Enter Sandman" by Metallica
"Main Offender" by The Hives
"Reptilia" by The Strokes
"Go With the Flow" by Queens of the Stone Age
One surprising improvement over the Guitar Hero days is that most of the included songs are the master tracks as opposed to cover versions. Record labels must be realizing the popularity (and the profitability) of having their songs in a successful music video game. You can expect additional songs to be announced prior to Rock Band's November 20 release, which is also when you can expect the game to rock the holiday wish list of every Xbox 360 and PS3 owner that you know.