Special: As Meatloaf said, two out of three ain't bad.
Original Predictions Can Be Found Here:
21 Predictions For E3 07: The Good, the Bad and the Crazy
Three weeks ago I attempted to use my crystal ball (OK, my Magic 8 Ball) and gaze into the future that was E3 2007. Well, the future is now and E3 is lazily coming to a close. So how'd I do? Read on, and you'll discover that being Nostradamus (or even Kreskin) is not as easy as it looks...
#1 Firm release dates for Smash Bros. Brawl and Mario Galaxy
Status:
Accurate Prediction! (1 out of 1 so far)
November 12th for Super Mario Galaxy and December 3rd for Super Smash Bros. Brawl. I started things off slow as this one was pretty much a gimme in preparation for prediction #2...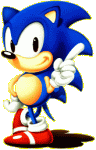 #2 Sonic's participation in SSBB will finally be confirmed
Status:
Inaccurate Prediction (1 out of 2 so far)
Sonic is still Missing in Action as far as his participation in Super Smash Bros. Brawl goes. Nintendo is not talking, but it appears Sega is. No, not about SSBB, but about Mario and Sonic at the Olympic Games. Sega has routinely touted that title as the "first time Mario and Sonic will ever face off" and they continued to do so at this year's E3. That certainly puts a damper on the Sonic theory, but the door is not completely closed. There's still plenty of time before the game's December release for an 11th hour surprise. But sadly, I no longer think such an announcement is likely. 'Tis too bad. I guess we'll have to wait for Smash Bros. 4 for the feud to finally be settled with fisticuffs.
You know, that picture almost looks like Sonic is wagging his finger at me for being an idiot.
#3 We will see Animal Crossing Wii
Status:
Inaccurate Prediction (1 out of 3 so far)
Ouch. This one hurt. A Nintendo financial statement in May confirmed that Animal Crossing Wii was in development and I assumed (as one of only two games on the list without a 2007 release date), it would be featured heavily as part of the "next wave" of Wii titles. Instead, it was a no show (although a cornered Shigeru Miyamoto admitted it was still in development), but I was right about that whole next wave thing with prediction #4...
#4 Nintendo announces Mario Kart Wii
Status:
Accurate Prediction! (2 out of 4 so far)
Not only has Nintendo announced Mario Kart Wii (and the accompanying Wii Wheel), they said it was coming in "early 2008." Of course, "early" is usually Nintendo's code word for "will be delayed until Christmas," so I'm not holding my breath for Mario Kart Wii just yet. But it is coming and it is looking nice. If 2007 is a good time to be a Wii owner, 2008 is shaping up to be equally as good.
#5 Dead Rising 2 will be announced
Status:
Inaccurate Prediction (2 out of 5 so far)
Capcom executives can't stop salivating when it comes to the money making potential of a Dead Rising sequel and they have talking about such a beast since January. But E3 has come and gone and there's still nary a peep out of the company in any official capacity. It's obviously coming some day (Capcom would be crazy not to create a sequel of some kind), but it looks like E3 2007 is not the place it'll be unveiled.
#6 Capcom will drop a major demo on Xbox Live and/or PSN during the show
Status:
Inaccurate Prediction (2 out of 6 so far)
Maybe it's just me, but I thought this year's slate of "Bringing It Home" material paled in comparison to last year's. Maybe I'm jaded and maybe I'm not, but either way, there was no demo love from Capcom on either download service.
#7 A secret Mortal Kombat game will be revealed
Status:
Accurate Prediction! (3 out of 7 so far)
While Mortal Kombat for the DS was neither secret (there had been rumblings for weeks) or new (Ultimate Mortal Kombat is just a port of UMK3 with Puzzle Kombat thrown in), it is a new Mortal Kombat game for a platform that is actually pretty light on the fighting games. So good on Midway and I can't wait until next year when we'll learn more about the
real
secret Mortal Kombat game.
#8 A Heroes game of some kind will be announced
Status:
Inaccurate Prediction (3 out of 8 so far)
Dark Angel has a video game. Buffy the Vampire Slayer has a video game. There have been two Knight Rider games. And in the near future, there will be games based on the new Battlestar Galactica series, Aqua Teen Hunger Force and
The Office
. The point is, nearly every quasi-actiony television show gets a video game adaptation at some point and Heroes will be no different. Just not this year.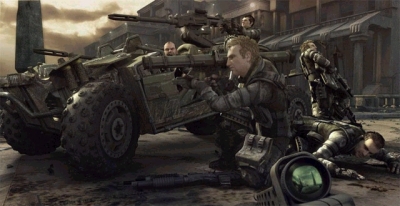 #9 Killzone in real time will blow everyone away
Status:
Accurate Prediction! (4 out of 9 so far)
I'm not sure if "blown away" is the correct response to Sony's presentation of Killzone 2 (the entire industrywide reaction to everything at this year's E3 has been pretty muted), but there was definite excitement in the air. People like what they see and many people are actually looking forward to the game's 2008 release date. And after the fiasco that was E3 2005, even that should be seen as a victory.
#10 PSP redesign is coming soon
Status:
Accurate Prediction! (5 out of 10 so far)
I'm back up to 50% with my accurate call that Sony plans to release a redesigned PSP by the end of the year. While I was slightly off in my assessment that we'd get "a foldable design, a built-in hard drive and faster UMD read speeds" (although I nailed that last one), the "PSP Slim" is looking impressive and it's looking to be ready by September. Couple this with a similar pricing structure as the current PSP model and I think Sony will be marching closer to making the PSP the handheld we all hoped it would be all along.
#11 Nintendo will expand the Virtual Console in some way
Status:
Inaccurate Prediction (5 out of 11 so far)
And I'm back below 50% as Nintendo didn't even acknowledge the Virtual Console at all. Oh well, hit up the next page for the second half of our prediction results?