Interview:
More from CGS 2007: The Draft | Adanade 'sWooZie' Thorne Interview | Kat Hunter Interview | Jason Lake Interview | Johnathan 'Fatal1ty' Wendel Interview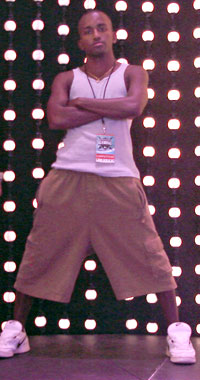 Adande "sWooZie" Thorne's exceptional performance during the Dead or Alive 4 challenges at the CGS Combine is not the only thing that got him noticed by the General Managers. Anyone that meets him is immediately attracted to his outgoing personality and sense of humor. If anyone needed further evidence that CGS draftees aren't the garden variety, overweight, sunlight fearing nerd than Thorne is it. It is no small wonder that Jason Lake drafted him as part of his Los Angeles franchise, Complexity.
Originally from Trinidad, Thorne moved to Florida when he was just a few years old. Thorne is a self-described ?Christian gamer? in both his behavior and playing style. Gaming Target interviewed Thorne on what this means to him and other topics relating to the CGS.
Gaming Target: You were drafted by Jason Lake into his Los Angeles team Complexity. Were you surprised at all by the draft? What expectations did you have going in?
Adande ?sWooZie? Thorne: To be honest, everyone was telling me that I was going to get drafted but you really can't tell what the GM's are thinking most of the time mainly because they don't want to broadcast their moves. I was a bit surprised because I really love L.A. Before the league even announced that there would be an L.A. team, MASTER and I would talk about how we knew there would be one and how awesome it would be to get drafted to that team if for nothing else the opportunities. I expected to get drafted by one of the two other GM's who were showing interest in me. Throughout the weekend, they'd ask me questions like "If I draft you, I don't want to have to worry about your conduct -- are you someone I can trust to stay out of trouble?"
GT: You've gotten a lot of notice for being a ?Christian gamer.? Can you define what that means to you? How does it affect your playing?
Thorne: It means having or displaying qualities associated with Christianity especially when playing online with others regardless of the game outcome. You show fairness, kindness, do not using profanity, etc. That has translated even into the individual games I play and how I play them. For example in DOA there are some outfits that you can unlock that are 'questionable.' Because of this, when I play, I always use the outfit/costume in which my character is clothed properly.
GT: What do you think about religious and political groups that vilify video games?
Thorne: I've read a little about some of their concerns and they have a right to be worried to some degree. I have read some that are a little on the extreme side, but game content is just like any other type of content out there. I can understand a bit more when they say, "certain games are bad" as opposed to the groups that say, "all video games are bad."
When I was a lifeguard, I would get into conversations with some of the kids by the pool and we'd talk about gaming. I'd ask what their favorite game was. The majority of them would answer "Grand Theft Auto.? I'd then ask "How old are you?" The average answer was 9. As opposed to the groups bashing game developers, I'd put more responsibility on parents (and bring more awareness to them). A lot of parents have no idea what they're really putting in their kids lap. Once they are educated, as opposed to telling your kids "I don't want you playing Grand Theft Auto", they can explain to them why. Even if it's an explanation along the lines of "games put you in a state of mind and you have to be careful when you feed yourself 8 hours a day of first-person kill mode.? You should break it down to your child to where you're empowering them with information because their friends will no doubt ask them at some point: "why don't you play this game?" At that point they want to have a good answer rather than just shrugging.
GT: Do you think CGS will change this perception?
Thorne: I don't think so. It will definitely change the way people look at gaming but as far as changing how some groups look at gaming, I believe there will always be a congregation waiting to harp on something gaming related regardless of its delivery.
GT: How did you get started playing video games and what prompted you to become a pro-gamer?
Thorne: I started playing video games back in Trinidad. I was 4 years old and my first game was E.T for the Atari. What prompted me to go pro was when I saw the DirecTV gaming set for the first time last year. I had won some online tournaments and was invited over. While I stood there on the set with my mouth open, the realization hit.
GT: What were you doing before you became a pro-gamer?
Thorne: I was a lifeguard at the Hard Rock Hotel / Universal Studios Orlando. I opened the hotel in Dec 2000 and worked there for 6 years. That was the longest I'd ever stayed with the same employer and I enjoyed working there a lot.
GT: What initially attracted you to your chosen game?
Thorne: I was in the computer lab at my community college years ago and a friend of mine came up to me and told me to read an article about Dead or Alive on IGN.com. I was amazed at the depth of the game and the graphics. To be honest I was in love with the game even before I played it.
GT: Which character do you use and why?
Thorne: I use Kasumi. I originally started playing with her because she could teleport and appear on the other side of her opponent. It seemed to confuse my friends so I felt like I could use that card in my favor.
GT: Do you have a training routine?
Thorne: Wake up, pray, read at least a chapter of the Bible and then I pick up my controller. Play until around midnight; repeat. That's the routine 6 days a week (Sun-Fri).
GT: What advice do you have to other would-be pro gamers out there?
Thorne: Practice, practice, practice, practice, practice, practice, practice, practice, practice, practice, practice and when you're not practicing, you should really think about practicing. But if you want to go pro in a game then make sure it's for a game that is in a pro gaming circle. If I want to go pro in a game like Mario Kart and I'm the best Mario Kart player in the world yet there are zero Mario Kart tournaments then it's going to be EXTREMELY hard to quit my day job to play that game professionally.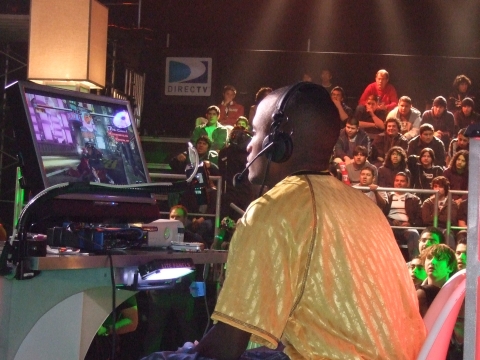 GT: Where do you hope to see CGS in 5 years?
Thorne: It might sound a little biased but I see CGS being as big as the other major sports, especially if some of the games air on FOX. There are a number of people who are now finding out about CGS. But there are no barriers between the fans and the players. It's almost impossible for me to say ?hi? to Michael Jordan and I'd say a 0% chance of ever playing basketball with him. However the way CGS is set up, if someone sees me on TV, they can turn on their Xbox 360 and send me an email or even challenge me right there on the spot. That is what I believe will make CGS just as successful if not more successful than the other major sports.
When people approach me and want to talk about CGS what I hear 98% of the time is "Why didn't someone think of this sooner?!!?" Everyone loves the idea. I've had kids want to sit down with me and talk for extended periods of time about CGS. The same goes for grandparents. Everyone is fascinated with it. CGS will only add more games and generate more excitement.
GT: Who or what will be your biggest challenges in this first CGS season?
Thorne: At the end of the day, everyone is beatable; however I think MASTER will most likely be my biggest challenge.
GT: What do you think of the Playboy Mansion?
Thorne: From a marketing standpoint it's smart. My only concern coming into this was that I didn't want to encounter any "too hot for TV" situations. I didn't so I'm happy.
GT: Do you have any plans to see the Dead or Alive movie?
Thorne: I pretty much have to. Some of my Xbox Live friends have been trying to get me to watch the bootleg versions of it but I respect movie making too much to go that route. I've heard from everyone that the movie isn't good but I think I'll still have to go see it.
More from CGS 2007: The Draft | Adanade 'sWooZie' Thorne Interview | Kat Hunter Interview | Jason Lake Interview | Johnathan 'Fatal1ty' Wendel Interview