Specials: The four games that every other editor left off of their most wanted list.
The most highly visible games that hog the most wanted lists in magazines and on the internet have big budgets and months of marketing hype. However, there are a lot of other great upcoming games that remain underground like groundhogs without all of the same pre-release attention. As these titles wait to pop up to see if they are a sunny success in sales or a shadowy disappointed on the shelves, let's shed a little deserving light on four potential groundhogs.
Dead Head Fred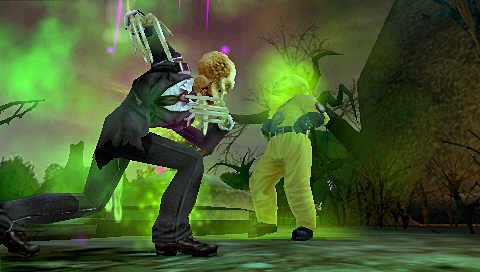 Fred is an incomplete character in being without his head, but that's what makes this PSP exclusive so interesting in the first place. As a private detective, he investigates the owner of a nuclear power plant who is more evil than Mr. Burns. Ultimately, this costs Fred both his head and his life. He's brought back to life by a doctor and does what he can to retrieve his head and take revenge. This means going around levels, ripping off enemy skulls and then sticking them on top of his body. There are no real weapons, but the different head types do possess special abilities to solve puzzles and perform cranium-cracking attacks on the bad guys. The task sounds morbid, to say the least, but the entire game is presented with a dark humor that makes it just as sophisticated and entertaining as it is sick and disgusting.
Dead Head Fred rolls on to PlayStation Portable sometime in the spring.
Stuntman 2
Stuntman wasn't a small game when it released on PlayStation 2 four years ago, but it was underappreciated and its upcoming sequel wasn't on any most wanted lists. I gave the game an 8.7, where the review score sits at the higher end of its ratio on GameRankings.com. What's surprising is the range of this game's ratio spans from a 95% to a 35%. That's really unprecedented. At the same time, it's also explainable because Stuntman was an incredibly frustrating game. It cast players as a stuntman who performed on the fly vehicular tricks while being given prompts by a director as the camera was rolling. This led to A LOT of trail-and-error situations and restarts and explains the low scores due to frustration. However, there was nothing greater than accomplishing a take by riding up a ridge jumping over a house and smashing into its chimney, then jumping through an open door of a passing train, slamming through a fence and jumping through another open door of the same train, different car all in one take.
There isn't very much information on the unexpected sequel, Stuntman 2. We do know that the game is being released on Xbox 360 and PlayStation 3, both ideal for their ability to produce highly detailed stunt action and inevitable car wreckage.
Turok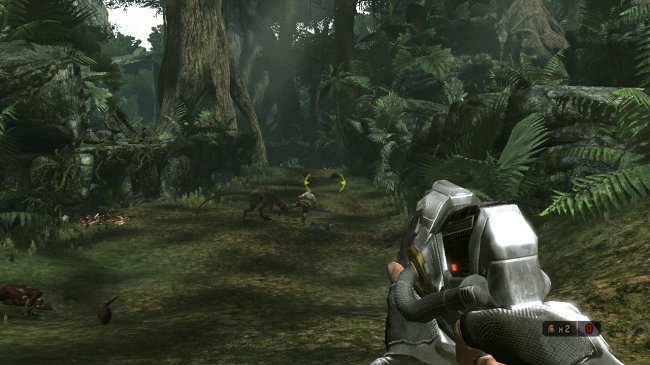 The Turok series is another known franchise and it even spawned multiple sequels, mostly on N64 where it started. However, because the Dinosaur Hunter has been in hiding ever since his less than fulfilling PS2, Xbox and GameCube release in 2002, there isn't too much hype about his rise on their next-generation successors. There should be, though. The Turok license is now in the trusted hands of Buena Vista and Propaganda Games, and despite the name of the developer, little is known about this first-person shooter. From the brief expo trailers and screenshots, we do know that there will be a lot of human fragging and dinosaur shooting. For N64 fans, that alone should raise anticipation levels because no other series has presented such a great, unique dinosaur theme since. Well, that along with a giant T-Rex should do the trick.
Expect to see the new Turok game for Xbox 360 and PS3 this fall.
Chili Con Carnage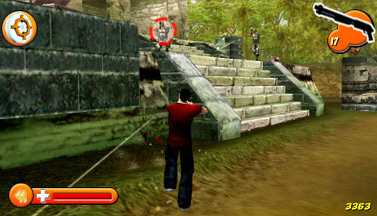 From the makers of the over-the-top Total Overdose comes a portable spin-off called Chili Con Carnage, and it's serving up the same spicy action. Ramiro Cruz returns as the gun-slinging Latino hero who's out for revenge after his father's death and takes on the Mexican underworld in the process. There, players put away plenty of ammo belts by clearing away stereotypical Mexican bandits and by busting up drug cartels. The intense shoot-out gameplay is complete with bullet-time slowdown effects and allows players to perform shoot and dodge moves. All of the gravity-defying moves are labeled with gringo-lingo like ?Burrito Blast? and ?Sombrero of Death.? This may offend some people who look into the light-hearted humor too deeply. But, the game really isn't meant for anyone who looks into things too deeply because the action is surface deep and arcade rich.
Eidos Interactive and Deadline Games intend to dish out this Wi-Fi-enabled PSP game by March 13.