Special: Sony's PlayStation 3 is less than a month away. So if you want to know everything there is to know about the PS3, please read on...

In the world of gaming, there are few moments more exciting than the launch of a new system. It is a time for gamers to pour over endless screenshots, for tech wizards to pick apart every technical detail, for editors to pull out their crystal balls, and for everyone to start eying their bank accounts nervously. When the console in question bares the name that has ruled the industry for the past decade, this hype and excitement can be felt all the way back to the creation of the first transistor.
The PS3 is almost upon us and all eyes are turned to Sony and their behemoth console.
But that is all hype. What every launch is truly about are those lucky few to be the first to bring home their new systems and vanish into a new generation of gaming. It's about the games. It's about the promise of fun for years to come. It's about moving beyond the launch-time whirlwind and smiling down at the shiny new PS3 sitting in your living room.
The Machine:
Of course, it doesn't hurt that the console itself is arguably the most aesthetically appealing systems to date. With a surface that is both semi-transparent, and shiny to the point of being reflective, describing the PS3 as ?eye-catching? simply doesn't do the system justice. The PS3's form factor and color make the system look less a gaming system and more like a nondescript but monolithic piece of future technology.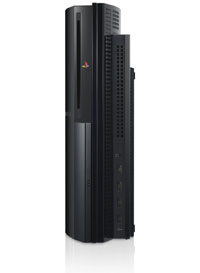 Able to rest both horizontally and vertically, the PlayStation 3's face has a curved edge and a flat surface. The curved part opens up to reveal slot for memory cards while the flat bit , of course, holds slot-loader. Here you will also find a power button that actually not a button at all but rather touch sensitive pad. It is small touches like the power button and slot-loader that give the PS3 a high-tech and high-end appearance.
Inside the console one finds the true behemoths powering this powerhouse. The immensely powerful Cell processor and Nvidia's RSX graphics processor are at the center of everything that defines the PS3's technical prowess. The Cell's 7 SPE's promise not only a huge leap in AI and physics, but, when paired with the RSX, the best graphics this generation has to offer. No slouch regarding memory either, the PS3 offers 512MB of RAM including 256MB of blazingly fast XDR DRAM. For comparison, the PS2 relied a mere 32MB of memory.
Last generation, Microsoft put a great deal of importance on including a hard drive in every Xbox. For their own reasons, Microsoft has moved away from this philosophy and Sony is all too happy to pick up the torch. Coming in 20 and 60 gigabyte models, the PS3's upgradeable serial ATA hard drives not only save gamers the hassle of memory cards, but open a world of online possibilities. From downloading new game content, to ripping MP3's, in a world that has gone broadband, having a hard drive isn't just a convenience, it is a necessity.
There has been much ado made out of the PS3's multiple SKU's, however, now that Sony has put HDMI outputs in both the Basic and Premium models, the only real differences are the hard drive size, the inclusion of flash card reader, Wi-Fi and a little silver trimming. Ultimately, no matter which version you purchase, you will end up with the exact same gaming experience. Still, PSP owners and those with a preexisting wireless network will likely enjoy the extra connectivity the Premium model offers.
Beyond Gaming:
Of course, the PS3 offers a great deal of functionality beyond gaming. PSP owners will be familiar with the user interface employed by the PS3. Sleek as the console itself, PS3 will manage music, movies, and photos through an interface that is feature-rich without being complicated or demanding on the user. The PS3 represents a significant step towards the promise of the ?convergence device? dream ? a gaming console, a movie player, and a computer wrapped into one package that is accessible to user of all technical aptitude.
The biggest non-gaming feature included in the PlayStation 3 is its ability to play Blu-Ray movies. While the PS3 is still be able to play your DVD collection, it will also allow you to step into the future of home theater entertainment with Blue-Ray discs. The Blu-Ray medium has been making waves recently as movie studios throwing their support behind this high-tech medium. With true 7.1 surround sound and 1080p resolutions, Blu-Ray and the PS3 will be able to take full advantage of any television and sound system you throw at it for many years to come.
The Sixaxis: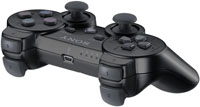 While the Sixaxis looks similar to the DualShock 2, there is a great deal of evolution hiding in this popular and comfortable form factor. The biggest change is the inclusion of motion sensing technology. Removing last generation's rumble feature in favor of more forward-thinking and gameplay-relevant approach, the Sixaxis will be able to detect motion in all directions. This means that games can be controlled both by titling the controller in any direction, and moving the controller back and forth. This feature is being rapidly adopted by developers and looks set to change the way we play games forever.
The Sixaxis also has a few new features that gamers will love. For starters, the days of loose analog sticks are gone. Sony has tweaked the Sixaxis analog components to provide a tactile firmness that will allow for precise movements while not having the sticks feel ?stiff.? Secondly, the Sixaxis is wireless, communicating with the PS3 using the latest in Bluetooth technology. The battery, while part of the Sixaxis, can be recharged via an included USB cable.
The Sixaxis also sees the introduction of small button resting between both analog sticks. This button is the doorway to all of the PS3's higher functions and should allow gamers to access the User Interface on the fly. Lastly, the Sixaxis replaces the lower two shoulder buttons with triggers. This should allow for greater control in racing games and more authenticity in shooting games.
The Games:
A console is only as good as its games and Sony has made sure that the PS3's library will keep gamers inundated with great games on day one. Along with Sony's excellent first-party efforts, some of the industries greatest developers and publishers have committed themselves to providing PS3 owners with a diverse catalog of high quality titles. With the likes of EA, Ubisoft, Square-Enix, Bethesda Softworks, THQ, Activision, and Take 2 Games producing titles for the PS3, gamers will never find themselves without incredible games to play.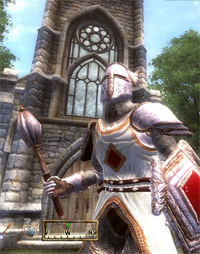 The Elder Scrolls IV: Oblivion:


Release Date: November 17, 2006
Developer: Bethesda Softworks
Publisher: Bethesda Softworks

PS3 gamers with a taste for fantasy and high adventure have reason to rejoice as one of the highest rated RPG's in recent history is now a launch title for the PS3. Already famous for its gorgeous graphics, free-form gameplay, and open-ended world, Oblivion will be offering even more to PS3 owners. In the year since Oblivion first launched, Bethesda has been busy ensuring that the PS3 version will not only boast improved graphics, but also feature new gameplay. PS3 gamers will be able to join the new ?Knights of the Nine? faction and enjoy upwards of ten hours of entirely new content including explorable areas, weapons, and plot progressions.

Untold Legends: Dark Kingdom:


Release Date: November 17, 2006
Developer: Sony Online Ent.
Publisher: Sony Online Ent.

Fans of Action RPG's need look no further this holiday season than Sony Online Entertainment's highly promising PS3 venture. Take on the role of a Warrior, Scout, or Mage as you help to free a once-great kingdom from the clutches of evil in Untold Legends: Dark Kingdom. Offering players an engaging combat system which turns everything in a potential weapon, and multiplayer modes which include online cooperative gameplay, Dark Kingdom promises to show PS3 gamers just what an action game can be in the PS3 generation.

Mobile Suit Gundam: Crossfire:


Release Date: November 17, 2006
Developer: Namco Bandai
Publisher: Namco Bandai

Thanks to the Namco Bandai's next-generation endeavourers, the prospect of heading off to battle in a giant metal box has never looked so attractive. PlayStation owners once again get to hop into some of gaming's most famous Mechs and wreck havoc in the wastelands of Earth's brutal futurescape. Featuring squad-based gameplay, upgradeable mobile suits, and a robust combat system that allows for location-specific damage, Mobile Suit Gundam: Crossfire will have gamers kicking some metallic butt well into the new year.

Blazing Angels: Squadrons of World War II:


Release Date: November 17, 2006
Developer: Ubisoft Romania
Publisher: Ubisoft

Ubisoft has swooped in at the last minute with this surprise PS3 launch title. Blazing Angels: Squadrons of WWII lets players jump into WII Era's most famous fighters and take to the skies in a lengthy campaign mode that features squad-based action. While Blazing Angels landed on the Xbox 360 earlier this year, the PS3 version will feature new missions and take advantage of the Sixaxis' motion-sensing technology. For those looking for a little online action early in the Play Station 3's life, Blazing Angels also offers multiplayer modes that support up to 16 players online.

Tom Clancy's Rainbow Six: Vegas:


Release Date: November 17, 2006
Developer: Ubisoft Montreal
Publisher: Ubisoft

Ubisoft affirmed its commitment to creating games that take full advantage of all that next-generation consoles have to offer, and no game shows this more than Rainbow Six: Vegas. Lead your squad into a city held under a terrorist threat, plan your assault, and then move in with your team from the first-person perspective to play a key role in the action. A visual marvel, Vegas takes the legendary Rainbow Six series to new levels by mixing its classic blend of tactical and action-based gameplay, and introducing a streamlined squad command system plus a new set of moves that would make even Sam Fisher jealous. Rainbow Six games have consistently evolved with each new installment and there is every reason to expect Rainbow Six: Vegas will thrill PS3 gamers looking for something to get their hearts running but more challenging than run-and-gun gameplay.

Need for Speed Carbon:


Release Date: November 17, 2006
Developer: EA Black Box
Publisher: EA Games

Electronic Arts' Need for Speed series has come along ways since 1995 and Carbon shows that the series has no intention of slowing down. Taking the best aspects of Underground and Most Wanted, Carbon will have players racing for reputation, new rides, and customizations across a huge city. Carbon shifts the series' proven formula into high gear by including intense canyon racing and AI team members that will watch your back during races. Of course, the offline fun is only part of the experience as EA Black Box has put their game's online and multiplayer component into overdrive. Beyond the usual options, Carbon will include co-op events, the ability to download the best races of others and race against their recorded game, and unique ?virus achievements? that always gamers to ?contract? new content by racing against ?infected? players.

MotorStorm:


Release Date: Q4 2006
Developer: Evolution Studios
Publisher: SCEA

Looking for some proof that the power you paid for is really under the PS3's hood? Motorstorm is your game! Not only does this breathtaking mudslinging racer outpace its competition with jaw-dropping graphics, Motorstorm also features a revolutionary physics engine that fuels the game's intense, off-road racing. Players control buggies, dirt bikes, trucks of all sizes, and cars as they slide around mud-covered courses, leaving grooves in the dirt that will affect the drivers behind tem. A Sony racing title hasn't generated this much mainstream excitement since Gran Turismo and Motorstorm looks ready to live up to its hype.

Lair:


Release Date: 2007
Developer: Factor 5
Publisher: Sony Computer Entertainment

After stunning gamers with their mastery of the GameCube, Factor 5's technical genius has found a new home in the PS3. Playing off of their strengths, Factor 5 will once again have players taking to the skies and engaging in hectic dogfights. However, this time around the player's ride of choice will be a bit more scaly. Piloting dragons across medieval settings, players will engage both land and airborne foes as they alter the course of a war. Performing dizzying finishing moves that have players jumping from dragon to dragon, burning enemies to a crisp, and using the Sixaxis to smash into hostile dragons, Lair promises to tap into a childhood fantasy that games rarely recreate faithfully. Even though gamers will have to wait until 2007 to get their hands on this hot title, Lair is already one of the PS3's most visually impressive games and will likely be a showcase for every aspect of the PS3's power.

Heavenly Sword:


Release Date: 2007
Developer: Ninja Theory
Publisher: Sony Computer Entertainment

More than any other PS3 game, Heavenly Sword has captured the attention of action fans with its unmistakably next-gen graphics, amazing animations, and fast, physics-heavy combat. While Ninja Theory is still holding many cards close to its vest, a game of immense scope and inspired artistic direction is beginning to emerge. Employing a combat system that lends itself to fighting against multiple opponents, Heavenly Sword will have the players performing dazzling feats that are as destructive as they are acrobatic and using highly interactive environments to their advantage. Although commonly compared to the PS2's God of War, Heavenly Sword is already creating a visual style and combat system unique to itself, and could easily become one of the PS3's first timeless classics.

Resistance: Fall of Man:


Release Date: November 17, 2006
Developer: Insomniac Games
Publisher: Sony Computer Entertainment

World War II never happened - an alien invasion did. It's 1951 in an alternate reality and players take on the role of an infected Sgt. Nathan Hale in order to fight the Chimera intruders. Resistance is like Halo to the Play Station 3 launch, a polished first-person shooter in its own right with an epic single-player story and online multiplayer that supports up to 40 people. Choosing human or Chimera teams in node-capturing modes should give networking thrill-seekers something to smile about. However, the real meat of Resistance comes from its array of unique weaponry, from rockets that, when launched, pause and fire again, to an explosive ooze gun.

Warhawk:


Release Date: Q1 2007
Developer: Incog Inc. Entertainment
Publisher: Sony Computer Entertainment

The creators of Warhawk for the PlayStation are making a comeback to the franchise after leaving it a decade ago. They're firing up a more beautiful game than before, a bigger game than before with aerial combat intermixing hundreds of pilot fighters on screen at once, and a better game than before with new features like tilt functionality for the controller and the ability to engage in ground warfare. Using an online system that supports up to 32 players at a time as its cherry on top should make Warhawk one of the sweetest flight action games around.

Final Fantasy XIII:


Release Date: 2007
Developer: Square Enix
Publisher: Square Enix

Not much can be said about Square Enix's thirteenth Final Fantasy installment, but the famed RPG series will continue to push further into the free-form style seen in FFXII. Pushing RPGs to a whole other plane, Final Fantasy XIII seems to be the first PS3 game to merge CG-quality graphics with real-time gameplay. As indicated by its trailer, the enchanting gunblade-wielding female protagonist steeps in and out of movie sequences in a train lined with guards in some futuristic surrounding. Additionally, this mystery woman has special time-slowing powers that let her choose menu options during combat in what's being called an Overclock status.

Metal Gear Solid 4: Guns of the Patriots:


Release Date: Q4 2007
Developer: Kojima Productions
Publisher: Konami

There's one constant certainty in life: everybody dies. Adding a fourth entry to their renowned Metal Gear Solid series, Konami's legendary hero is fading. He's graying. He's dying. In the future, war is business. Outer Heaven is now a power stronger than all countries combined, led by Liquid Ocelot. Mercenaries work with or against countlessly cloned Metal Gears, as Snake finds himself struggling against time and his brother. Snake may be elderly, but new gadgets like his electronic eye patch and camouflage wear will aid him in a system enabling him to team with different soldier group's causes or defy them.

Armored Core 4:


Release Date: 2007
Developer: FromSoftware
Publisher: SEGA

Maximization and renewal is where the long-running mech series Armored Core is headed. Its story begins in an overpopulated future, with resource shortages and mechanized mercenaries just after the world's self-managing system, Pax Economica, is established. This time around, Armored Core 4 will allow players 100% customization over their robot warriors. A first in the series is its undertaking of underwater battles. Another first is that Americans can finally connect online with the game. Crafting its engine with advanced next-generation technologies, Armored Core 4 will heighten its quantities and qualities of machines that simply leap off the page.

Virtua Fighter 5:


Release Date: Q2 2007
Developer: Sega-AM2
Publisher: SEGA

Sega is back to bring Virtua Fighter to PlayStation 3 owners. Sporting two new playable characters - a monkey-fu combatant named Eileen, and El Blaze a wrestler - Virtua Fighter 5 counts 17 on its latest roster. Each character has additional costumes and items waiting to be unlocked. An evolved 3D fighting system also makes room for deadly sideways attacks. But the best part for some will likely be the progressive steps Virtua Fighter 5's taken in improving its appearance, whether it be snow that realistically deforms as it's sloshed through or fog banks that brush away from fighter motions, Virtua Fighter 5 will have the looks to back up its brawn.

F.E.A.R.:


Release Date: November 17, 2006
Developer: Day 1 Studios
Publisher: Vivendi Games

In 2005, Monolith and Vivendi Universal instilled F.E.A.R. in the minds of PC gamers with their chilling and graphically revolutionary first person shooter. Now, as the PS3 moves ever closer to its launch date, these two companies are preparing to do the same for PS3 owners. Visually ahead of its time, F.E.A.R. will likely put the PS3 to the test with shader and particle effects that can still bring the most powerful PC's to their knees. However, to further ensure that F.E.A.R. is worth the wait, the PS3 version will feature a new ?instant action? mode, an extra level, and true surround sound. Additionally, PlayStation gamers will have access to a rapid-fire shotgun that is exclusive to Sony's black box.

Marvel: Ultimate Alliance:


Release Date: November 17, 2006
Developer: Raven Software
Publisher: Activision

Unifying the icons of Marvel's vast comic book universe like never before, Activision's action-RPG, Marvel: Ultimate Alliance expands their X-Men Legends roster offering up 140 playable and non-playable characters. Dr. Doom is rallying together another Masters of Evil organization, and it's up to you to form a team of four heroes of your choice to thwart his plans. More than 20 different Marvel personalities will be on order, including Spider-Woman, Wolverine, Dr. Strange, War Machine, and more. It's with combo-based actions, suit upgrades that enhance individual skills of teammates, and controls tweaked for the PS3's tilt functionality that will make playing against loads of Marvel villains highly attractive.

Tony Hawk's Project 8:


Release Date: November 17, 2006
Developer: Neversoft Entertainment
Publisher: Activision

In Tony Hawk's Project 8, skating legend Tony Hawk seeks eight exceptional invitees into his skating crew, one of whom could be you. Throwing aside the increasingly large story element that appeared in recent Tony Hawk games, Project 8 is a return to and refinement of everything thing that made the series wildly popular and praised. Analog design wasn't particularly intended for the Tony Hawk series, until now, especially with the introductory maneuver Nail a Trick in mind. Completing Nail a Trick entails that you'll pull down on the two sticks after doing a manual, which in turn slows the game to a crawl. Now, dishing out manual tricks with both analog sticks all while in slow motion branches things into a new realm of score-based possibilities.

Call of Duty 3:


Release Date: November 17, 2006
Developer: Treyarch
Publisher: Activision

For many gamers, Call of Duty 2 on the Xbox 360 heralded the beginning of next-gen gaming. Now Activision is preparing to deliver that same experience to PS3 owners with Call of Duty 3. Featuring much improved graphics and support for 24 players online, this first person shooter will have players scrambling through densely populated and highly detailed levels that explode and crumble around their heads. PS3 owners get an added bonus as Activision has added support for the Sixaxis that ties controller movement to melee attacks. Between the PS3's advanced controls, the game's next generation graphics, and Call of Duty's visceral gameplay, gamers will feel like part of the action more than ever before.

Genji: Days of the Blade:


Release Date: November 17, 2006
Developer: Game Republic
Publisher: Sony Computer Entertainment

Game Republic's sequel to Dawn of the Samurai has been on the public forefront this year and those watching will know that Genji: Days of the Blade has improved by leaps and bounds since last May. Offering gamers the chance to slip into Japanese mythology, Days of the Blade is shaping up to be one of the PS3's biggest action games for the holiday season. Players will take on the role of three separate warriors ? each with their own unique strengths and abilities - as they slash and smash their way through highly populated and decidedly attractive levels. Genji's action moves at a measured pace to allow gamers to use each character strategically and set up powerful combos so expect more deep than pure ?hack'n slash? gameplay.

Ninja Gaiden Sigma:


Release Date: 2007
Developer: Team Ninja

Undisputed king of action games on the Xbox, Ninja Gaiden is making its way to the PS3 in this remake that will make the PS3's first year on the shelf one of the best in history for action fans. Although Itagaki will not be handling this remake, his attention to detail and eye for attractive art direction have clearly been passed along to his coworkers. Already boasting some of the most beautiful graphics to date, Ninja Gaiden Sigma is being rebuilt to take full advantage of the PS3's power with the game running at fluid framerate and displayed at 1080p. Additionally, Sigma will offer new content while maintaining the original's addictive, polished, though-as-nails gameplay.

Ridge Racer 7:


Release Date: November 17, 2006
Developer: Namco Bandai
Publisher: Namco Bandai

Hitting the PS3 streets with improved graphics and enhanced online features, Namco Bandai's Ridge Racer 7 will ensure that PS3 gamers will not be without one of gamings most famous and complete arcade racers. In motion, Ridge Racer 7 is a visual showcase for what is possible in the next-generation and should leave PS2 racing fans reeling as they careen headlong into future of racing. Blending classic Ridge Racer gameplay with other arcade classics like Burnout, RR7 should represent the pinnacle of non-simulation racing when it hits store shelves alongside the PS3.

Sonic the Hedgehog:


Release Date: November 17, 2006
Developer: Sonic Team
Publisher: SEGA

The next generation of platforming begins with Sega's spiky-haired hero, Sonic the Hedgehog. While marking a return to Dreamcast's Sonic Adventures' style of gameplay, Sonic the Hedgehog isn't leaving behind the friends and gameplay enhancements that he's picked up along the way. With Shadow and newcomer, Silver, joining Sonic, Sega hopes to create a platforming experience that is modern but keeps it roots in classic Sonic gameplay. The addition of Silver brings a puzzle solving element which moves at a languid pace to the game that should offset Sonic nicely. Of course, there will be plenty of ring collecting, insanely long jumps, and levels that take full advantage of Sonic's trademark speed.

Unknown Realms:


Release Date: TBA
Developer: Gaia
Publisher: Sony Computer Entertainment

From Kouji Okada, Unknown Realms lets you play as one of two characters in this third person action RPG that is not afraid to borrow elements from Pokemon when it makes sense. Traveling across Unknown Realms' seven lovingly crafted worlds, gamers will battle some of the most imaginative and peculiar enemies in gaming. After each successful victory, the player will then be able to summon the defeated beast and harness its power. Imagine American Mcgee's Alice, Pokemon, and a light action RPG mixed together and you're one acid trip short of picturing Unknown Realms.

L.A. Noire:


Release Date: 2007
Developer: Team Bondi
Publisher: Rockstar Games

From the mind that brought PS2 owner's The Getaway, L.A. Noire is still shrouded in mystery. This is somewhat fitting as the game has much in common with classic mystery novels. Set in 1940's Los Angeles, L.A. appears to be a moody and story-heavy mystery that has players traversing the seedy sides of ?the good old days.? A genre bender, Noire mixes action and puzzle solving with a strong storytelling element. Although the game spent a year in seclusion, news that famed publisher Rockstar Games has picked up the title suggests that Team Bondi has a winner on their hands.

Fight Night Round 3:


Release Date: December 12, 2006
Developer: EA Canada
Publisher: EA Sports

One of the Xbox 360's heavy hitters is headed to the PS3 and looking better than ever. Electronic Arts has used the time since Final Night 3 first launched to not only create a visual experience superior, but they have also added greatly to its gameplay. The addition of a first-person mode should make players feel like a part of the action more than ever. Gamers will be able to hammer away at the AI or a friend and watch as their opponents face bruises while their own vision blurs with each hit taken. Featuring around thirty licensed fighters, finely honed gameplay, and stellar graphics, the PS3 and EA have a lot to offer boxing fans.

Madden NFL 07:


Release Date: November 17, 2006
Developer: Tiburon
Publisher: EA Sports

Already far more full-featured than Madden's initial foray into the next generation, Madden NFL 07 on the PS3 boasts a new and innovative ?Run to Daylights? feature. Allowing player to control any blocker, this new mode lets the player clear a path for the AI controlled halfback to run through. Additionally, players will be able to enjoy a little down time thanks to the new mini-camp feature which lets gamers tweak their character via a series of mini-games. Of course, this is the PS3 so you can also expect the best graphics that EA have cranked out to date, plus superb sound and controls.

Gran Turismo HD:


Release Date: Q2 2007
Developer: Polyphony Digital
Publisher: Sony Computer Entertainment

Coming in both a Premium and Classic packages, Gran Turismo HD marks the return of gaming's most popular and influential racing series. GT HD Premium is being billed as a preview of GT 5. Featuring absurdly gorgeous car models and tracks, the premium edition represents an exciting glimpse into the future of racing games. The classic version is a bit amorphous. Available through the PS3's online network, GT HD Classic is a culmination of previous GT titles with high-definition graphics. What makes the classic edition so intriguing is that it may never be finished; should gamers be receptive to this version, Polyphony Digital and Sony may make it their flagship racing title that never stops growing and evolving.

The Eye of Judgment:


Release Date: TBA
Developer: SCE Studios Japan
Publisher: Sony Computer Entertainment

Although The Eye of Judgment's future in western markets is currently unclear, it is an early indicator of what role the EyeToy will be playing in the PS3 generation. A grid-based card battle game at its core, Eye of Judgment uses the EyeToy to allow gamers gesture as though they were moving cards around on a table. It is a simple enough concept but very remarkable to watch as SCE Studios appears to have executed this approach flawlessly. Judgment can also boast some fantastic graphics with highly detailed animations which can be seen as the card table's grids come to life as combat ensues.

Virtua Tennis 3:


Release Date: Q2 2007
Developer: Sega-AM2
Publisher: SEGA

One of Sega's most popular and consistently high quality franchises is about to get a major upgrade. Featuring eerily realistic character models and a cast of professional tennis players that put the arcade version to shame, Virtua Tennis 3 on the PS3 will bring players into the world of tennis as they customize their own players and rise through the ranks in career mode. With over ten mini-games, support for up to four players, and a revamped World Tour Mode, tennis fans and PS3 owners are going to fall in luv.

Full Auto 2: Battlelines:


Release Date: November 17, 2006
Developer: Pseudo Interactive
Publisher: SEGA

Taking all that was good from the original, Full Auto 2: Battlelines scraps everything else and starts anew. In Full Auto 2, creating chaos and reducing your surrounding to dust are the order of the day. With environments that are destructible from crates to buildings, Sega and Pseudo Interactive are putting the PS3 through its pacing with extraordinary detailed explosions and crashes. To help aid in the destruction, Full Auto 2 offers and extensive list of weapon customizations and urban tracks built to be torn apart by some wild shortcuts. The original Full Auto was filled with potential and now it appears that potential will be realized on the PS3.

NBA 07:


Release Date: November 17, 2006
Developer: SCE Studios San Diego
Publisher: Sony Computer Entertainment

Juke, crossover, and spin your balls -- your basketballs -- like you've never been able to. Sony's NBA '07 is set to incorporate motion-detection for these and other maneuvers in its system. Experience the court as you've never seen in before, in the first NBA game to tackle full HD in a 1080p ratio. Tell your man's position in the new open shot indicator mechanism, feeding you who's open and who's not. Progress through the 2006-2007 NBA season like you've never had, by reliving moments of all your favorite plays from Kobe's shot-stacking to Ben Wallace's rebound-commanding.

NBA 2K7:


Release Date: November 17, 2006
Developer: Visual Concepts
Publisher: 2K Sports

Visual Concepts' long-standing NBA 2K series is jumping tiers for its seventh season. They're accurately modeling cloth physics that moves silky smooth, and with enhanced motion-capturing they're recreating on screen players that look and act just like the pros do. Going along with motion-sensing, you'll be able to fire free throws by actually clutching and hoisting the controller forward like you would a basketball. Contravening to that, shaking the controller will upset the opposition's free throws through screen rattling. From tweaked passing to its new streetball mode, there's going to be a lot for B-ball fans to love in NBA 2K7.

NBA Live 07:


Release Date: November 17, 2006
Developer: EA Canada
Publisher: EA Sports

Making its way to the rim, Electronic Arts lays-up the PlayStation 3's launch with NBA Live 07. This year's edition, it's all about Total Freestyle control. That means the more and better each all-star plays, they'll graduate through levels to expose new abilities. Marking the return of its salary cap and Dynasty and All-Star Weekend modes that were absent last season (at least in the Xbox 360 version), speaks a lot for this next edition. Improvements in the physics and AI will also make this the most realistic NBA Live yet, giving fans reason to expect big things.

NHL 2K7:


Release Date: November 17, 2006
Developer: Visual Concepts
Publisher: 2K Sports

It hockey season, eh? That means Visual Concepts is getting skate-savvy again with NHL 2K7. Amongst the touch-ups coming along in this year's iteration will be tighter controls, greater graphical detail, more manual goalie blocking, and also a comeback for the icon-oriented combo passing system where the puck glides to the order of corresponding players previously indicated. Including every hockey team you know and love/loathe and to top it off a shadow assignment component that allows for arrangement of defensemen and forwards to tail specific players, all makes for another cool season at the hockey rink.

Tiger Woods PGA Tour 07:


Release Date: November 17, 2006
Developer: EA Redwood Shores
Publisher: Electronic Arts

Boasting twelve courses, and featuring new golfers like Annika Sorenstam and Steve Elkington who double the number of players, the latest iteration of the best-selling golf series is bigger and better in every way. Gameplay will be given a realistic boost thanks to the new True Aiming system, where your shot can land anywhere within an aiming circle, the size of which varies depending on your club and player's skill level. Combined with subtle changes to the swing controls and the elimination of the Gamebreaker, this new system should help make gameplay a bit more challenging and realistic. The graphics are taking a true next-gen leap as well with accurately recreated courses featuring much improved grass textures and water effects. Most notable is the new Universal Capture (UCAP) system which creates a stunningly realistic rendering of Tiger himself.
The Future
Buying a console is a longterm investment and the PS3 has the legs to go the distance. The PlayStation name alone sells systems which means more publishers will flock to the console, bringing more games to you. While there are other options out there, with the PS3's amazing hardware and unprecedented level of developer support, the PS3 should end this generation with not only the best graphics, but the most diverse gaming library. Sony, it would appear, has once again created a console that will deliver far more entertainment than one could hope to play in a single hardware generation.