Interview:
When a major publisher known for quality releases comes together with a development house that has more than proven its mastery of a genre, great things can happen. The companies in this instance are LucasArts and Frontier Developments Ltd. Their upcoming title,
Thrillville
aims to take classic Tycoon gameplay and infuse it with new levels of depth, fun, and a focus on creating a game that is accessible to players of all levels and interests.
In
Thrillville
, gamers are invited to take a break from their management duties to truly enjoy their parks. From hopping on your roller coasters and rides, to chatting up visitors and popping into the arcade and playing its games, you have free range over what you create. Your park, your playground.
KC Coleman, an Assistant Producer at LucasArts was kind enough to answer a few of our questions about this promising title.
Gaming Target: Thank you for taking the time to answer our questions. Please start us off by introducing yourself to our readers and telling us about the team behind ?Thrillville.?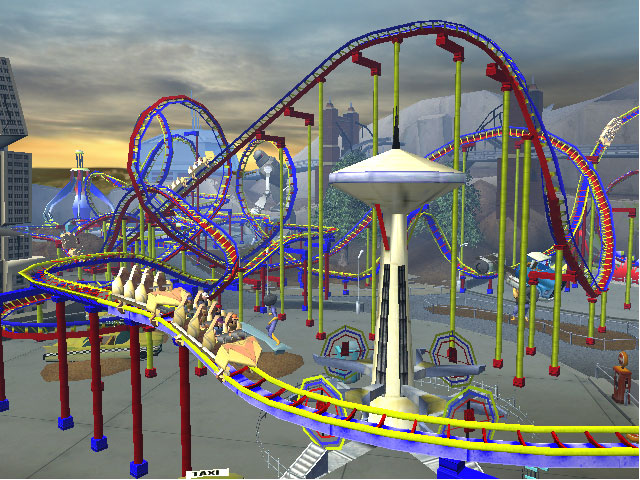 K.C. Coleman:
The team developing
Thrillville
hails from the UK. They are known as Frontier Developments Ltd. They are the makers of such great games as Rollercoaster Tycoon 3 and subsequent expansions. The Production and Publishing team behind
Thrillville
is based at LucasArts and includes the famed Producer Shara Miller of Mercenaries and Star Wars Battlefront II, Associate Producer Dave Cerra, Localization Producers Marianne Monaghan and Cameron Suey, as well as a host of talented people from our QA, Marketing, PR, Sales, Music, and Voice departments.
GT: While based around a single theme, Thrillville's gameplay is actually highly diverse. What inspired the creation of such an involved game and what hurdles has its development presented?
K.C. Coleman:
Thrillville
was meant to give the player the total experience of not only managing a theme park, but of also being IN a theme park. By being on the ground floor and interacting with every ride, game, and park guest,
Thrillville
gives the player access to many diverse gameplay elements that this type of game has never shown. The player will be able to build, customize, and ride their creations, play in dozens of mini-games by themselves or with their family and friends in Party Play mode, and interact with hundreds of park guests that they can build friendships with.
This amount of gameplay presented a few challenges along the way; in particular, how to merge all the game elements together. The solutions to this were to not only create a fun and engaging story but to also let the player see that all things in the park are related. By talking to the guests, they will help you decide what rides to open, the rides will make you more money, and the money will help you buy things to keep the guests happy.
GT: Please tell us a bit about Thrillville's main campaign, and the maps and themes with which gamers will be playing.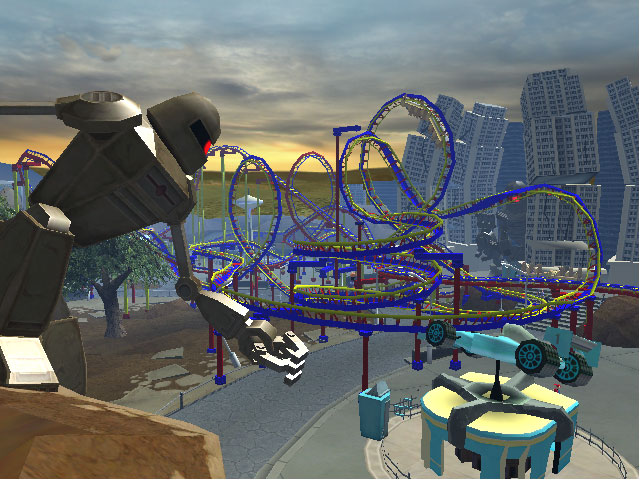 K.C. Coleman:
We have a great story that will progress the player through five different theme parks. Each park has three uniquely themed areas for a total of 15 themed areas that the players can build, ride, and play games in.
As for what those areas look like, well I can't really say for certain. That's going to be up to the player. We will give you great visual themes like the superheroes and giant robots in Superville, or the Orcs and Ogres in Ogreville, and the epic space battle in Lunarville, but outside of that, the look of the parks is up to the player.
He or she will be the one who ultimately decides what each area looks like. With over 30 different coaster types, over 20 different mini-games, a variety of stalls and booths, and a ton of different carnival rides, the possibilities are virtually limitless.
While Thrillville's layered gameplay separates the title from its peers, the crowning jewel of most theme park-based games is the roller coaster. Would you say this is the case with Thrillville and would you please tell us about the creation of roller coasters and their general role in Thrillville?
K.C. Coleman:
I think we would all agree that coaster building is a great part of
Thrillville
. Not only do we have some really great prebuilt coasters for the players to choose from but, there was also great care taken to ensure that the custom coaster aspect of the game was fun, easy and intuitive. The control scheme is really clever and allows for easy building in our 3D environments.
We gave just as much effort on the mini-games, the carnival rides and the socialization aspect of
Thrillville
to ensure that each player is able to find something that they are sure to enjoy.
We use coasters as not only a way to let the player be creative and have fun but, like all major aspects of the game, we are also able to tie gameplay missions to coaster building as well. For example you may need to build a coaster with a certain height or a certain maximum speed in order to pass the mission.
GT: Outside of roller coasters, what other aspects of their parks will gamers have control over?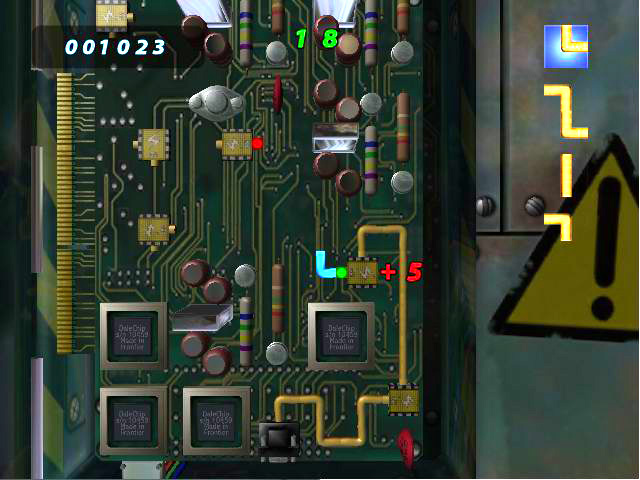 K.C. Coleman:
The player will be able to place all sorts of carnival rides like Ferris wheels and octopus scramblers, they will place games like Sparkle Island and Luftwaffe 109, they will be in charge of creating and placing custom go-kart tracks and mini-golf courses, and where to place the bathrooms, the balloon stands and the burger stalls.
GT: In terms of park management and general difficulty, how scalable is Thrillville? Will both the control freaks and the casual funseekers find what they are looking for in Thrillville?
K.C. Coleman:
bsolutely.
Thrillville
has many layers of depth that the more intense gamer will enjoy discovering but it also has a great top layer that will be super fun for someone who just wants to hop into a game and have some fun building a roller coaster, playing mini-games, or socializing with park guests. In many games of this type the mass audience is alienated by all the minute details, but in
Thrillville
you don't have to worry about things like creating a path to the bathroom or installing ATM machines. At the same time, you can do things like run a marketing campaign to attract specific guests, and you can even take out loans to help further build out your park.
It will be up to the player to figure out what amount of depth is fun for them.
GT: As much fun as creating rides and tending to your park can be, Thrillville's most intriguing feature is possibly the player's ability to interact with his or her park at a level where arcade games become playable and guests become something more than animated statistics. Please tell us more about this feature and what it brings to the overall gaming experience.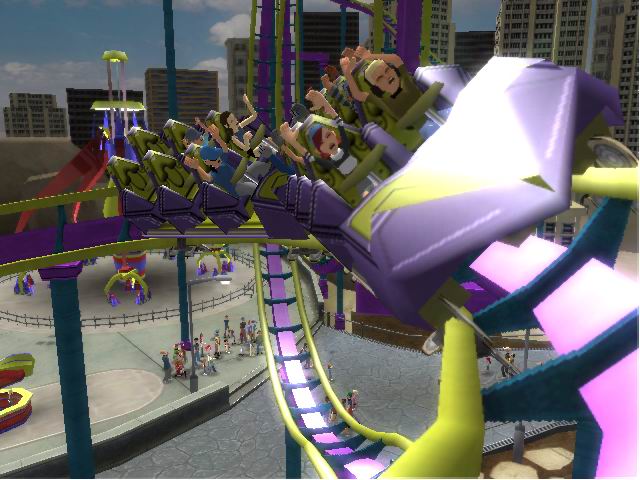 K.C. Coleman:
Being on the ground level was a must for
Thrillville
. We knew that socialization was going to be a huge aspect to the game. There are literally thousands of guests wandering through a well run park and each one of them has his or her own unique attributes. Some may like thrill rides, some may like the more gentle rides. Some may just want to play games, and others may just want to find a bathroom. We even have a mini-game that allows two teenagers to flirt! All the things that you would expect to find from park guests at a real theme park are in
Thrillville
, too. As the player goes through the park and interacts with these guests they will befriend some of them and in turn they will be happier to spend more money at the player's park.
As for the mini-games, being able to walk though the park and choose what game you want to play in real-time was also a must. Not only does this give the player that visceral feeling of being in a midway at a carnival but it also reinforces the customization of
Thrillville
in which the player gets to decide what games go where.
What can you tell us about Thrillville's multi-player modes and online features on the Xbox and PS2.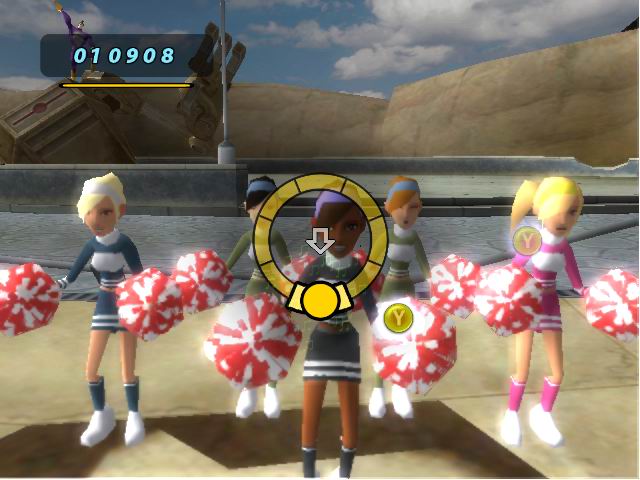 K.C. Coleman:
We have four-player capabilities on all three platforms (PS2 via multitap and PSP via adhoc WiFi). You'll be able to play all the mini-games that you unlock throughout the game from the front menu via the game's Party Play mode. And we're not just talking about ?roll the ball up the ramp?- or ?shoot the clown's mouth with water?-style games. We're talking about full Games with a capital ?G.?
We've got go-karts and side scrolling arcade-style games, as well as a variety of shooting galleries and even first-person shooters. It's so much fun that it could easily be a game all unto itself.
GT: As for the PSP, what can gamers expect of Thrillville not only in terms of connectivity features, but overall functionality and control?
K.C. Coleman:
For the PSP we will be offering adhoc WiFi for up to four players in Party Play mode. Not only that, players will be able to share their coasters and other creations through our ?Blueprint? area.
As for the controls, we spent a lot of time in focus groups with the consumers out there, making sure the controls felt right and we think we've nailed it.
The coaster building is just as fun and easy as it is in the PS2 and Xbox versions and the mini-games really look spectacular on the high-detailed screen.
GT: Please tell us a bit about the work that has gone into creating music, sound effects, and graphics that capture Thrillville's spirit.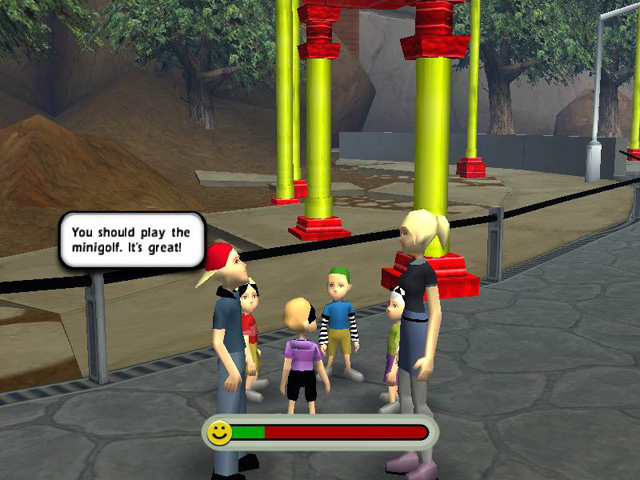 K.C. Coleman:
Thrillville
has a really great soundtrack that we are very proud of. As the player goes through the park, they will hear the park radio (WPRK, of course!) playing in the background just like at a major theme park. The music they hear is a combination of licensed music from various companies, as well as some LucasArts legacy music that I think people will get a kick out of, and even four really great original tracks that were created by our very talented music department onsite at LucasArts.
GT: Lastly, will Thrillville be on the Xbox360's backward compatible list, and are there plans to release Thrillville for any systems beyond the PS2, PSP, and Xbox?
K.C. Coleman:
At this point we definitely see
Thrillville
as a franchise that we want to keep going and growing. There are so many fun things we've got in mind for the next-gen consoles that we are chomping at the bit to get out this game and show the players out there that we have a knock-out franchise here. As far as backward compatibility is concerned, that's totally in the hands of Microsoft. Of course, we'd love to see it backward compatible as soon as possible!
GT: Again, thank you for your time! Would you care to leave our readers with any final thoughts or impressions?
K.C. Coleman:
Thanks for checking out
Thrillville
! Coming this November on the PS2, PSP and Xbox.
We at Gaming Target would like to extend our thanks to LucasArts, Frontier Developments Ltd., and, of course, K.C. Coleman for making this interview possible. Be sure to look Gaming Target for continued coverage of this exciting Simulator! In the meantime, check out Thrillville's trailer at LucasArt's official Thrillville webpage.