Special: With the release of Tekken: Dark Resurrection on PSP, we take a look back at Namco's tweleve year old series that became the best fighting franchise of all time.
When gamers think of 3D fighting, they invariably think of one series: Tekken. However, Namco's flagship fighter did not always enjoy the name recognition that it does now. The first round of the 3D wars for this genre took place on the Sega Saturn and Sony PlayStation in a duel between Virtua Fighter and Battle Arena Toshinden. Whether the stars aligned just right, or it was some other force at work, the two series' managed to fight to the death. Sega Saturn fizzled after a few short years, taking the Virtua Fighter series with it for that generation after only two releases. On the Sony side of the rivalry, gamers quickly tired of Battle Arena Toshinden. It collapsed under its own weight after a parade of poor sequels and rehashes. With Street Fighter and Mortal Kombat still grappling in 2D at that time, Tekken climbed to the top of the mountain and has stayed there ever since.
Tekken on the PlayStation
In 1994, when Virtua Fighter and Battle Arena Toshinden were in the midst of fighting for console supremacy, Tekken made its arcade debut. From the start, its gameplay established a unique fighting style that no one had ever seen before by mapping each of the buttons to a different appendage. Before this, buttons usually included weak and strong punches and kicks. However, rather than controlling the strength of an attack, Tekken created a system that felt more like controlling a puppet on a string.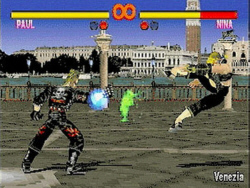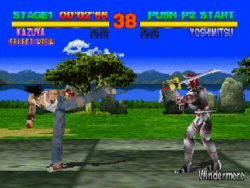 The basic control scheme was incredibly easy to pick up and executing the more devastating hold or throw moves was performed by simply combining buttons. This led to a lot of players mashing their way into pulling off these special moves in the arcade. However, once Tekken was ported to PlayStation in November of 1995, a little more than a year after the arcade debut, everyone got a chance to take it slow and master each fighter's unique fighting style without constantly inserting quarters. It was money well spent, though, as gamers were bent on perfecting Yoshimitsu's sword move and Jack's bone-crushing body slam, both sights to see back in the mid-90s.
Along with its exceptionally novel fighting mechanics, Tekken boasted state-of-the-art graphics and a detailed storyline for its day. Of course, the visuals look extremely dated compared to today's standards with its overly blocky character models and flat 2D backgrounds. Even the sexy and slim Nina Williams has a squared upper body that looks like a muscular female fitness magazine model which always makes you wince and say, ?Eww? too much.? But, back when Namco System 11 arcade machines and the original PlayStation were premier pieces of hardware, these character designs and the speed in which they moved seemed unsurpassable.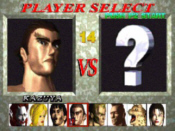 The Tekken roster may have grown tremendously in twelve years, however, it started with only eight selectable players in the beginning, increasing to 18 when all were unlocked. The game introduced us to many of the characters that would stay with the series for years including Heihachi, Kazuya, Paul Phoenix, Nina, Kuma and Yoshimitsu. Each had his or her ending movie, which was shown once the game was beaten by fighting as that person and revealed a lot about the complex storyline that has surrounded the fighting tournament. While most fighting games keep their mythology to a minimum, Tekken has reveled in telling the sweeping story of Heihachi Mishima and his involvement with the King of Iron Fist Tournament. Tekken is literally translated as "Iron Fist" in English.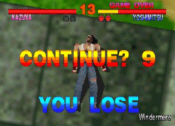 Heihachi created the first Iron Fist Tournament to lure his son, Kazuya, out of hiding. Kazuya had escaped from his vicious father after he was thrown into a ravine to test his strength. Kazuya survived by making a pact with the Devil and never returned to his father. Instead, he traveled the world to become a great martial artist. The final battle of the first Iron Fist tournament pitted father against son with Kazuya emerging victorious. And, in an attempt to kill his father, Kazuya threw him down a ravine.
The story didn't end there, however, as a sequel turned this ending into a cliffhanger, both literally and figuratively. Namco wasted little time in getting a second Tekken title out in to the world. Just a few months after the original was released for the PlayStation, Tekken 2 stormed arcades all over the world. Taking place two years after the first game, Kazuya has taken control of the King of Iron Fist Tournament and has decided to use it to bring his father out of hiding.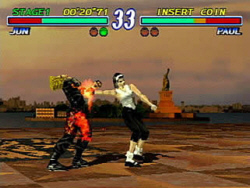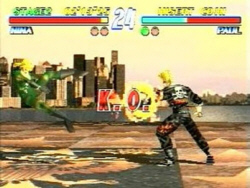 Tekken 2 included 23 fighters and added reversals and chain throws for the first time. Also, while the hardware was still based on a Namco System 11 arcade machine, the game made significant strides in terms of the quality of its graphics. Character models were less blocky than before and the arenas in which they fought were more lifelike. For example, New York City, Paul Phoenix's stage, contains a background of lower Manhattan that appears to be realistic in the distance. Since there was still no sidestepping for most characters in the game, seeing the backgrounds in their entirety had to be done the hard way: being knocked around a lot by the opponent. It was worth the beating and extra quarters, which were worth a lot more money back then.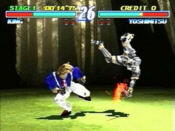 Due to its ridiculous popularity in the arcades, Tekken 2 was quickly ported to the PlayStation in 1996 with an increased feature set that included a slew of new modes and gametypes including Survival, Time Attack, Team Battle, and a Practice Mode. It also added to the saga of the Mishima family by concluding the final battle of the second Iron Fist Tournament with another fight between Heihachi and Kazuya. In the end, Heihachi emerged victorious and threw his son into a volcano so he could never challenge him again. But, the Devil Gene coursing through Kazuya's veins had other plans and resurrected the son to battle his father once again.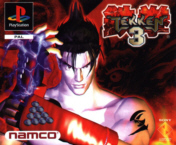 That battle and the father-son feud of the first two games was put on hold in Tekken 3, the most memorable game in the fighting franchise, to make way for the family's grandson, Jin Kazama. Born to Kazyuya Mishima and Jun Kazama around the time of Kazuya's death in second game, Jin lived with his mother until he turned 15. At that point, Jun was attacked and vanished at the hands of The Ogre, the mysterious and evil god that would be the final boss of the third game. Jin trained with his grandfather after this incident and learned the family discipline of fighting. But, when your grandfather is Heihachi and he's being so nice and supportive like this, he usually has an ulterior motive. Indeed, the only reason he trained Jin was to have him fight The Ogre in hopes of capturing the powerful god for his own world domination purposes. And so, Heihachi announced King of the Iron Fist Tournament 3.
Tekken 3 dominated the arcade scene upon its release in 1996, mainly due to its stunning 3D look and feel on a superior System 12 machine. It introduced many players to the concept of sidestepping in a fighting game, which enabled you to avoid holds and throws as well as explore the environment. It was a novelty to actually have 3D backgrounds in the distance instead of the typical 2D, lifeless backdrops of previous fighting games. Even more amazing was the fluidness of the smooth characters. Not only were they no longer blocky, but each featured motion captured moves. Eddy Gordo was by far the most stunning of the 20 characters with his break-dancing-like attacks.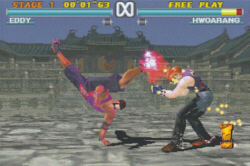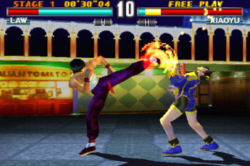 Namco took two long years to port Tekken 3 to PlayStation. In that time, however, a bunch of extras were added that quarter-emptying gamers hadn't experience before April of 1998. In addition to bringing back modes exclusive to the console version of Tekken 2 like Survival, Time Attack, Team Battle and Practice, two new mini-games debuted. The first was Tekken Force, a set of four side-scrolling action levels in which players fought ninjas. In the more creative Tekken Ball, the other mini-game, players would hit a volleyball back and forth attempting to charge it with a special move and knock the other player down. There were three different ball types, too: beach ball, gumball and iron ball.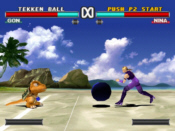 Tekken Force and Tekken Ball were both fun diversions from the main event and resourceful in unlocking the game's two console exclusive characters. Gon, a tiny orange dinosaur, could be unlocked by beating him in ball mode or, alternatively, entering your name in as ?G-O-N? in Survival or Force mode. Dr. Boskonovitch could be unlocked by going through Tekken Force mode four times. Neither of the two were good fighters, but their story modes were worth completing. In the case of Gon, his humorous ending featured him riding a dolphin, landing on a whale's blowhole and launching into the air, falling into a forest where he speedily rolled until he stole a bear's fish and mounted a lion, getting thrown off the edge of a cliff onto a seagull, loosing grip only to come full circle and plummet into the ocean. His ending actually loops so it never stops playing. Along with other movies in the new theatre mode, it demonstrates that the series has a lighter side in contrast to the dark tales of the Mishima family.